"Police spoke with the owners and staff and advised them of their obligations under the Emergency Management Act," she said.
"About 5.30pm, police re-attended and found the café open and trading for business. Staff were asked to leave the café and the café was closed by police.
"A 51-year-old woman and a 22-year-old woman were taken into custody."
The women have been charged by summons for breaching the Emergency Management Act.
Three other people were issued fines under the same act.
Asked if he believed the restaurant owners' actions were putting people at risk, WA Premier Mark McGowan said, "Well that's the law and people need to comply with it".
Footage of the incident, uploaded to YouTube by Scorpion Media Group, shows at least seven police officers inside the restaurant during the arrest. Ms Jardine is then led away by two police officers wearing masks and gloves.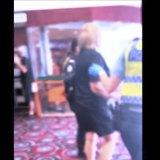 A group of people applauded when Ms Jardine and her daughter were returned to the venue.
Topolinis Caffe co-owner, Phil Jardine, told Radio 6PR his restaurant did not believe in forcing people to show their medical records.
He vowed to reopen the business on Tuesday night, despite claiming 90 per cent of his staff were unvaccinated.
Anti-vaxxers, on Tuesday, began gathering at the restaurant to show their support.
Under WA's COVID laws, proof-of-vaccination has been required to enter hospitality venues since January 31.
To date, more than 98 per cent of the population over 12 has received at least one dose.
The Jardines have been running their Italian restaurant since 1998.