me&u had $9.5 million revenue run rate at December 2021, which was 230 per cent higher than a year ago, the flyer said.
It was used across 1200 venues (up from 270 in December 2020) with a particular focus on large-format places like bars, pubs and fast casual. Australian clients included the Opera Bar in Sydney, Merivale, Rockpool Dining Group, Endeavour Group and Fratelli Fresh.
The business has a small presence in the United Kingdom and United States, which it wanted to grow aggressively in the near term via hiring 35 new sales staff.
The deck said it had a goal of getting 300 UK clients by June, tripling its presence in the market; and US contracted clients from 30 to 130.
me&u's similar to Mr Yum, which in November was looking to raise $US60 million at a $US275 million odd valuation and snared Tiger Global as a shareholder.
So far this year, Mr Yum's grown to 5000 venues and 260 employees. It's also added a subscription revenue stream and now plays in ordering, payments and marketing after an acquisition announced this month.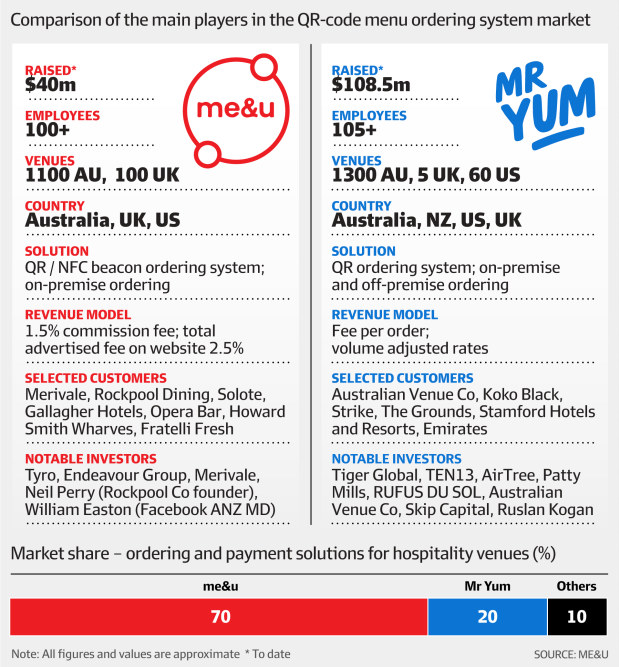 Investors are likely to take a good look at the business, against the backdrop of labour shortages (and now inflation) that may make hospitality venues more willing to look at tech-driven solutions for at-venue ordering.
It comes as me&u has previously raised about $40 million from backers including Tyro Payments, Endeavour Group, Merivale, Neil Perry and local Meta (nee Facebook) executive William Easton.
Mr Yum's raised about $108 million and counts Ruslan Kogan, basketballer Patty Mills, Tiger Global. AirTree and Australian Venue Co among investors.