located where madrid's espronceda theater once stood, the 'mo de movimiento' restaurant combines low-tech solutions, local craftsmanship, recycling and material reuse in its construction. designer lucas muñoz was commissioned for the conception, development and completion of the project, where he and his team implemented an innovative combination of vernacular knowledge and low technology. as one enters the restaurant, they are welcomed by two massive, handcrafted terracotta ovens, whose walls' interior is complete with silver soldered copper water pipes. water is heated through the pipes using the remnant heat of the ovens' wood fire, and is then stored and used for various functions of the space.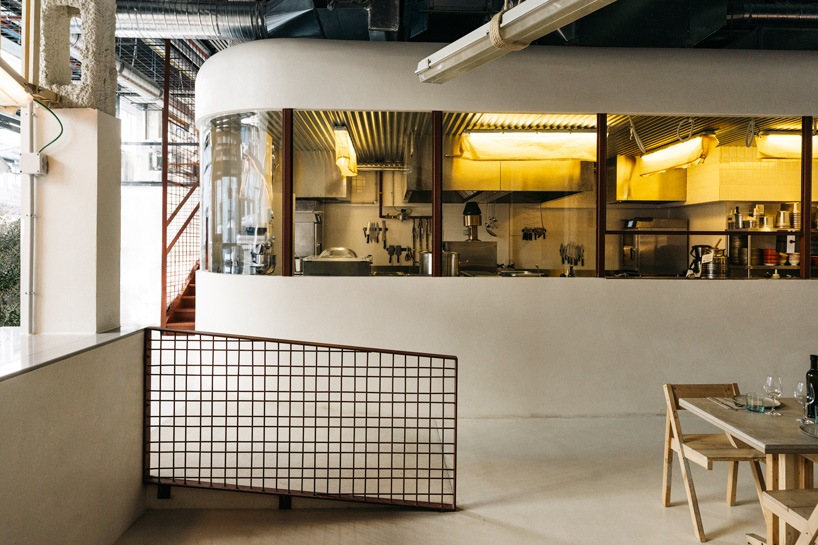 all images courtesy of mo de movimiento
javier antequera and felipe turell of proyectos conscientes commissioned lucas muñoz, through his representative gallery in spain, machado-muñoz, to design their latest dining venture in madrid, mo de movimiento. re-cycling, up-cycling, or, simply, properly using the right materials for the right purposes are at the heart of the restaurant's design. all elements are conceived for a life cycle that includes maintenance and repair in their design, taking decay and degradation as variables in the design process.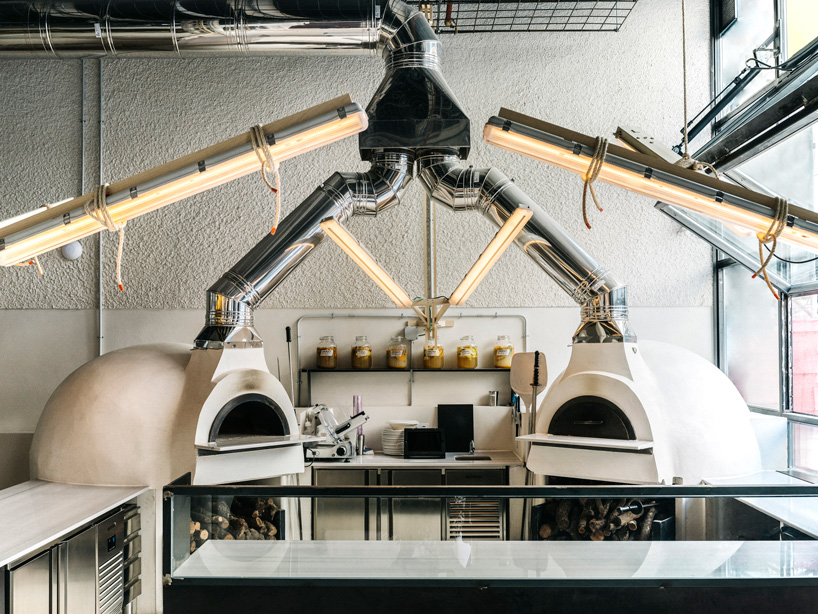 the entrance of 'mo de movimiento' includes a a terracotta table intended for breakfast and as a waiting lobby, while a modular shelving system offers locally-sourced products that can also be found in the menu. a massive chandelier hangs over this space, hand-made by lucas muñoz with recovered, 'dead' fluorescent tubes, electric wire clamps and standard aluminium plates. all chairs and tables in the restaurant were produced with reclaimed pine wood from the same space. the result is a continuation of enzo mari's project 'autoprogettazione', as it takes its DIY and open source ethos into it, by offering the technical drawings for free to whoever wants to make one.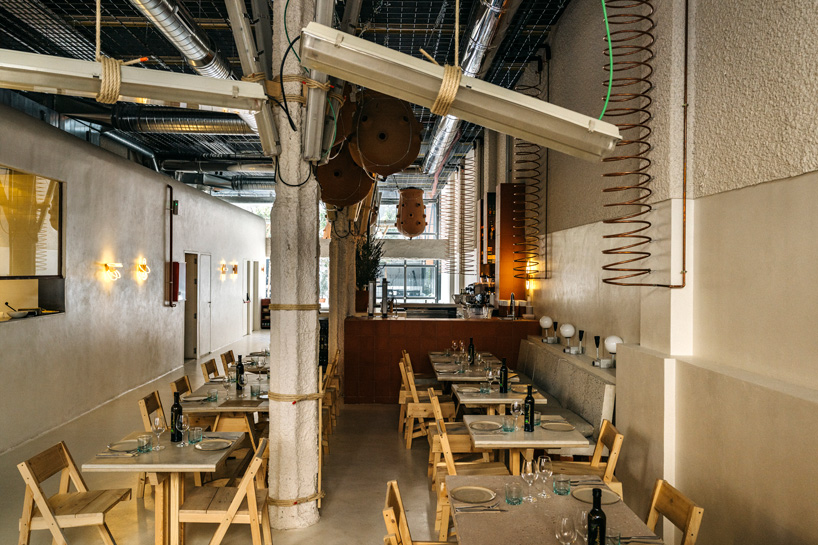 the kitchen space has been designed as a homage to edward hopper's 'nighthawks' painting, with an interior clad in a variety of leftover white tiles reclaimed from zimenta's (the construction company that developed this project) previous works. the main space of the restaurant is about 25 meters long and 6 meters high, while its ceiling features hanging terracotta vases for ventilation, and ceiling lamps that are knotted with rope to the mesh. a massive patio of almost 300 sqm is the green heart of the restaurant, complete with nine bitter orange trees of more than three metres height.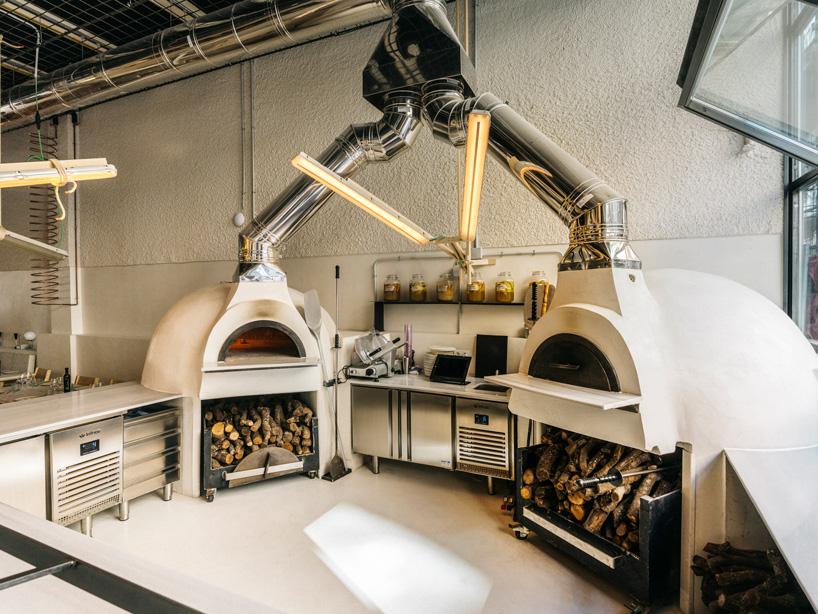 the patio is designed as a set of parallel rows that create corridor spaces divided by linear benches, which were made with tiles that were produced on-site using the construction rubble generated during the demolition of the previous space. three big parallel beams cross the top of this open space, between which a rain proof retractable roof and a retractable shading system have been installed.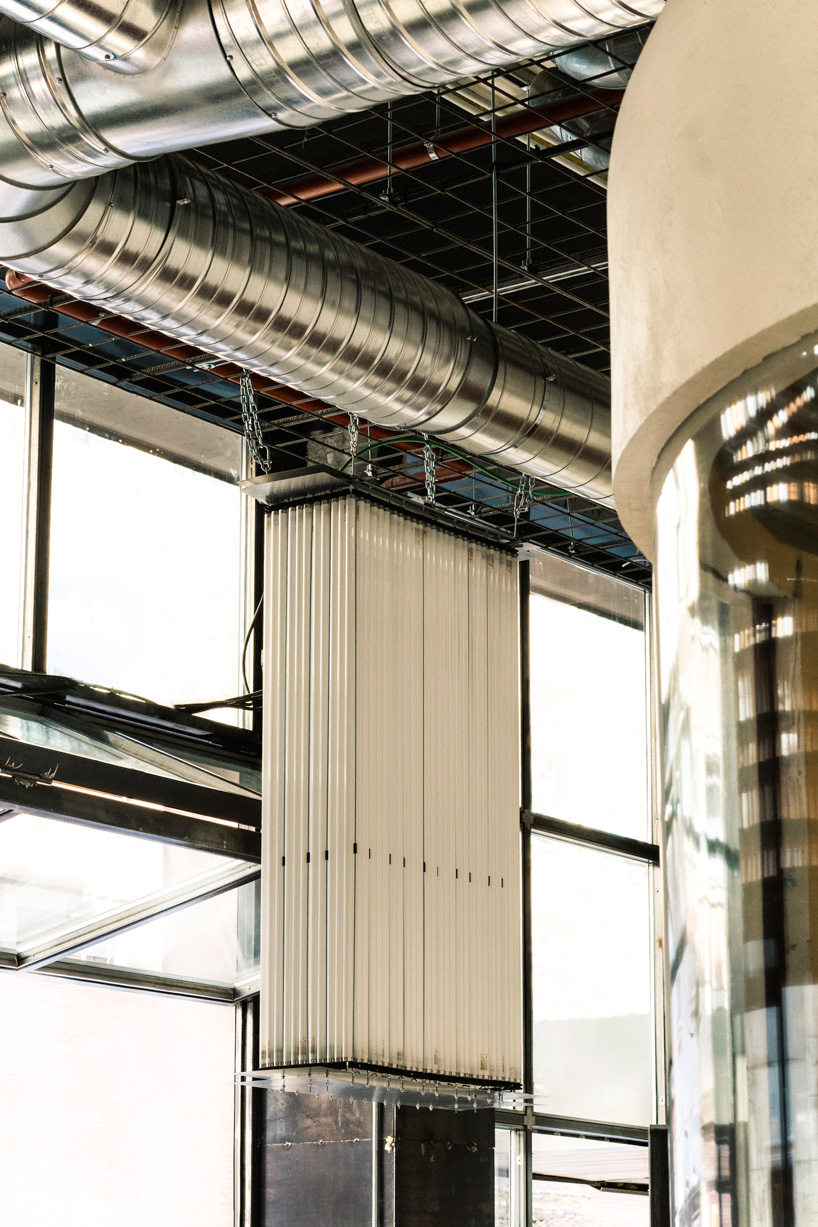 in the toilets, a central, handmade brick washing basin, designed by lucas muñoz and tomás miranda ,divides the space. six genderless toilet cabins are symmetrically placed at the sides of this central element, each of them completely tiled in white. they all host a different version of the '490g of copper pipe consumed per second in spain' wall lamp originally designed by muñoz for his temporal collection at machado muñoz and multiplied into iterations for this project.