"The idea is that it's just kind of preserving some of these spots in Melbourne that I've personally loved to drink in, and keeping them going and bringing them back up to their best," Stevens said.
Loading
"The opportunity is there, there's lots of people coming into the city and, generally, they're spending more per head."
Office occupancy rates in the CBD are still low, with the most recent Property Council of Australia data showing occupancy in Melbourne was at 35 per cent last month.
Stevens said while the number of patrons were down because there were less after-work drinks, those who were coming in were spending more, as they were likely to be on a date or catching up with friends.
"There's lots of young business owners like me who have just opened up their own places," Stevens said.
"It's brought the price down to make it actually accessible, it's reasonable. I think I paid probably a quarter of what you would have paid before COVID for Madame Brussels."
Another operator backing the CBD's recovery is Jeremy Schinck, who opened Pearl Oyster & Chablis Bar last week.
"It needs to be baby steps for the CBD to really show its full strength again," he said. "I don't think we are too far off the mark."
Schinck, who also operates Pinchy's Champagne & Lobster bar in the city, said trade there was back to about 80 per cent of pre-pandemic levels.
"I think we are heading in a really positive direction," he said.
"The only thing that I can see where the CBD isn't living up to what it used to, is those busy midweek evenings and lunches. Staffing is a huge issue. I'd like to open seven days a week, I just don't have the staff."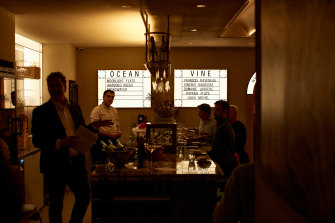 Staffing issues are holding back more venues from opening in the city, according to Food & Drink Victoria chief executive Anthea Loucas Bosha.
"I think people are taking a punt on the CBD. It will come back it is just a matter of when," she said.
Loucas said part of the fallout from the pandemic was a change of patrons' behaviour, but that didn't mean restaurants and bars in the city were no longer viable.
"Flexibility in working isn't going to go away, but the city will be used differently, and maybe we will swing back to that time when you went to the city to go out," she said.
"I'd love to see the city back and bustling as it was."
The Morning Edition newsletter is our guide to the day's most important and interesting stories, analysis and insights. Sign up here.