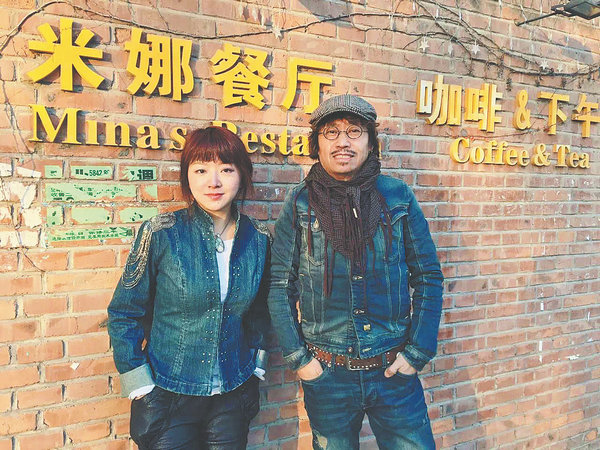 Mina's Restaurant in the Songzhuang suburb of Beijing is distinctive not only for its impressively quiet atmosphere and frequently seen artists but for its deaf waiters.
Sign language is the first language at Mina's, and even though most employees are deaf, the restaurant runs in good order serving Sichuan-style dishes.
Since 2008 when it first opened, Mina's has provided jobs for more than 60 hearing-impaired people, which helps to solve the problem of deaf people's employment.
The owners are a couple with kind hearts — Mi Na and Su Qing.
Su, who born in the Inner Mongolia autonomous region in 1969, used to work in the advertising industry. He was also a TV director and had made a documentary film called The Age of Sign Language, with Mi, his girlfriend.
Mi, who was born in Chongqing in 1973, used to be a costume designer and art auctioneer. She is now a cook taught by her father.
"Su Qing and I have done a wide range of jobs, but shooting films and documentaries is what we enjoy and keep doing in our spare time," Mi said. It later became the reason for opening the restaurant.
"It's a long story," Mi recalled, describing the experience of Su's eldest brother, who became deaf as a result of drug misuse when he was young. His parents could not pay enough attention to the boy after he lost his hearing. They had no idea how to raise a deaf child. Consequently, the brother drifted away from them and found solace with his deaf friends.
Su, however, remained on good terms with his brother, and even learned sign language by himself, which enabled him to understand deaf people.
He remained curious about the silent world, so when he later got the chance to shoot a documentary, he immediately decided to make one about this unique group of people, and The Age of Sign Language was born.
"At that time I was young and bold enough to try anything new in Beijing, so I made up my mind to open a restaurant," Mi said. "I never thought about hiring deaf employees until Su proposed the idea."