Kitchen staff were delighted when a customer left them a $1000 (approx. $1356) tip, after what's been a "long, hard summer" amid the pandemic.
The beachside fine dining restaurant Firefly, located in Florida, celebrated the generous act in a post to Facebook.
"Why do I love this business? First, I love my staff!" the post began, outlining the reasons the restaurant owner enjoyed the hospitality industry.
READ MORE: Heart-warming reason behind man's $4k restaurant tip for single drink
"Second, I love the fact that you never know what will happen from night to night," they continued.
The post pointed to the "incredible guest" who left the four-figure tip, writing "[they] wanted to make sure the men and women on the cooking line got taken care of!"
Sharing an image of the bill, the customer was charged $285.66 (approx. $387.44) for their – with the typical tip rate of 15 per cent meaning they would only add an additional $42.85 (approx $58.12).
READ MORE: Terminally-ill customer leaves $1,000 tip at restaurant: 'Pay it forward'
Instead, the $1000 (approx. $1356) figure offered 23 times more than what the restaurant could have expected.
The post said, "it's been a long, hard summer for the staff in the kitchen."
"It's nice to know some folks out there appreciate them!"
Facebook users marvelled at the thoughtful gesture.
"That is so awesome," one commenter wrote. "There are some great people out there for sure!"
"Love this SO much!!! Thank you incredible guest for such a generous and kind way to recognise everyone, especially behind the scenes, during these difficult times and letting them know they are truly appreciated," another person shared.
A third user questioned why only kitchen staff were tipped, wondering whether the wait staff were also included in the generous payment.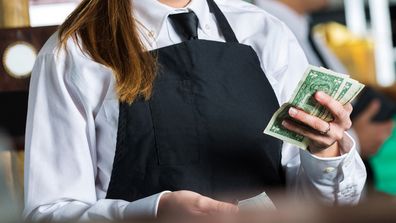 The restaurant clarified in the comments, saying "the server was well taken care of as well."
They added, "the guest wanted her to split it with the kitchen crew."
The restaurant's owner, Dave Trepanier, told Fox News, "After reading the comments, most people are just happy to see good people do good things."
For a daily dose of 9Honey, sign up here to receive our top stories straight to your inbox