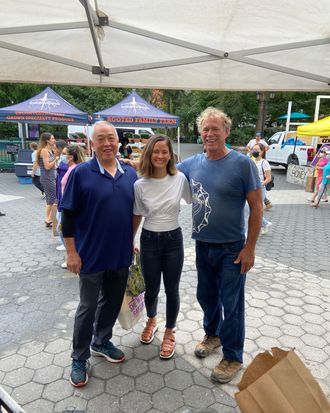 The chefs Alex Lee and Suzy Cupps with farmer Rick Bishop. Photo: Suzy Cupps
For the butterball-potato zealots who treat the Union Square farmers' market like the High Church of Locavorism in New York, Rick Bishop is a superstar. The Mountain Sweet Berry farmer has been a fixture at the Greenmarket since 1985, when he showed up on the scene with a truckload of Tristars, the low-yield, small-but-mighty strawberry. In the 40 years since, he's become a favorite of basically every chef concerned with high-quality produce and synonymous with the city's supply of ramps. And this past week, the Union Square Greenmarket announced a bit of surprising news: Bishop is retiring from farming.
"I am both just crushed to not see Rick at the market anymore and also so excited for him," says Suzy Cupps, who worked at Gramercy Tavern and ran the kitchens at Untitled and 232 Bleecker. The chef says it was Bishop's "lesser-known crops" that won her over: the cornichons, Canestrino tomatoes, peas, wild blueberries, and hand-sewn princess pine garland. "His retirement will certainly leave a hole on our menus."
One such menu is at Wylie Dufresne's Stretch, where Bishop's potato chips are the secret to the restaurant's breakout-hit potato-chip salad. Asked what he will do about this potato-chip crisis, Dufresne says, "That's a question we're struggling to answer." (For his part, Bishop suggested Cape Cod.) "We go back to my Jean-Georges days in the '90s, when he would come in with half a cow, walking down the stairs, literally over his shoulder," Dufresne recalls. "He's the sweetest man in the world, but he's an imposing figure carrying a cow. It's more like a viking arriving than a farmer."
Over the years, many chefs have talked publicly about their own admiration for Bishop. Patti Jackson, while working at I Trulli, told Edible Manhattan in 2011 that "Rick's a master" who knows "every bend in the river."
Daniel Boulud once got Bishop to grow Lyonnaise potatoes for him and Superiority Burger's Brooks Headley says that the chef Phillipe Bertinau first convinced Bishop to grow other French crops in the '90s, and he was known to many of his customers for the quality of his tender sucrine lettuce, among other products. "If Rick walked into Superiority Burger unannounced and the dining room was full, I would 100 percent kick someone out and give him the royal treatment," Headley says. You could be having the worst day imaginable at the restaurant, he adds, with "the money guys breathing down your neck" or brand new equipment dying, but there was nothing a visit to Mountain Sweet Berry couldn't cure. "Every single time. It was like the best drugs and the best therapy all rolled up together."
The former Gramercy Tavern pastry chef Miro Uskokovic, who grew up in Serbia, said that Bishop introduced him to Tristars, which he described as "incomparable" to any other local variety. "I used to make a strawberry-lilac jam over the last decade that had many fans and wouldn't have tasted the same without Ricks's berries," he says.
Bishop told Dufresne a couple months ago that he was considering retirement, citing the general difficulties of farming, and concerns in the wake of the COVID pandemic. Then, this past Saturday, Frenchette chef-de-cuisine Charlie Izenstein broke the news: "I can't imagine the Greenmarket without him. He's just so upbeat, enthusiastic, and supportive," Dufresne says.