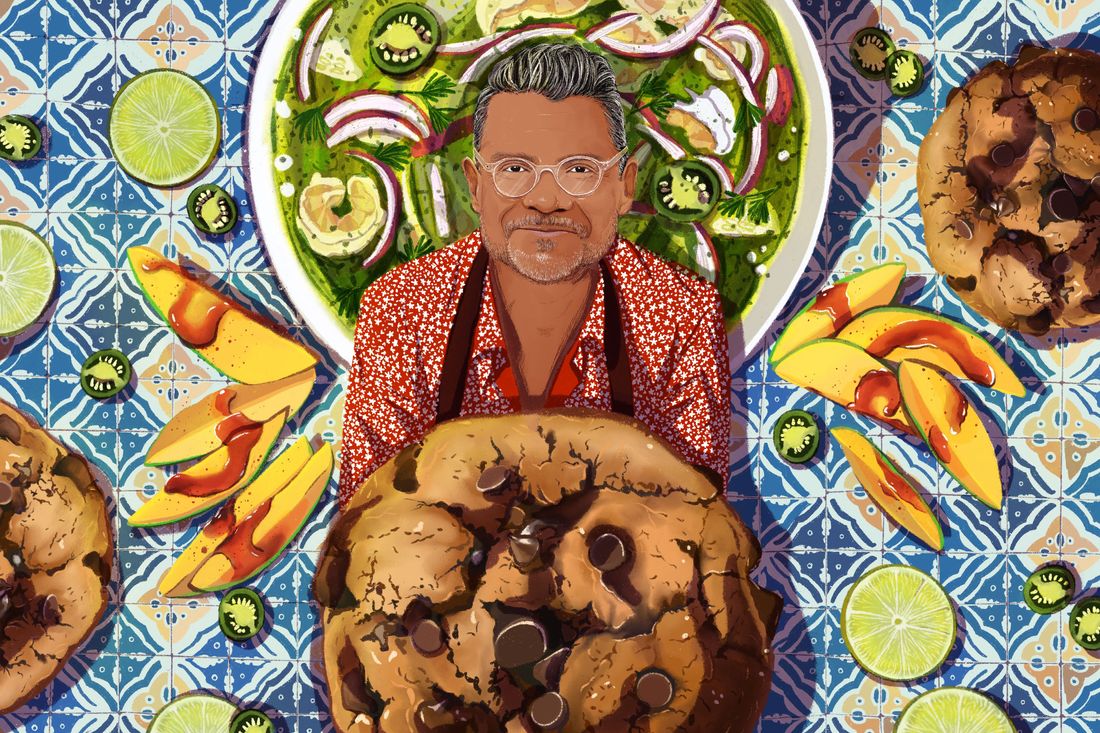 Rick Martínez, celebrating his book launch with sliced mangos.
Illustration: Maanvi Kapur
Rick Martínez is reflecting on his childhood, specifically a period of time when he resented the Mexican part of his identity. "I resented it, because I didn't know what it meant," he says. "Now, I do. Now, I fully embrace it." So much so that the former Bon Appétit Test Kitchen star, who was among the first to leave the video series in 2020, has made a permanent home in Mazatlán. "The best thing I ever did," he says. It was here, during lockdown, that he finished his first cookbook, Mi Cocina: Recipes and Rapture From My Kitchen in Mexico, which was at last published last week. For the release, he's been back in New York, catching up with old friends, hitting some new favorite restaurants, and hosting a couple of pop-up dinners for good measure.
Tuesday, May 3
This was the launch day for my cookbook, which was surreal because I've been working on it for so long. In my mind, I expected fanfare and fireworks and all of that. And the reality is you're basically going from bookstore to bookstore doing stock signings in basements.
I woke up around seven or eight at my Airbnb in Harlem and made coffee. When I travel, I actually bring my own beans, and I have my hand burr grinder and my little silicone V60 drip. I also like tea a lot, and I found this place Bluestone Lane in Harlem that delivered to my apartment. They have really lovely teas and lattes, so I decided to have a matcha latte delivered to supplement my normal pour-over coffee.
Coffee: I love the flavor, but I actually just need it to get out of bed and shower and get my life started, and then tea just helps me kind of ease into the day. It seems a little bit more civilized and tranquil.
So I did two interviews, and then I took an Uber to Brooklyn to sign books — it was really rainy and gross — and then between bookstores, I got a cinnamon roll at Breads Bakery. One thing I really miss about being in the U.S. is laminated pastry, and Breads has this laminated cinnamon roll that I needed in my life to keep me going through the book signings.
Around three, I got to the Strand, and there was this gigantic stack of 750 books for me to sign. It was so overwhelming. The staff there is incredible. They had six people who were like a human conveyor belt — I ended up signing 750 books in 45 minutes. It was insane. I hadn't eaten since the cinnamon roll, and there's a Pret right across the street from the Strand, so I got a chicken and bacon sandwich. I was like, I just need to get food in my body. 
I really love that chicken and bacon sandwich. I don't know why. I mean, I love chicken. I love bacon. They use a really decent amount of mayonnaise, and it's filling and satisfying but not that heavy, and they also have really nice kettle chips that give you a nice crunch. They used to have a really amazing cookie, too, but the last few times I've been there, their cookie game has not been that great. But they used to have this cookie — I think it had ground cornmeal in it? It was kind of like a monster cookie, or an everything-and-the-kitchen-sink cookie, with cornmeal and pecans and toffee and lots of butter, lots of brown sugar, all the flavors that I really love. And then they discontinued it. I was trying to get the recipe, but then the chef left and I never got it.
My last signing of the day was at McNally Jackson. Then I jumped in a cab and went back uptown to change and then went down to Bonnie's for a really nice, quiet dinner. I wanted it to just be close friends. The last time I was in New York, Bonnie's had just opened, and I managed to get a table, and it was just one of the most joyous experiences. I felt like I was at a house party. Also I'd literally just gotten a copy of my book. It was another pivotal moment in the Mi Cocina timeline, so it just seemed fitting.
I pretty much told Calvin Eng, the chef, to bring whatever he wanted, but there were a couple of things I needed. The long beans — I mean, I don't even know how to describe them. It's like, if I were a cat, they're catnip. You cannot get enough of them. They're so delicious. They're a little sweet, they're savory, they're super-umami-forward, they're perfectly cooked and tender. It would have never been the thing I'd have thought, I could go there and just eat those, but here we are. The other thing was the hup to ha — the shrimp with candied walnuts. It's just spectacular. I told the server, "Definitely bring that out for the table, but I also need my own bowl just for me." Just so we're clear.
We'd gotten there at seven, and it was probably after midnight when we left — an all-evening affair! Which was fabulous. That was exactly what I needed. I don't think I'd really understood how much I'd needed that.
Wednesday, May 4
I was getting ready for the next set of interviews, and then I discovered this breakfast bowl. I am not a salad-for-breakfast person, and I never thought I would be, but I have to say, this Bluestone Lane breakfast bowl rocked my world. It was kale and cherry tomatoes and feta with avocado and farro and poached egg and lemon-garlic chicken, and it was satisfying but not overly filling, and it gave me a lot of energy. I also ordered a chai latte from them and of course had my coffee.
The morning was Zoom interviews, and then I had to go to the Fly. I was doing a pop-up there the next day, and I needed to look over all the ingredients they'd bought. They'd started making all the sauces and do-aheads, so they just wanted my eyes on everything.
I had an event that night at Books Are Magic, and I wanted to get coffee before I went over, so I stopped at Café Calaca, which was recommended by the folks at the Fly. But then I saw that they had empanadas, and I thought, You know what? I'm gonna get a couple just in case I get hungry later — I'll have something to snack on.
I signed all the books before the event started, and then I thought I should get something to eat before the talk, so I went to Van Leeuwen. I'd wanted something savory, but instead I found ice cream, and I thought, Well, why not? So I had a salted caramel sundae and then went back for the event. Eric Kim moderated it — we met working at Food Network. He told me before we started, "I'm gonna make you cry." And I was like, "I'm sure you will." He had some really great questions — I got teary.
Thursday, May 5
I had my coffee, and then I ordered my new breakfast bowl again and also a cappuccino because I feel like cappuccinos in Mexico aren't that good. Now all the Mexican baristas are going to come at me, but at least in Mazatlán, it's very difficult to find a cappuccino that I am accustomed to. I wanted a beautiful New York cappuccino.
After that, I did a couple of interviews and then headed up to the Fly in the early afternoon. I don't know if you've seen those Mexican banners made from hand-cut tissue paper, like little flags, but I found someone here in Mazatlán that makes them, and so I got some pink and yellow Mi Cocina ones that actually said "mi cocina" on them. I took those to the Fly, and we decorated and checked on all the food, and then I went to get my nails done — yellow with red and green flowers to match the cover of the book.
In the car on the way back to the Fly, I started to get worried. My ultimate fear in life is that I'm going to have a party and no one's going to show up. I was about to post something on Instagram — "I'm desperate, please come to my party!" — but I was like, No, no, calm down, don't do that, so I deleted it. I'd been promoting it all week; they'd been promoting it. At that point, people were either going to come or not. So I got there, I talked to the staff, explained the dishes, explained the cocktails. The doors opened at 5:30. And at 5:30, I looked out, and there was a line around the block to get in. We opened the door and I felt like I was at a wedding: I was literally greeting people! In the first hour, there was a two-hour wait for a table!
I bounced from person to person, signing books, thanking people, talking to people. For me, this was the first moment the book became real. When you're signing a thousand books in a basement — that's not what this is to me.
Finally, at about 8:30, I was getting really light-headed, and I needed to sit down. We'd finished two seatings completely by that point, and I needed to eat, so I had them bring me a plate of everything, and I grazed on that for the next hour. I didn't want to stop for too long.
Since the Fly is known for its roast chicken, we did a modified version of the pollo al pastor from my book, but we served it as tacos, using tortillas from For All Things Good. Nick, one of the owners of the Fly, had told me fried food does really well. If you really want to sell stuff, fry it. I don't have anything fried in the book, but I thought, What if I fry the esquites? Basically, I made a hush-puppy batter and then folded in the esquites, which are like a sautéed corn-chili mixture, into the batter, and then you just drop it into hot oil and fry it — a spicy corn version of hush puppies, which I served with salsa blanca. That was gangbusters. People were freaking out over that dish. And then we made gaspacho Moreliano, which is actually a fruit salad. In Morelia, which is a city in Michoacán, there's a street that has maybe 20 vendors all frantically cutting up fruit. It's mango, pineapple, and jicama, and they cut them into little bitty cubes, and then they toss it with lime juice and dried chili flakes and chamoy and put it in these large cups and then top it with crema and cotija cheese. It's a street food — you just see people walking around eating it with a spoon. In my book, I wanted to turn that into more of a side salad because I love it but also nobody's going to cube fruit, including me.
I finally left at about 10:30 and then another hourlong Uber ride back uptown, where I passed out around midnight.
Friday, May 6
I was completely exhausted, and I had a video shoot. I have a series called Sweet Heat on Food52, and we needed to get another episode shot because my schedule has been crazy for the past month. Since I was in New York, I was like, All right, I'm going to stop by the studios — we're going to do something really quick. I'll do birthday cake because my birthday is in June. It was supposed to be really fast.
We ended up shooting all day. I think that speaks to the beauty of these people, though. I love this crew so much, and we just ended up having so much fun. We'd started at ten, so I'd only had coffee, although I ate a lot of chocolate batter and malted milk balls while we filmed.
At some point, the producer said we should order lunch and asked what I felt like having, and I was like, "I miss Italian subs," so we ordered from Court Street Grocers. Their Italian combo — I dream about that sandwich. It's huge. It's satisfying. It's flavors that I can only get when I'm in New York. And I love that combination of the sandwich and these ultracrispy Zapp's jalapeño chips, which have that heat that cuts through the inch-thick layer of meat on that sandwich. And a Dr. Brown's cherry soda, which is another thing I can't get in Mexico.
This chocolate cake I hadn't made in three years. I normally make it for big birthday parties, but obviously because of the pandemic, I haven't had a party in three years, so it was nice to make on set.
We wrapped up around five, and I went to meet Sohla El-Waylly at Yellow Rose. I was actually going to just rest because I had to get up in the morning, but she asked if I had time for dinner before I left. "We'll just do it early," she said. It was really good, and it was fun because it's Texas camp, and I'm from Austin. Seeing queso on a menu was really nice. It was very reminiscent of saloons I've been to in central Texas. The biggest highlight was the tortillas. We got the fajitas, and I saw the tortillas, and I was like, Those are homemade. I don't know that I've ever encountered any restaurant in New York City making their own flour tortillas. The white bean and Broccolini chalupa was also really good. I love vegan Mexican food, and I really love developing vegan recipes. I think most people are surprised by that just because I love lard and I love pork. But I also love good produce — if you have good produce and you can cook it really well, then there's really no need for meat, you know?
So we sat at the bar and just had a really good catch-up, and it was just really nice to see her, and I was home by 9:30, and I was done. I was supposed to have a book signing the next morning at Union Square Greenmarket, but that night was horrible. It was like 44 degrees and raining and cold and gross, so I ended up having to cancel. Nobody would have come, but also signing books in the rain? Not a pretty sight. I was like, Well, the upshot is I get to sleep late now!
Saturday, May 7
It was my sleeping day. I woke up around 11 and had my coffee, then went to go meet Tony Ortiz, who's a young Mexican American chef I'd known only through Instagram. I love what they're doing, I think we have very similar perspectives on food, so I wanted to meet them and just talk.
We'd arranged to have lunch at Win Son, another place I absolutely love. We ordered a few things, and then they just sent out many, many more things. We got the marinated cucumbers — I can eat a lot of those; they're just so fresh and delicious — and the fried eggplant with black vinegar, which was so beautifully cooked, custardy and creamy on the inside. We got the pork bun, and they also brought noodles and other things out, and by the time the chicken and waffles landed, my head was spinning. Pretty much the theme of whenever I come back to New York is I try to eat the food I can't get at home. So that's laminated pastry, Asian food, and Italian food.
I was so full. I was also trying not to eat a lot because I was doing a dinner that night at Dame, and I was really excited about the menu. Ed Szymanski, Patricia Howard, and I have been friends for years — I met Ed reporting a story about the Beatrice Inn for BA probably six or seven years ago, when he'd just gotten promoted from line cook to sous chef, and we hit it off. We've had adventures together. It seemed appropriate that we would do something together for the launch of the book.
So I got to Dame, and they brought out all the food out so I could try it and see the plating. They have a genuine desire to just make sure the final product is representing me and the book to the best of their ability, and that meant so much to me. And the food was absolutely delicious. We did 12 recipes from the book. There was aguachile, grilled oysters with chicharrones in an orange-lime sauce, blue-crab stew, and citrus-infused octopus with tomatillos and charred habanero oil.
We were there until close. If the Fly was like a house party, this was like a dinner party, you know? It was just such a good vibe and good energy all the way around. I was very happy that was my last night in New York.