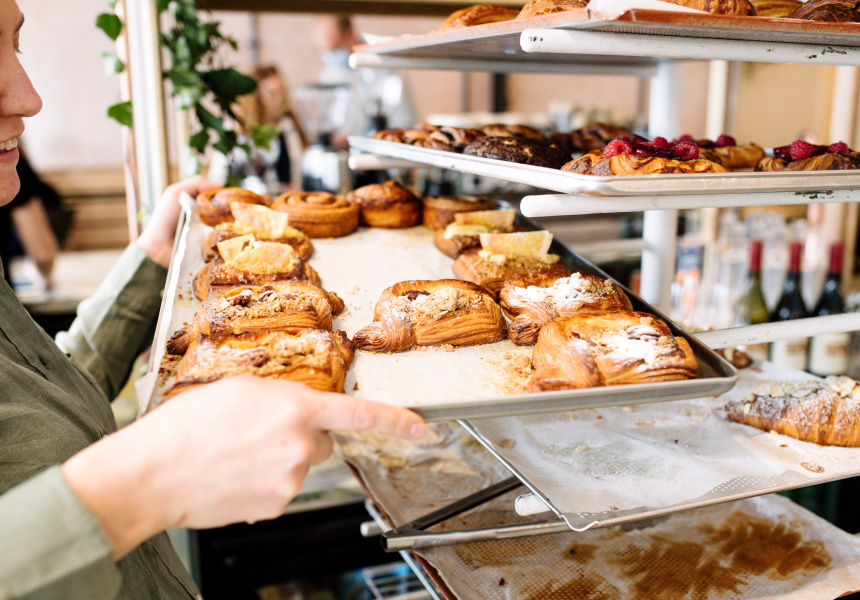 Five years ago, partners Alex Smith and Rik Fisher purchased a run-down 30-acre farm in Ashton in the Adelaide Hills. They had one goal in mind: eventually, they would use produce from the farm in their own restaurant. It would be farm-to-table dining in its most pure, direct form.
After years of tending the land and growing vegetables, fruits and nuts, the pair found what would become their venue – which opened last week – just 20 minutes down the road from the farm, on The Parade in the old Norwood Squash Centre (previously signposted by those giant stick figures on the wall outside).
Smith will mostly stay in the cafe while Fisher works on the farm. "My job will be kind of like a full-time farmer up there," he says. "We've got a mountain of fruit trees … hazelnut trees with black truffle spores in the roots. Going forward, we've got a big section of veggies, which we're looking forward to … in the summer. We're going to keep growing and growing and growing … we want to get more chickens; we really want free-range chickens through the fruit trees."
Wherever they can't use their own produce, 30 Acres will showcase other suppliers from the Hills and across the state. Their on-site bakery, just upstairs from the main dining area, is turning out sourdough, danishes, croissants and other pastries, all from South Australian ingredients. "The flour we're using is milled in South Australia … we're using Cummins Milling from the Eyre Peninsula. They're one of the oldest flour mills in Australia," says Smith.
They're also using Paris Creek Farms butter in their croissants. "Everyone thinks French butter is better, but I believe South Australian is better," says Smith. "We've got Section 28 cheese in there, and ham from the Adelaide Hills as well."
For obvious reasons, the menu – by head chef James Brinklow (ex-The Lane) – is seasonal and subject to change. Right down to the fruit juices. Currently, for breakfast, you can order eggs Benedict with a house-made sourdough crumpet, vermouth hollandaise and kale; baked eggs with roasted peppers and chickpeas; or XO mushrooms with kale, fried egg, goat curd, fermented cabbage and wild rice. For lunch, you might get ricotta dumplings; charcoal market fish with curry butter, pipis and wilted greens; woodfired chicken with a caper, pine nut and currant dressing; and Ellis Butchers pork and fennel coiled sausage with pickled peppers and romesco sauce.
Smith and Fisher have opened cafes together before – 303 by the Sea, Oar and Kitchen Smith – but 30 Acres is easily their most personal project yet. The pair designed the interior and renovated the space themselves, with some help from family. Pay attention to the details; Fisher's love for vintage light fittings led to him sourcing reclaimed industrial lights from a ship in Germany and a 60-year-old shatterproof number from a bomb shelter in the Czech Republic.
"It was about building a restaurant that we'll own forever. Me and Rik plan to be here in 20, 30 years' time – so it was really important for us that we just chose things that we wanted to surround ourselves with, and that we like," says Smith.
Dinner service will be introduced soon, as will an all-local booze menu when the liquor licence arrives.
30 Acres

233 The Parade, Norwood
Hours:

Daily 7.30am–5pm