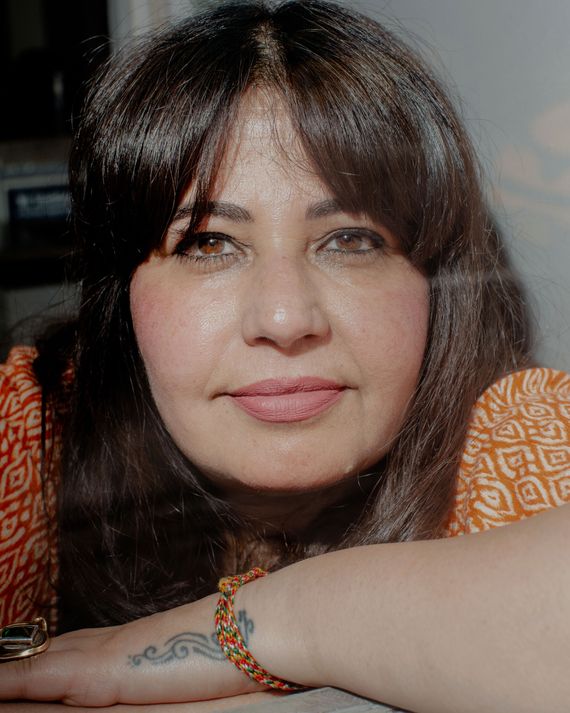 Chef and cookbook author Romy Gill, who was in New York earlier this month.
Photo: Natalie Keyssar
If anyone knows a good Kashmiri restaurant in the city, I'm all ears. I had assumed, perhaps foolishly, it wouldn't be a hard thing to find and thought it would be an appropriate place to meet Romy Gill, the Indian chef and cookbook author who currently makes her home in Britain. She was in town to promote her second cookbook, On the Himalayan Trail, which explores the cuisine of Kashmir in northern India. Her morning began at the Today show, where she'd demonstrated a few of her recipes — Nadir monji, a street snack of fried lotus root, and kong kogur, a roasted saffron chicken infused with Kashmiri spices and cooked with rice that's served with an apricot chutney. Next on the agenda, she would be joining me for lunch. The idea was to meet at Gill's preferred Kashmiri restaurant in New York so she could talk me through some of her favorite dishes, but Gill hasn't had Kashmiri food in New York, and when she asked her trusted chef network for recs, everyone came up empty. Meanwhile, I did some research and got nowhere.
Instead, we both found Sahib, which regards itself as pan-regional, serving dishes inspired by all of India. So I adjusted the plan, tracked down a manager, and asked if it would be possible for the chef to prepare whatever he thought best exemplified Kashmiri cooking. It ended the way the old-fashioned game of telephone always does: Somewhere down the communication line, the message got lost or confused, and so when we sit down, the chef is happily delivering the dishes that he considers to be his best, period, according to Gill, who converses with him in both Hindi and Punjabi and translates for me.
Gill was born in Burnpal, a city in West Bengal; her parents had migrated from Punjab, in the north. They settled where they did so her father could avoid farming and work at a steel plant, where, Gill says, growing up was a little like being raised as an army brat; she was exposed to families from all over the country, and — eagerly — to their food. "I would go to my neighbor's house and say, 'My mum hasn't fed me.' And they knew my mum had fed me. I just wanted to eat a fish curry or something else," she remembers.
Because many of her father's friends were Kashmiri, she grew up eating their native dishes along with those of his Gujarati and Rajasthani colleagues. Then there was the Bengali cuisine of the region and the Punjabi food her mother missed and re-created in an unfamiliar locale. Gill's own closest pals were from Kerala, Karnataka, and Tamil Nadu; they introduced her to the food of the south.
Gill never imagined she'd be a writer, but she did always know she wanted to live abroad and left home for the U.K. with her husband in her early 20s. She had suppressed her desire to become a chef after her father forbade her from enrolling in professional cooking courses — it wasn't something women did — but once in England, she admitted to herself and then her husband, "My heart is food." She felt displaced in her new home and missed her friends and family desperately. To comfort her, her husband took her out for Indian food, and that's when she knew: "I'm going to open a restaurant," she announced. "And I did," she tells me.
It took four years, in total, after securing the site, to start serving diners. "Anybody in their right mind would've given up," she says, laughing. But she "wanted to cook for people." She wanted it so much that after banks refused her a loan and she'd used up their family savings, she sold all the gold jewelry she was gifted for her wedding. ("As an Indian person," she lets me know, "you get a lot of gold jewelry when you get married.")
In 2013, Romy's Kitchen opened its doors in a converted stone cottage. The menu featured the "wholesome food" of Gill's childhood. She was in the nominal kitchen, holding her second child, 6-month-old daughter Neve, while taking orders of samosa. "To be able to do that, you have to have a supportive family, a partner," she says. "But also, you have to be very determined and know that you have two little girls and you want to do this." It was never easy, she admits. "For maybe seven years, I didn't see my daughters. I used to see them in the afternoon, for like an hour or so," she says softly, ruefully. "I have actually lost those years with them."
After six years of running the restaurant and missing her family, she was ready to move on. By then, Gill was making regular appearances on various British culinary television programs and BBC4 Radio. She was doing pop-ups in London, which she credits with putting her on food media's radar. That led to her first writing assignments and, eventually, the cookbooks.
"I think somebody has to give you an opportunity when you are an outsider," she says. "I didn't have a godfather or godmother to help me — no one to help me in the industry." She's not bitter when she says this; she's proud and only wants to use her own clout to pass more opportunities to others, beginning (but not ending, she emphasizes) with her family. "Today, if my daughter says, 'Mom, I want your help and I want to be in television,' I will make sure she's on television, because nepotism has to start from somewhere," she offers. "I will help people, but I also want to help my daughters."
Her first book, Zaika, was dedicated to Indian vegan cooking. For her second book, she wanted to focus on Kashmir and Ladakh, the northern regions that had continued to hold her interest since childhood, when she first tasted the food. She traveled in 2020, at the height of the pandemic, and the book is what has brought her here, to the States (on a tour that included stops in Los Angeles, Seattle, and Philadelphia), to New York, and, eventually, to Sahib, eating food that is not Kashmiri but is nothing to complain about.
A cream-enriched dhaniwal is set in front of us. "This is a very Punjabi way of making it," Gill says. Kashmiri cuisine is broth based and generously spiced, she explains. "They will not use any curry." The almond-stuffed potato balls known as dum aloo are smothered in a fiery orange gravy made with tomatoes, onions, and more cream; it too is a Punjabi preparation. The dish we enjoy most is Punjabi murgh curry — chicken coated in a spice-rich paste heady with cinnamon, cardamom, and ginger. It is, of course, not remotely Kashmiri, as chicken is not eaten in Ladakh. When Gill says this, she catches herself and lets me know that she has a bunch of chicken recipes in her cookbook, on the advice of her publisher, who wanted to appease Western readers. (Chicken is big in the U.S. and the U.K., so if you want to sell a cookbook here, you're probably going to be encouraged to ply the people with poultry. We all make concessions.)
As she gamely samples every dish on the table and animatedly offers up the narrative of her professional life for my benefit. I ask about the MBE that's attached to her name whenever she's mentioned in the British press. The fifth of five classes of the Order of Chivalry bestowed on citizens by the Queen, it's a recognition of someone's achievements in or in support of a community — education, the arts, or charity. Gill believes hers was awarded on account of her success as a chef and her contributions to Indian cuisine in the U.K., and the charitable work she does to raise money through her cooking. She tells me it is most meaningful to her because it made her father proud, which in turn made her proud.
I get the sense that she'd much rather talk about how the Indian dining scene has changed back home and the contributions her peers have made on that front. "We are so lucky in the U.K.," she enthuses. "We have regional Indian food. We have Sri Lankan food. We have food from each of the states of South India." And they have Kashmiri restaurants. Not many, but a few in London, and in Sheffield, where one of Gill's daughters attends college.
She sees a similar movement toward regional diversification among New York City's Indian restaurants. Since 2012, "the rise of Indian food has been amazing, because we have some fantastic restaurants that have been up-and-coming," she says. She mentions Dhamaka, and Junoon, where she has returned to on this trip. Indian Accent is another standout, and she's just tried Vatan, a vegan Guitari place near Sahib. Our lunch did not turn out as planned, it's true, but Gill is so gracious and bubbly despite it all. It's a contagious positivity. Who knows? Maybe by the time she's back, there will be a Kashmiri spot for us to try. I'm optimistic — and still taking recommendations.