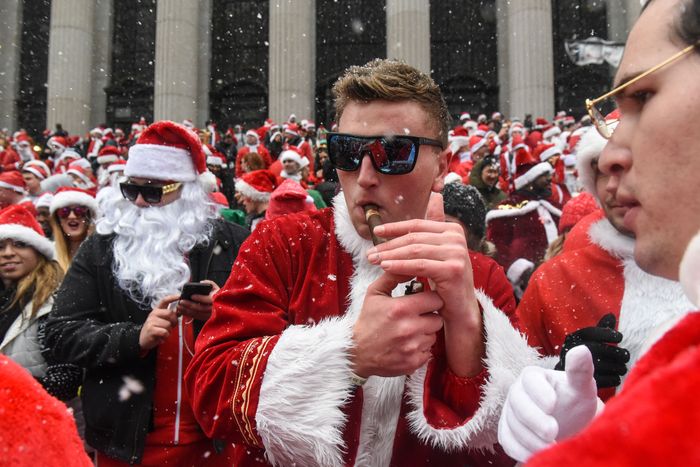 The not-good old days.
Photo: Stephanie Keith/Getty Images
It's happening: SantaCon NYC 2021 is officially on. While the event was on hiatus last year due to global catastrophe, as Gothamist points out, the Santas will return on December 11 for what will be, according to a graphic on its website, "the biggest SantaCon ever!" Among other things, this news is a useful reminder that normalcy has both pros and cons.
As in years past, would-be Santas will descend upon the city en masse, wearing red velour and drinking heavily. (Organizers strongly encourage participants to use trash cans for their rubbish, and to avoid fistfights whenever possible.) And, because bars and venues will be checking vaxx cards, all prospective Santas should carry proof of vaccination.
Speaking of which! The news here is not all bad. Based on a survey of approximately 14 Instagram comments, it seems that SantaCon — SantaCon! — may have an unexpectedly positive impact on public health. "Omg this is going to make me get vaccinated!" posted one longtime Santa. "Uggh, I'm gonna have to get vaccinated now," offered another.
It is too soon to draw definitive conclusions, obviously, but we must ask the question: What if SantaCon has been the answer this whole time?