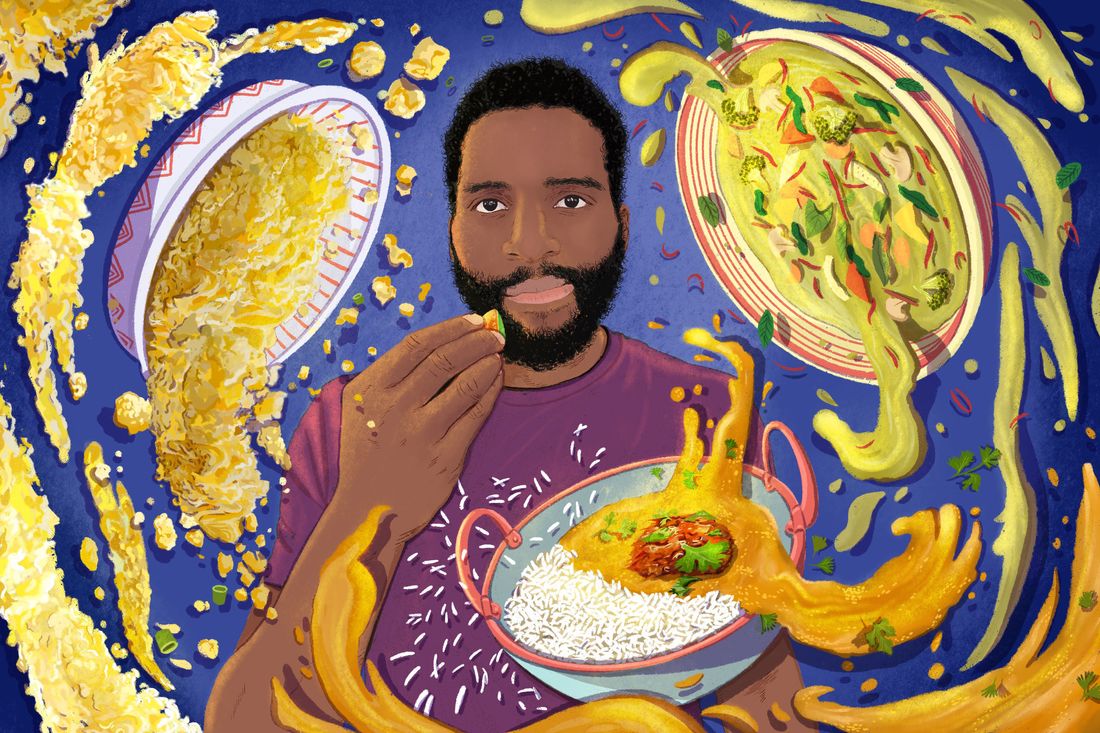 Illustration: Maanvi Kapur
"My interest in making art has been a long road," says Brandon Ndife, whose work is populated with "a lot of domestic and refurbished things" and whose first large-scale outdoor installation is currently on display at Storm King until November 7. "Bored with just about everything else in school, art stuck with me and became my refuge during high school," he says. Eventually, that interest led him to the Cooper Union, "a position I didn't take lightly," Ndife clarifies. "That education brought me to where I am now and the work I'm making to this day. It's safe to say my time there changed my life."
Thursday, August 11
My girlfriend and I usually wake up around eight. If we both don't have an urgent deadline that day, we make the decision to hit the snooze button. We have a ritual where we leave our phones outside the bedroom, just to have that space in the morning to kind of touch base and be gentle and tender and not absorb ourselves with the craziness that's awaiting us. It's not every day, but we definitely try.
We are big coffee people. It's not so much about the bean; it's a lot about the quantity. We frequent a pour-over. This morning, we busted out the Chemex and made a big pot. It's six cups, and my girlfriend drank most of it, but I definitely got a big cup and then I headed to my studio in Bushwick. I try to keep a business-hours situation, more like ten to five, so I can beat a little traffic on the way back and also prep for dinner. With the cooking, we low-key compete with one another. She is an amazing cook. I think the same about myself. So we usually split the responsibilities of sous-chef and love each other enough to collaborate most days in the kitchen. No session of cooking is complete without some background music. We love listening to music from the Caribbean — reggae, dub, rocksteady reign supreme.
I was working on a piece for a group show I'm in at a new space that is opening up September 30 in Tribeca called 125 Newbury, a project space that's affiliated with Pace gallery. It's something I've been working on for a while. My sculptures are made in stages: first casting the pieces, then assembling, and finally painting. This day was a painting day, which is the calmer part.
I probably should have had a snack, but I found myself a bit famished because I was in the zone. Usually I'll take either a water with me or some gum, but what really carries me through is listening to soothing music — a lot of transcendental music. There's a musician called Laraaji, a multi-instrumentalist who makes these colorful, lush self-recordings. That flow is hard to break.
Once I got home, though, I was starving. The week before, I'd picked up groceries at Al Baraka, this Indian grocer in Bed-Stuy that's this amazing blend of West Indian and Indian influences and also happens to be close to my house. My girlfriend and I get really excited about cooking — we love to cook, and we love to cook from various cultures: Thai coconut curries, Mexican with tortillas from scratch, West Indian pilau, fresh pastas from Raffetto's with various homemade sauces, and lots of South Indian food. Chana, daal, and we usually make a mint-cucumber raita to go with. I'd picked up ingredients for a menu of paneer, moong dal (which is a type of lentil), and basmati rice, tamarind chutney, and pickled mango. But by that point, it was seven o'clock, and I was so ravenous that I ended up just eating the pickle on rice. I love that pickle. I put that shit on everything.
And … that was it. I should be eating more, to be honest, but I got so in the zone it really was just the coffee and the rice.
Friday, August 12
My girlfriend had a deadline, so she left early to post up at Sincerely, Tommy, a new Black-owned coffee shop and clothing boutique down the block. So I had breakfast solo: eggs, oatmeal, and coffee. Soft-scrambled is usually our favorite. Four eggs, one-quarter tablespoon of butter, and low heat with a sprinkle of salt. I like oatmeal a bit sweet, so a spoon of syrup does the trick. Coffee is where we differ. She takes hers black strictly, and I like mine with a bit of cream. See the pattern here? After that, I drove to the studio. There, of course, I succumbed to the summer heat wave and decided to take it a little easy.
By six, I was definitely done for the day, so I headed back to Bed-Stuy and ordered a very spicy lamb vindaloo from Bombay Heights. It was really good, but it was incredibly spicy. My girlfriend knew I was going to do it, and she had warned me, but I was too hungry and I couldn't resist.
My girlfriend is a strict vegetarian, and I'm kind of omnivorous. My diet reflects hers, I think, more than the other way around. Living with her, I've been slowly turning vegetarian too, but I do sneak in meat — a burger here and there, some rotisserie chicken. Although I haven't been doing it as much as I thought I would: sneaking out to get some meat dishes. Still, since she wasn't there, I took advantage of the opportunity.
While I ate, I watched this Netflix show Top Boy, which is about these London youths. They're in a gang, and so they have a turf war that runs through the whole series. It's a pretty heartfelt show, but it's also pretty raw — a captivating watch for me. When my girlfriend got home, we watched a few more episodes together with a pint of Ben & Jerry's New York Super Fudge Chunk, and we were in bed by 11.
Saturday, August 13
We woke up around nine to kind of lie around for a bit before we went to pick up my son from his mother's house for the weekend. Breakfast was multigrain toast with butter and coffee with vanilla oat-milk creamer. We kept it light.
My son, Liam, is 5. His big interest right now is cars — talking about cars, watching NASCAR on the phone. Anyway, we picked him up from his mom's and then we cruised over to our friend Jake's house in Bed-Stuy. Jake is the surrogate uncle of my friend group and an amazing host. We love stopping by his house because we don't know what treats he has.
After a brief hang and debrief on our lives, we all got hungry around two or three, so we organized an impromptu barbecue. He has a grill and an outdoor patio. It was an open invite; we just texted whoever was available and then we went to get supplies. He already had some sausages from a co-op somewhere upstate, some burgers, veggie burgers, buns, and we went to Lincoln Market to pick up more. We were just entertaining ourselves — made a couple of Aperol spritzes, got Liam a lemonade. He was enthralled with watering my friend's garden with a hose. Jake is a great gardener and has a giant fig tree towering over the outdoor patio. At some point, we took a break to watch The Cat in the Hat, the Mike Myers film from 2002. It's pretty trippy. It's a live-action Cat in the Hat, so you can only imagine.
I had a cheeseburger with white cheddar, and my friend had grilled up some barbecue chicken, so I nibbled at that for a while and had some pieces of sausage. Kale-avocado-pepita salad, corn on the cob and yellow rice on the side. The whole thing wound down right around Liam's bedtime, about nine, when we left and put everyone to sleep.
Sunday, August 14
Breakfast was blueberry pancakes and scrambled eggs, which are a delicacy in this household. My son is a ravenous eater, and that's kind of his speciality. So I whipped up about six blueberry pancakes (the secret is vanilla extract) and six eggs with grade-A-amber maple syrup we got at a farmers' market in Vermont.
After that, we headed out to McCarren pool for a dip. It was surprisingly empty — just a very mellow pool afternoon. My son is getting used to swimming in the deeper ends, so to coax him, I play shark attack with him underwater. We all love swimming.
All that play worked up an appetite for lunch at Lilia, where I had an egg sandwich with mortadella and cheddar cheese, and my girlfriend had the frittata of the day, which was ricotta and broccoli rabe. We sat outside, and we both had coffees, and Liam got a sparkling water. We'd never been there before, but it was a cute new discovery. Our usual Williamsburg brunch spot is Reunion, which is an Israeli restaurant. We love shakshuka; we eat that a lot and make that a lot.
My son went back to his mom's house, and we met up with my sister for a drink at the Crown Inn, where I got a mezcal margarita, and we debriefed on our weeks and the projects we've got coming up. She's my big sis. We've always been close. What's funny is how different our career paths have been: she's a scientist working for a large pharmaceutical company, and I'm an artist. Our worlds may be far apart, but we've always spoken the same language.
Too hungry again when we got home, so we just had a lazy Sunday and made a quick cacio e pepe and a spring-mix salad for dinner. Spring mix — I love that phrase. It also had cucumber, cabbage, and homemade miso-ginger dressing.
Right before I go to sleep, I do a kind of mental checklist, going through what I'm going to do in the studio when I get there in the morning. Monday's checklist included cleaning up Friday's mess, looking at floor plans for my upcoming solo exhibition at Matthew Brown in L.A. this November, and working on some sketches for new sculptures.
Monday, August 15
We woke up and got moving. Coffee, of course, nibbles of toast and a Fuji apple — it was a fast-moving day. We went our separate ways pretty early: I went to the studio, and she had meetings around the city. My girlfriend founded an artist residency in Vermont, where she's from, called the 8th House Residency, so she was meeting with potential artists, doing studio visits and checking in on what's happening in the contemporary-art world. We actually met for the first time at a mutual friend's exhibition after-party at Honey's last September. She recommended I order a piña colada. I had two.
In my practice, I always want to bridge relationships of what I was thinking about outside the studio. For example, what to make of the objects we open, use, and discard — the things that we hold near to us in particular? Reckoning with my own past and my own possessions, I really wanted to have these separate urges, painting and sculpture, completely unified. So that marked my transition to sculpture about a decade ago. I've been trying to complicate the histories of found objects and postmodern reflexes in sculpture.
Around four, I stepped out for a pork bánh mì. Maya Congee Cafe is a place that's right across the street from me. It's an Asian grocery store that carries specialty ingredients for cooking Southeast Asian cuisine — curries and coconut milks and the like. They also serve a mean bubble tea. The bánh mì is delicious, a bit spicy, with broccoli and carrots and a great kimchee-mayo on it. It's pretty good.
That carried me for a few more hours in the studio. No snacks. How late I stay depends, again, on this flow state I'm in and how much I believe I can get done, just kind of gauging my endurance level. I stopped around 5:30, leaving the studio feeling that it had been a productive day of work.
I made dinner at home: another spring-mix salad with miso dressing, a quick side of vermicelli noodles in a white-miso broth, and, because my girlfriend requested pasta, some cacio e pepe for her.