Iddles now employs 12 seniors as waiters and kitchenhands. He says the older workers have "amazing life skills", are well-groomed and punctual. "They're amazing with people, customers love them."
One is a retired nurse who had moved to nearby Clifton Springs from Melbourne "and thought it would be a great way to meet people".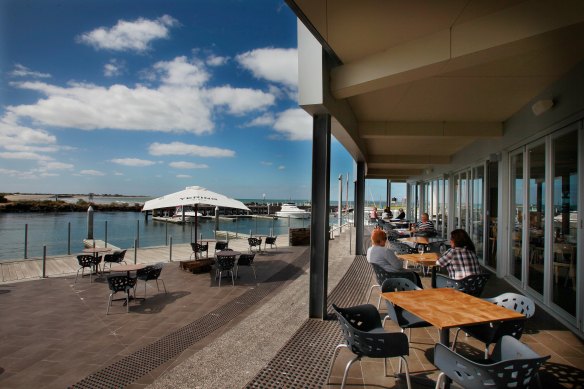 Iddles said Savage, the kitchenhand, is a social butterfly.
"He's a great guy, an amazing personality. He bounces off everyone in the kitchen and all the waiters. They think he is the bee's knees."
Savage, a retired food importer, said he started work at the restaurant in June because, with rising car, insurance and food costs, the pension wasn't enough to live on and he didn't have superannuation.
Aside from money, "I think it's given me a new lease on life as well," he said of the job. It enabled him to "get out and about and meet people". Last Wednesday night, he and his wife Sue had 360Q's Greek chef, Romanian waitress, and Bulgarian assistant manager and his partner around for dinner on their night off.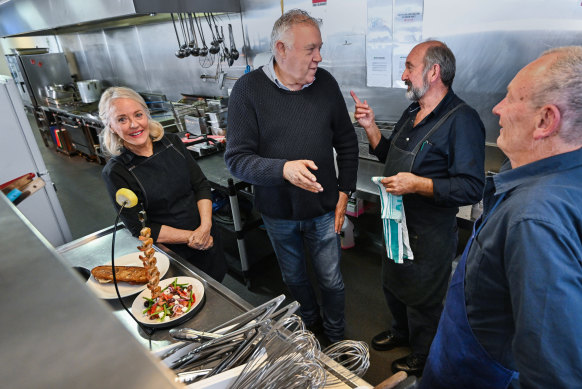 Iddles, 67, and the twin brother of former homicide detective Ron Iddles, said he got the idea of employing seniors earlier this year while helping clear tables at a friend's restaurant in Port Douglas. A customer asked Iddles how old he was and to tell his owner friend that "old people can still work".
"I thought, 'Here's me now 66 [at the time] and I've got plenty of spring in my step.' " Iddles said. "I thought there must be a lot of other people out there like me, who don't want to sit at home and drink tea all the time."
Loading
Iddles would encourage other businesses to employ older people. "I think everyone should embrace it. I think for far too long people have had an age phobia."
Susie Burston, 73, of Point Lonsdale, retired at 65 after working in catering and being a florist, bed and breakfast host, and craft shop owner.
She will soon start work at 360Q as a kitchenhand and waiter, for one day a week and at functions.
Asked why, she said: "I don't play golf or bridge and I've run out of things to do for my house. There's only so much gardening you can do. And I love working."
Burston said employing older staff could help keep restaurants and cafes open. "All these places are crying out for people to work, and there's a lot of us there who are quite capable of doing it."
The Morning Edition newsletter is our guide to the day's most important and interesting stories, analysis and insights. Sign up here.