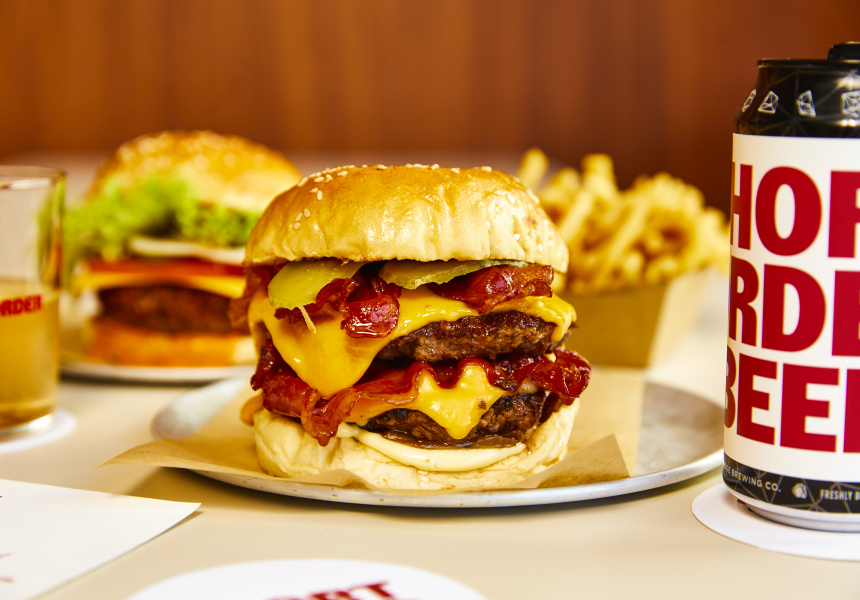 Short Order Burger Co started its journey in Fremantle's The Mantle (now Sunshine Harvester) back in 2015 and quickly developed a reputation as some of WA's benchmark burgers. Five years on, owner Simon Kony is putting down permanent roots in the port city with a licensed restaurant in the heart of Fremantle opposite Town Hall. It's been a long time coming, says Kony.
"I guess it's come around in an evolutionary circle," he tells Broadsheet. "I always wanted a bar, I always wanted to be able to provide customers with the same experience as our Hay Street store [in the Perth CBD] but with a bit extra. When this opportunity came up I had to take it."
The 80-seat venue, designed by Mata Design, is reminiscent of Hay Street's 1950's-diner vibe. (It's been built in the remains of an old souvenir store.)
"The landlords gutted the entire building," says Kony. "When I first came for an inspection, we had to step down into the dirt to see what was happening. A lot has happened here. There was no kitchen, no gas, no plumbing, no electricity."
One of the most striking aspects of the new restaurant is the sheer amount of natural light, which makes for an inviting dining experience. "I really wanted to add light because The Mantle was so dark," says Kony. "Freo hasn't had the chance to experience a lunch time yet. We're excited to see what the lunch trade brings. We were on the outskirts of it all so didn't get much foot traffic."
The starting menu features a familiar selection of beef and chicken burgers, with the Nashville Hot Chicken Sandwich thankfully a permanent addition. The vegetarian option has been levelled up with a new fried falafel-like patty made from lupins, chickpeas and beetroot.
Perhaps the biggest upgrade to the Short Order concept is the addition of a liquor license. With it comes a strong focus on local wines such as Local Weirdos and Old Mate, plus a boozy maple-pecan-bourbon milkshake. Beer is from Rocky Ridge Brewing Co and includes a custom Short Order house brew.
"This has also been on the cards for a while, we're really excited to be partnering with Rocky Ridge," says Kony. "They're a small business like us, and I see a lot of us in them. We're using an old draught recipe of theirs that works well with burgers. It's clean and crisp. I wanted it to taste like a good pub beer."
It's been a challenging year to launch a new restaurant, but Kony remains buoyant. "We're back at about 80 to 90 per cent turnover, which in this current climate is pretty lucky. It's been a weird year and with the fear of the unknown, it's unchartered territory. [But] I have faith in Perth and how we're going to bounce back."
Short Order Burger Co

3 William Street, Fremantle

Hours:

Mon to Sun 11am–9pm