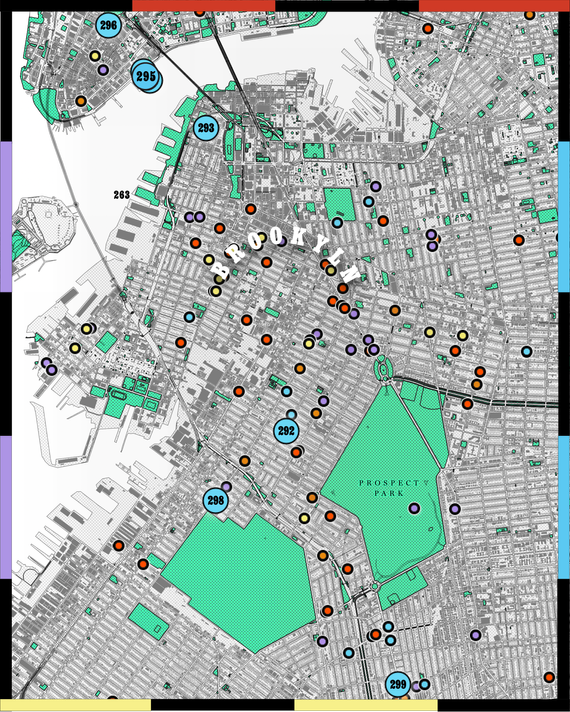 A running list of everwhere I've been, week 30: 292. Barbès, 293. Inga's Bar, 294. Dante, 295. Mister Dips, 296. The Bar Room at the Beekman, 297. Tin Building, 298. Panchita's Place, 299. Dunya Kabab House, 300. Trad Room
It's been said that chef Jean-Georges Vongerichten's new food hall the Tin Building was eight years in the making. It comprises 53,000 square feet. It offers six restaurants, six "fast-casual" counters, three bars, a market, and a "curated gourmet grocery packed with specialty ingredients, meats, cheeses, and fresh produce." The 300-plus employees currently working there are only half the total number that will be needed to fully staff this joint. It is the latest expression of an idea pioneered by Eataly, which is to cram as many different kinds of eating as possible into a single development.
The Tin Building is also, I learned when I dropped by last week, only open for five hours per day, four days per week: 12 to 5, Thursday to Sunday.
During my first trip on Friday afternoon, a friend and I tried to sit in a couple of open seats at the raw bar on the first floor, but as soon as we reached for the chairs, we were immediately intercepted by a prim employee with an iPad who informed us that they were reserved for some VIPs. When we inquired about sitting somewhere else, they told us that actually, all of the restaurants — six of them, remember — were fully booked for the rest of the day.
We settled for sandwiches at the least-fancy corner of the first floor with self-service tables and chairs off to the side. Surprisingly, the homemade turkey and roast beef were quite good, as were the fresh breads on which the sandwiches were built. Clearly, somebody knew what they were doing in the kitchen.
Could it have been Jean-Georges Vongerichten himself? I doubt it, but I did see him mulling about later in the weekend, trailed by various managers and fans hoping to say hi to the celebrity chef. As I sat down for Sunday brunch, an HR professional sitting next to me excitedly showed me a picture she'd taken with Vongerichten just 30 minutes earlier.
I am pretty sure it wasn't Jean-Georges who made my tomato salad and burger that day, but they were both really good, as was service on the first-floor T. Brasserie. You can pay $6.50 for an order of bread and butter at the restaurant, or you can just grab a whole baguette for $3.50 at the bakery on the other side of the building. It's the same bread, according to someone behind the counter. I think that's called vertical integration, and it is very good bread, as were the pain aux raisins and flaky chocolate croissant I also got from the bakery.
I wasn't as charmed by the jewel-box grocery or the celebrity-chef gift-shop element, with books by Vongerichten and friends scattered throughout the various gourmet stores hawking vinegars with double-digit prices. Not everything is branded with the "Tin Building by Jean-Georges" private label, but a lot of things are, like gift boxes of tea bags and chocolates made in collaboration with Jacques Torres.
Once home to the Fulton Fish Market, the Tin Building, as it's now known, is located in the South Street Seaport, a pocket of Manhattan I hadn't visited since before the pandemic. With its closed-off cobblestone streets leading up to the pier where historical ships dock and party boats float past, this area has always reminded me more of downtown Baltimore than New York City. It's clearly a tourist trap, but one that's justified by its view of the river, two bridges, and Brooklyn.
It has also become the latest luxury development that aims to draw tourists and — I suppose? — New Yorkers with a roster of celebrity-chef-backed businesses. Hudson Yards, en plein air. Even still, if you find yourself in the area after 5 p.m., you could do worse than the newish satellite location of Dante, though the outdoor cocktail bar barely resembles its Greenwich Village original. It feels more like the Miami edition, with multiple sleek bars serving draft cocktails and double-decker yachts drifting by in the distance. The networking vibes are strong, and it seems like a great place to meet your next rich boyfriend.
Next to Dante is the relocated Momofuku Ssäm Bar, but when I started to feel hungry, I opted for chicken tenders from Mister Dips, followed by a chocolate-dipped ice cream cone that I ate while sitting on a bench by the water, on a clear night looking at the sturgeon moon. Two friends nearby were smoking joints, and a couple listened to an Elvis Costello concert happening on the rooftop venue above us. Another group of people had brought their own beers and seemed to be happy for no other reason than the weather was nice.