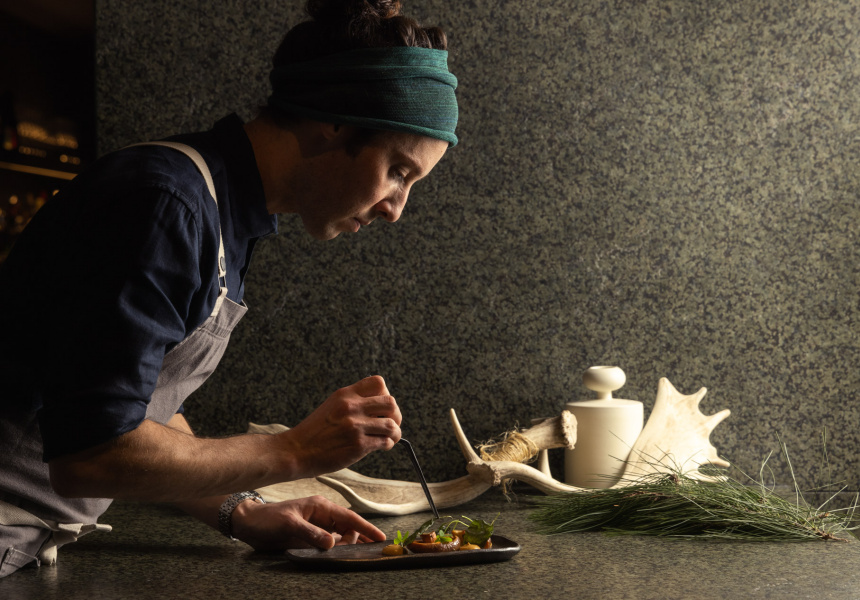 You won't find any chocolate on the menu at Sol, a bar and restaurant atop the gilded tower rising from the railway station. That's because every ingredient in the kitchen is sourced within South Australia – which means no saffron, nutmeg or cardamom either. But the spice cupboard is far from bare, thanks to the ingenuity of the head chef.
Kane Pollard made his name at his Tea Tree Gully restaurant Topiary, where he developed a reputation for sourcing as much produce as possible from the surrounding nursery. While there, he also learned to forage and stockpile local spice substitutes such as wild pink pepper and fennel seeds – but his secret weapon is what he calls the "waste-spice cabinet".
The softly spoken young chef estimates that Sol, which opened in the Skycity complex late last year, uses 20 times as much produce as Topiary. It's why reducing waste is such a priority here. In many restaurants, as much as a third of the plant material is discarded by the time peels, tops and cores have been removed. But at Sol, "nothing goes into green waste unless we've really thought about what we can do with it", says Pollard.
For a smoked tomato and strawberry consommé he made earlier in the year, Pollard dehydrated the pulp from the smoked tomatoes and blitzed it into a powder that "gives that same umami, smoky spice" as paprika. Celeriac skins are run over the grill and used to make a broth that's reduced until it becomes a smoky treacle. Carrot tops are flash fried and crushed with a mortar and pestle to create a parsley-like puree that can be whipped through sauces and creams, while apple cores are dehydrated and turned into a powder for a shortbread-like sable biscuit. The methods are ingenious, but just as importantly the results are delicious (Pollard was recently voted Best Chef in the People's Choice section of the Eat Easy Awards).
From the casino's rooftop restaurant, the chef can look out over the hills and sea where much of the restaurant's produce is sourced. But "being in the city, it's harder to find inspiration," he admits. "You're not looking outside the window at greenery that is changing and growing." He compensates by making plenty of stops on the drive down from his home in Gumeracha and spending around an hour each day foraging for ingredients, garnishes and table decorations.
There are significant advantages to his new home as well, including the extra space (with a design by Walter Brooke and Genesin Studio that's been shortlisted for several national design awards), staff and equipment at his disposal. "The Pacojet [ice-cream maker] is one piece of machinery that I'd never been able to use before," he says with undisguised glee, before describing the range of savoury snows, sorbets and ice-creams he's created out of vegetable by-products.
The team of a dozen chefs also allows far more scope for specialisation – so soft cheeses and butters are made in-house, and bread is baked fresh before each service. "I've always said if you put love and attention into your bread and butter, that sets the tone for the rest of the meal," says Pollard. He's turned the bread offering into a multi-sensory experience through creations such as grilled sourdough accompanied by an earthy pine tea, and three-corner garlic flatbread served with Coorong-mullet tarama and grilled grapes.
Highlights of the recently launched à la carte menu include a black bean and snow pea "porridge" with confit chicken thigh; crunchy chicken-fat croutons with crispy saltbush, which are rich and creamy but still intensely fresh; and udon noodles – made with Queensland blue pumpkin juice rather than water to give them an eye-popping orange hue – topped with duck-heart ham, shaved egg yolk, soursop leaves and a plant-based pumpkin XO.
Just like the vegetables, every part of the proteins is used, and most of the larger plates come with a bonus dish that allows the kitchen team to use extra cuts. A medallion of Birdwood venison with smoked butter turnips and pink peppercorn-spiked jus is accompanied by a venison-shoulder terrine that's breaded and fried with hay yoghurt.
It's all part of a vision designed to remind diners where they are and encourage them to appreciate everything that goes into their meal. "I want it to be more than just a dining experience," says Pollard. "I want it to be a learning experience and an eye-opening moment for people who are keen to try something different and explore more of South Australia's produce."
Sol has also just launched a high tea-style bottomless brunch on Sundays, with a menu featuring parsnip macarons, pumpkin-pie brûlée, crab crumpets, kingfish ceviche and more, plus free-flowing sparkling wine and spritzes made with Applewood gin, Applewood limoncello and Scull kombucha.
Sol

SkyCity Adelaide, Adelaide
Hours:

Wed & Thu 12pm–3pm, 5.30pm–10pm

Fri & Sat 12pm–3pm, 5.30pm–11pm

Sun 12pm–3pm, 5.30pm–10pm
skycityadelaide.com.au/eat-and-drink/sol-bar-and-restaurant/