In a sentence: One of Melbourne's few traditional Syrian restaurants, just 6km from the CBD
The damage: starters $10-$15, mains $15-25, wraps $8-$13
Top tip: It travels well – mix up your standard takeaway night!
Quench your thirst: Syrian coffee or BYO
If you like this try: Levanter Cafe (Balaclava) or Shaam (Niddrie)
I first came across Shamiat during the 2020 lockdowns when my desire to travel was heightened by its impossibility. While Googling lesser-known cuisines as an edible escape, I typed in "Syrian + restaurant + Melbourne". The results returned a cafe and two restaurants. Shamiat was within my five-kilometre radius. It turned out to be one of the most exciting picnics I've had the good fortune of eating (I'll tell you about the whole freekeh-stuffed duck another time).
Shamiat is run by a Syrian family who arrived in Melbourne as refugees. Surviving COVID lockdowns was just another hurdle for Helda, Attalah and their son Aboud, who had already twice relocated to escape civil war. It's a no-frills set up on the Fairfield fringe of Northcote, with murals of Palmyra and historic water mills (norias) a distraction from the support beam that appears to be holding up part of the ceiling.
Shamiat is busier in the evenings (there was just one other table when I visited for a mid-week lunch). I was expecting the food to take some time after a friendly but slow welcome from Helda, but it arrived swiftly. The dishes are incredible; the menu a love letter to the Levant. It's Syrian, but the food crosses over with Lebanese and Iraqi cuisine.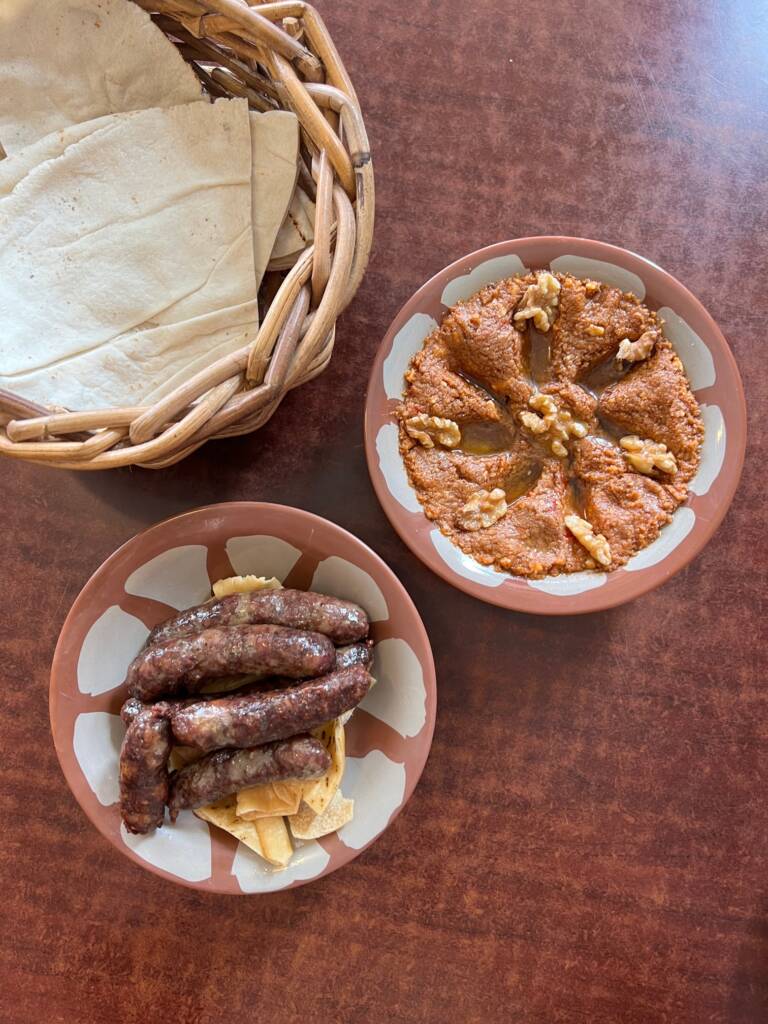 We started with makanek, slightly spicy, seriously garlicky lamb and beef sausages, which are made from scratch like everything else. The usually dips are on there, but my pick is the chunky muhamara made from crushed red peppers, walnuts, breadcrumbs, pomegranate molasses and just the right amount of chilli.
The "vegan plate" is not something I'd usually be drawn to, but the platter of four falafels, hummus, stuffed vine leaves, spinach sambousek, pickles and vegetables was a steal at $15 and a great way to try a little of all the starters.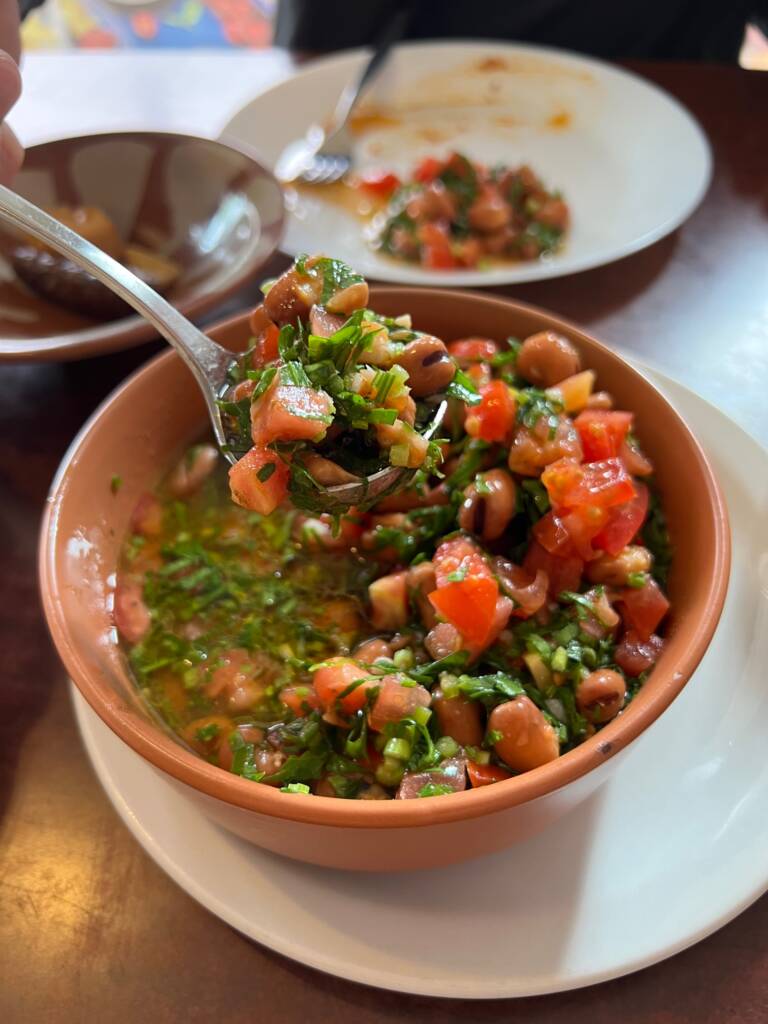 On to mains. Foul mudammas is another vegan-friendly meal that everyone can get around, made from rehydrated fava beans with a vampire-repelling amount of garlic, lemon juice, diced tomato, olive oil and parsley.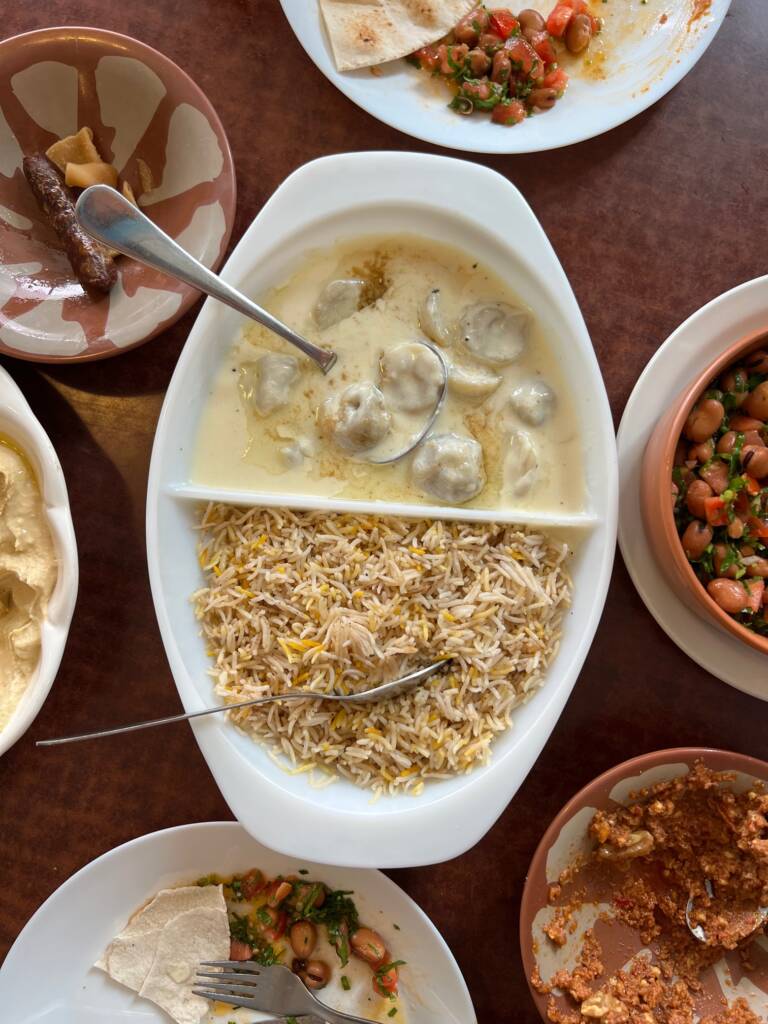 I didn't try the lamb and chicken kebabs and skewers, instead opting for less common dishes. The memory of kibbeh labanieh from my picnic is as fresh as the ingredients at Shamiat. I was enamoured by the fried, football-shaped, bulgur wheat and lamb dumplings swimming in a Tupperware container of thin, yoghurt sauce. Dining in, I felt the same about shish barak: small, dense dumplings with the appearance of wonky tortellini, swimming in a similar, equally as garlicky sauce. Both are served with rice.
To finish, traditional Syrian coffee laced with cardamom powered me through my afternoon. When I asked if dessert was available, Attalah nodded enthusiastically. Asking what was on the menu was trickier.
"It's a surprise," he said with a big smile.
Two cakes appeared on glass plates before the coffee hit the table: one a syrup-soaked semolina slice perfumed with rosewater, the other made from layers of thin sponge and cream, like tiramisu without the booze or coffee.
Speaking of booze, when I asked Attalah if it was wine only, his response was, "Wine, beer, arak, whisky!" He hopes to have a liquor licence application approved within a month. Until then, it's BYO or zero-alcohol Heineken beer.
Shamiat Syrian Restaurant
64 Victoria Rd, Northcote
shamiat.com.au