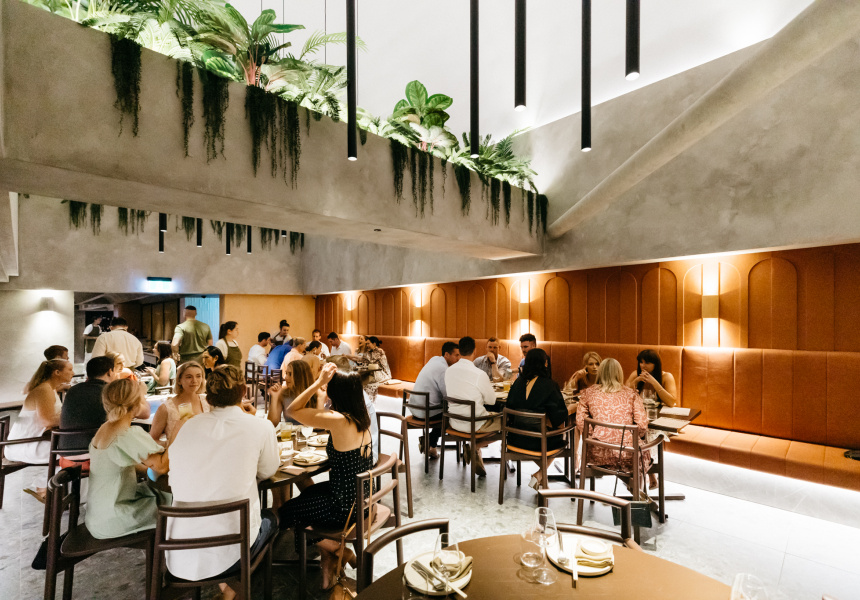 Building a restaurant in 2020 might seem a mug's game. Venue capacities remain restricted, the local economy is struggling, and a Covid vaccine isn't due to arrive on Australian shores for months.
Yet there have been plenty of new eateries to check out in the past 11 months. Late-night Roman restaurant Eterna debuted in the Valley, former Masterchef contestant Emily Yeoh opened her own place in Paddington, and popular Dutton Park pizza joint Little G moved into brand-new digs in Woolloongabba. And that's just a start.
But Southside – an eye popping new pan-Asian eatery that occupies a narrow brick tenancy in a Richards and Spence designed Fish Lane precinct – feels like its playing with higher stakes than most. With the possible exception of Agnes, it's arguably the most ambitious opening of the year. Not that co-owner David Flynn is feeling the pressure.
"For me, personally, it's optimism," Flynn says. "This business, during the build, we've injected that knowledge of Covid into the space, into the different rooms. We've doubled down on the outside area. Hypothetically, if Covid popped back up now and we were facing the same challenges as in March, this venue would be well placed to survive."
Flynn should know. He's also one of the operators who took a hit this year when he and business partners Frank Li, Andrew Hohns and Nick Woodward (who also co-own Rick Shores in Burleigh Heads) made the tough decision to permanently close Little Valley, their popular Valley eatery's format of a large bar area and function spaces alongside a dining room making it unviable for trading during the pandemic.
"That business was based on density," Flynn says. "Also, the Valley just wasn't going to bounce back very quickly, which is something we had to consider … With Southside, it's laid out so we can run it lean and we can spread people out, if necessary. Dealing with a somewhat known quantity such as Covid, we're much better prepared at Southside.
"[But] this is something that's probably been two years in the making. From the first time there was an initial conversation with the landlord and within the group … In terms of actually committing to the project, it was probably about halfway through last year."
It feels like two years of work has gone into this place. Southside is immaculate – a three-storey amalgamation of precise brickwork, concrete and terracotta surfaces. Everything feels thought through, from the outside tables, which local design studio Five Mile Radius has constructed from materials reclaimed from the worksite, to the way the fit-out transforms as you move through the venue, encouraging exploration.
Downstairs is bright and buzzy and remains largely open to the elements courtesy of enormous hangar-style windows that fold vertically, presenting the dining room to the bucolic urban park (and sister all-day cafe Kiki) outside. The second floor is a touch more restrained, defined by a steeply arched concrete ceiling and a light installation courtesy of interior architects OGE. Flynn refers to the restaurant as having two storeys but there's a smaller third-floor space dedicated to private dining – it's decked out with parquetry floors and has two large windows – one looking out over the second-floor dining room and the other over the nearby busway and railway overpass.
In the kitchen is former Little Valley and Rick Shores sous chef Simon Hanmer, backed by Donna Chang veteran Benny Lam, who cut his teeth in his family's celebrated Enjoy Inn restaurant in Fortitude Valley. Together, Hanmer and Lam are overseeing a pan-Asian menu that goes long on Chinese style wok dishes and dim sum, with the restaurant featuring a noodle-rolling room that you can peer into from Melbourne Street. The food is intended to be relatively fast-paced and approachable, to suit returning locals from the nearby apartments and the in-and-out QPAC crowd.
On the dim sum menu you might order barbeque pork steam buns, prawn and truffle har gow or smoked pork and herb xiao long bao. The share and wok menus include a salt and pepper cuttlefish sandwich with Sriracha, Singapore-chilli-style king prawns, dan dan noodles with waygu beef and strange flavour sauce (a Sichuan sauce built on rose sesame, aged vinegar and five spice), and char kway teow tossed with Moreton Bay bug and lap cheong (Cantonese sausage). It's all priced to move, with just a clutch of dishes eclipsing the $40 mark.
Matched to the food is a tight 99-bottle wine list that celebrates old-world expressions alongside Australian producers such as Amata Vino, Shobbrook Estate and Cobaw Ridge. Cocktails are intended to be fun and quaffable, with house creations incorporating plenty of Asian spice and herbs.
It adds up to a venue that in Covid times could symbolise the folly of Brisbane's restaurant scene, which pre-pandemic was already regarded as being overstocked with venues. But when it's delivered like this, it's feels more like a mark of the depth of talent that now operates in the city. Sure, we might need to wait until 2021 and vaccines and further Jobkeeper wind-backs to discover the true extent of the industry's struggles. But right now, here on Fish Lane, it feels like it's in about as good a place as it possibly could be.
Southside
Fish Lane Town Square, 63 Melbourne Street, South Brisbane
No phone
Hours:
Tue to Thu 5.30pm–late
Fri to Sun 12pm–late