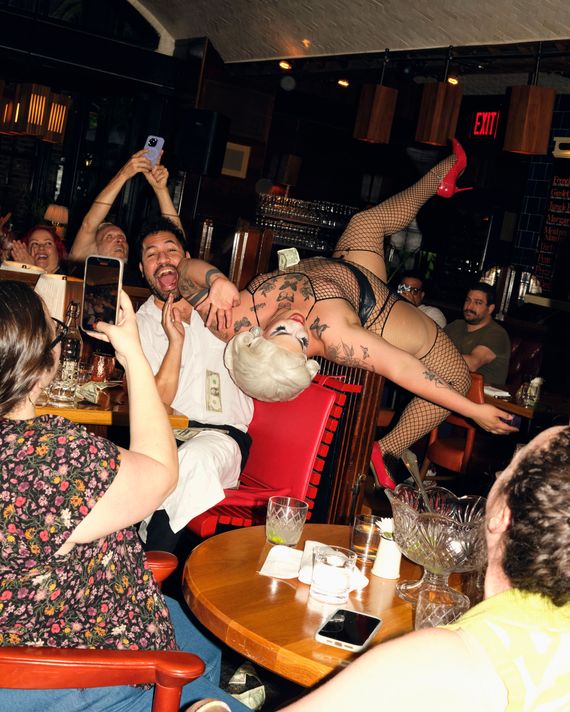 The Body Beautiful Brunch with Essa Noche at the Standard Grill. Photo: Hugo Yu
One Sunday in January, some friends and I went to drag brunch at The Standard Grill below the High Line. Anthropological curiosity drove us — we're all of homosexual, but not of drag brunch, experience. The Body Beautiful, hosted by Essa Noche in the bistro of the restaurant, was the toniest setting we could have imagined for an afternoon of eggs with a side of tucking panties. The crowd matched — so many YSL bags. There were a table of wine moms from Essex County with perfect roots, a woman wearing a cupcake hat celebrating her birthday, a five top passing around a drowsy baby over margarita punch bowls. Earlier, I had asked the maître d' what kinds of people usually come to this, and she said, "Everyone. Moms, babies, husbands, grandmas."
The food arrived snappily — steak and eggs and crispy potatoes cooked how you want them — along with green juice and a round of espresso martinis. Essa Noche, serving body in zebra fishnet stockings and a sheer denim bralet with matching panties, ran through the rules: to have fun ("You survived four plagues!") and, most important, to tip. Xunami Muse, daughter of RuPaul's Drag Race All Star Kandy Muse, walked around the restaurant with a turquoise beach bucket in our first opportunity to "exercise our tipping muscles."
The drag I knew happened in gay bars, where the funk of sweat, alcohol, and sex commingle from bodies crowding closer together for a view of a queen letting loose onstage. Bam! Death drop, duckwalk, drama. We scream like confetti cannons. This was the stuff of nighttime, the original backdrop of queer life, when people could be themselves under the slip of darkness and you could see God at 2 a.m. (Drugs?) Initially, I was a skeptic: Was this just a way for PFLAG moms to get fucked up? Yes, but spending various Sundays at drag brunches around the city allowed me to consider the bigger picture of the wig economy, because at the end of the Body Beautiful, I witnessed one of the most astonishing things I had ever seen at a drag show: a $150 tip.
After changing out of shiny gold heels into gray New Balance sneakers, Essa Noche wrapped up the afternoon with a bidding war to determine the final song she would perform. The cupcake hat offered $20 for Madonna's "Borderline." Another cranked it up to $100 for Dua Lipa's "Levitating." Then the real stunner: a $150 Venmo payment for "Toxic" by up-and-coming artist Britney Spears. Our table was gooped, gagged, gobsmacked — not just by the amount but the song choice. Gay culture would have dictated some tweaked twink in ASOS throwing a damp dollar bill at a drag queen requesting a B-cut from Farrah Abraham's underrated masterpiece My Teenage Dream Ended — with choreo. Our paltry $1 bills were not the currency of choice here, and frankly, we need to step it up.
Ever since Lucky Cheng's first opened in the old gay bathhouse in 1993, drag brunches became the bachelorette alternative to the strip club, which made it seem like it wasn't "for us." In the meantime, drag bingo, Drag Race, drag story hour, and anti-drag, anti-trans legislation have created a world in which attacking drag has become part of the right-wing playbook precisely because of its ubiquity in the mainstream. Drag brunch is like the Target Pride collection, the diffusion line of the art form, which is why it pisses conservatives off and seems corny to millennials. But in New York, the genre has only expanded. There are as many drag brunches as there are performers with long-standing shows like the Broadway brunch at Lips and at restaurants like Burger & Lobster, Sona, and La Pulpería. There are The Little Mermaid–, Sister Act–, and Taylor Swift–themed shows. Drag brunch is a populist pleasure with a low barrier for entry — you can get day drunk and have plenty of time to catch the Metro-North back to Connecticut.
If you were wondering, Lucky Cheng's is still kicking and doing cartwheels off the stage. After moving out of the East Village in 2012, allegedly shutting down a couple of years later only to reemerge and hopscotch around midtown, the institution currently resides at Secret Room, a basement space near 45th Street. While it might no longer be attracting the monarchs of microstates (Prince Albert put it on the map) or creating the terroir for Sex and the City episodes (remember Miranda's birthday in the premiere?), there was a lovable scrappiness to the entire operation on a Mother's Day visit. The queens led by Lola Michele-Kiki and Prima did everything including checking reservations, waiting tables, DJ-ing, and doing the lights — oh, and the show. We had a round of "Cat's Meow" shots (tequila with lime and grenadine) from plastic thimbles along with the bottomless mimosas. I have no idea if I was drunk (I wasn't, I swear!), but what I did know was that this bitch will never die.
The most keyed up, extremely "drag brunch" drag brunch I went to was at Fresco's Grand Cantina in Astoria. There's plenty of lubricant provided by the 34-ounce frozen margaritas, which you'll be drinking instead of eating the food (sorry). The emcees, Hibiscus and Catrina Lovelace operating in that classic comedy pairing (one big, one small), delivered that straight adrenaline hit of drag: synchronized choreo to Doja Cat, a Pussycat Dolls medley in honor of their "favorite Filipina artist for AAPI month," the thrill of multiple jump splits, and dirty jokes ("We're going to give you the D," they cackled. "Not our dicks — drag!").
The most surreal visit took me to the textiles-and-bedding section of the Macy's in Herald Square, where the restaurant Stella 34 Trattoria (yes, that's the name) regularly hosts a drag brunch. "This is the most sunlight drag queens have ever seen," said a gay wearing shorts with a two-inch inseam before introducing Pixie Aventura for the Latin Divas show. I knew Pixie best for her encyclopedic knowledge and Olympic-level drag suicide performances at the Pavilion on Fire Island. In those, she could take 80 requests — everything from Celine Dion to the Inspector Gadget theme song — and run through them like a god or a monster. Here, she did a spoken-word lip sync to Ana Navarro's anti-Trump, pro-immigrant rants spliced with Jarina De Marco's "STFU."
During the show, two small toddlers became transfixed with one performer in particular, Chiquitita, who first emerged dancing to Shakira in a baby-blue belly-dancing number. When she reappeared in a blood-red dress with a dramatic cape, she found her spot in front of an electric fan so that her hair could do that Mariah Carey flutter as she soared along to Rocío Dúrcal's torch song, "La Gata Bajo la Lluvia." The kids left their tables and stood transfixed before collecting dollar bills from the patrons on her behalf. "They will be getting a cut of $1," quipped Chiquitita. "And they're sharing it."
"Do you see how dangerous drag queens are to children?" said Pixie. "Make some noise for these kids that are going to replace me someday." For the crowd-work portion of the show, Pixie brought everyone up who was celebrating something — birthdays, graduations, a promotion — and asked each of them if they were "family or ally." One woman, Angie, asked, "What does that mean?" "That means you're an ally," said Pixie. Then she asked the kids why they wanted to be here. "Because I like the dragon show," replied one, to which Pixie made a hissing roar.
I've been won over. While I'm not of the opinion that drag shouldn't be dangerous, there was something subversive around how normie drag brunch is — you can bring your mom, baby, husband, and grandma to reconsider gender constructs while drag king Myster E Mel Kiki gyrates his hips to Bad Bunny while dressed as an inflatable sun. The inherent silliness of drag (ahem, gender) is what's so broadly relatable. Because while all drag might not be for everyone, drag brunch just might be.