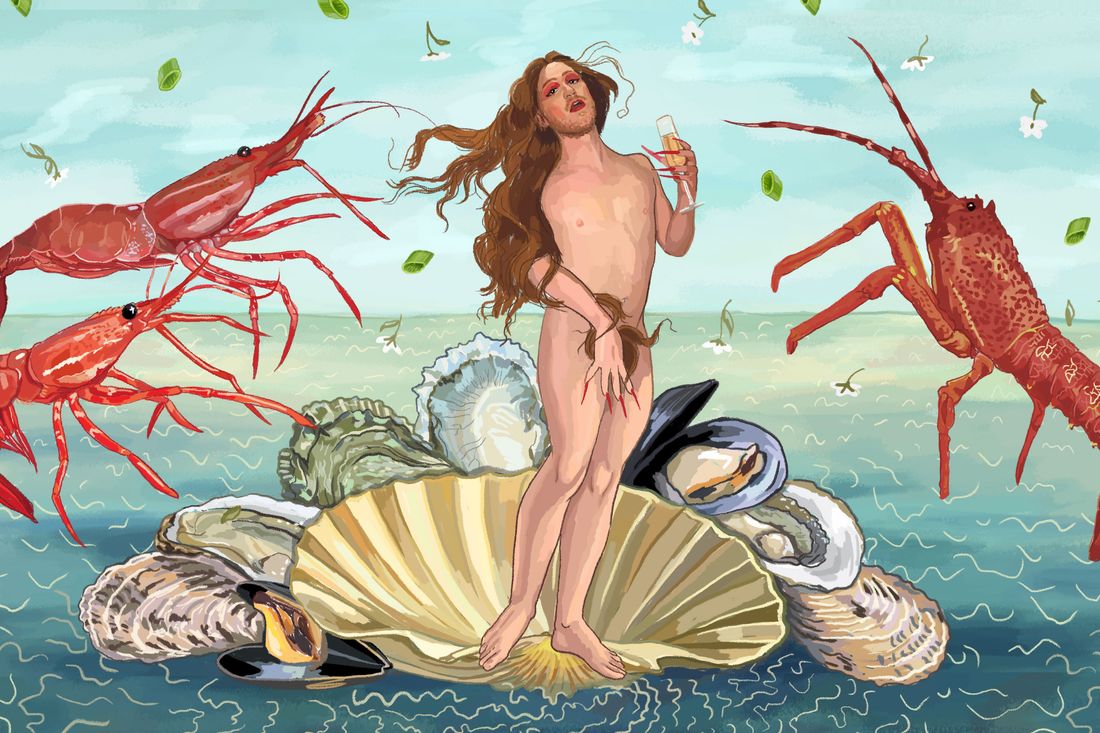 Steak Diane and her shellfish subjects in her underwater queendom.
Illustration: Margalit Cutler
Who is Steak Diane? In a literal sense, she's the drag-persona alter ego of art director and designer Todd Heim. But also, "I think this character is really a hostess at her core," Heim says. "She doesn't really know how to cook, or doesn't cook well, but she sets a great table and brings people together and entertains." Heim spent the pandemic turning out Steak Diane–branded masks, but has now moved on ("I was like, um, I'm pretty sick of this — I think we all are, in a lot of capacities."). Now, he's working to launch a full line of home textiles called Chez Diane. The first collection, Fruits de Mare, is inspired by Heim's love of shellfish, something he indulged this week, enjoying grilled oysters in Cape Cod, stuffies in Rhode Island, and shrimp cocktail in the Meatpacking District. To drink? A 'tini, of course. 
Thursday, August 12
Last dinner after a week in Cape Cod at my friend Flannery's family home in Truro. My other friend James is an excellent cook and made us grilled oysters with herby butter to start.
Flannery is an actual chef and cooked spectacular food for us all week. She caters and does events in the city and cooks on sailboats out of the city so if you ever have the opportunity to try her food you must! Dinner was the insalata verde à la Via Carota; grilled corn; steamed razor clams tossed with lemon, garlic, and parsley; and cod wrapped in hoja santa leaves with a tomato-peach salsa. Earlier that day on the beach we had been discussing food from the '90s, so fruit salsa was on everyone's mind.
Dessert was these oatmeal-raisin cookies made by a local cookie company (I think called Kayak cookies?) that I obsessively bought whilst on the Cape. I would definitely say I seek out cookies wherever I am. Every market we went to had these cookies. We were eating them on the beach and having them after dinner — we had these cookies so many times.
I did not cook anything, but did make the martinis, pour the wine, do the dishes, and plate said oatmeal-raisin cookies. Martinis have always been my drink. You have to hit a point where they're not gross to you anymore. If a 20-year-old is drinking a martini it's like, I don't think you're actually enjoying that. 
Friday, August 13
Gabe (my lovely boyfriend) and I had a very long drive back to the city.
Stopped at Hatch's Fish Market in Wellfleet on the way out to pick up some of their kippered salmon. It is the best I've ever had. It feels sacrilege to say this, but it's even better than the kippered salmon at Russ & Daughters. We also picked up Portuguese muffins for tomato sandwiches, which are like a larger and slightly sweeter English muffin.
For lunch, we stopped at Anthony's Seafood in Middletown, Rhode Island. Had clam chowder (solid!), onion rings (have you ever met an onion ring you didn't like?), a stuffed quahog (this was new to me — basically just a clam shell filled with stuffing — a taste of Thanksgiving on a 96-degree day!), coleslaw, and a lobster roll. The lobster roll was cold and mayo based, so I learned at this moment that I much prefer a Connecticut-style lobster roll (warm with butter), because we all know lobster is just a vessel for butter, right?
I think right now for my shellfish rankings I would go mussels number one, oysters number two, prawns or shrimp three, and then lobster four. Honestly, I like a lobster roll but, anytime I eat a whole lobster I always think it's a little gross.
Eight hours later, back in the city. Dropped our stuff off, said hi to the cat, and headed to the West Village for my friend Josh's birthday party at Julius. Got to the area a little bit early so popped into Bar Pisellino for a 'tini — my order is always vodka, a whisper dirty. I'm currently working on a martini guide to NYC and presentation wise the 'tini at Pisellino is one of the best — the silver tray! The sidecar on crushed ice! The olives nestled atop said crushed ice! Swoon.
Walked over to Julius for the bday party. The Bar Pisellino-to-Julius move is a favorite of mine. High-low! Another 'tini, also mozzarella sticks, onion rings (twice in one day!), and a cheeseburger (one of the best in the city, in my opinion). Abundant ranch and mayo on the side. Later in the night I was mistakenly bought a tequila soda and didn't want to be fussy so sipped it for the rest of the eve. A choice I would regret in the a.m.!
Saturday, August 14
Returned rental car from Cape Cod trip. Gabe headed to the Fort Greene farmer's market (his bliss, not mine — too many kids and dogs!) and I headed to Russ & Daughters at the Navy Yard. I guess I was feeling bad about my earlier feelings about the better kippered salmon from Hatch's. Sesame bagel toasted, scallion cream cheese, lox, capers, onions. Pint of whitefish for the week. Iced coffee with half-and-half and a few black-and-white cookies. Found Gabe on a blanket in Fort Greene Park and ate our bagels as he regaled me with tales of summertime produce.
Lunch was a tomato sandwich at home while I worked a little bit. Toasted Portuguese muffin with mayo, salt, and pepper. Honestly, I do prefer a tomato sandwich to a BLT when the tomatoes are this good. We're in such primetime.
Headed uptown early in the evening to have a 'tini at Bemelmans Bar at the Carlyle before my friend Honora's birthday, which was also uptown. I have to confess that this was my first time going to Bemelmans and everyone I told this to was positively shocked to hear it.
Rest easy now, I've been to Bemelmans. Same 'tini order as always and the presentation was divine. Multiple snack-caddy refills. Caught a bit of the live piano music, which I thought I wouldn't like (too loud! small space!) but ended up being downright charming with perfect sound calibration — they know what they're doing there!
Dinner was at Deux Amis, a French restaurant in Turtle Bay. It would be generous to call the food mediocre and they were out of frites (seems criminal!), but the vibes were absolutely right. Sometimes you want the atmosphere of Pastis or the Odeon without the scene and there are nondescript French restaurants all over the city that have that in spades. Order was a martini, shared moules marinieres (no frites!), shared beet salad and onion tart (intricate Balsamic reduction sauce work on the plates). Entrée was roast chicken with a potato gratin. Normally I would get steak frites in this situation but I am once again telling you there were no frites. Dessert was chocolate soufflé, apple tart, and profiteroles.
Sunday, August 15
Got out of bed early-ish (for a Sunday) and biked over to KIT (formerly Meme's Diner, RIP). They were hosting a pop-up of Zoe Kanan, a baker I follow on Instagram. She makes incredible doughnuts and this was my first time having them. A strawberry tomato ribbon doughnut on a stick and a coconut-crunch mochi doughnut. Grabbed iced Americanos and brought home to Gabe. Had it all with some doughnut peaches.
Lunch was a tomato sandwich while working again, same as yesterday. Also some kippered salmon on the side.
Early evening I headed to Achilles Heel to meet up with my friend Natasha. Not only is Natasha an incredible pastry chef (she does a series of pop-ups around the city called Never Ending Taste — not to be missed!) but she is also a talented artist who illustrated a scarf that we'll be selling alongside my home textile collection. All proceeds from the scarf will go to the Ali Forney Center to support at risk LGBTQ+ youth. She needed to hand off the artwork so that I could get it scanned and sent off to my factory. We chatted
and had a 'tini and watched the sunset. Achilles Heel has the best sunset view.
Left Natasha and in keeping with the Tarlow theme, headed to Diner. Glass of pet nat, shaved summer squash salad, cheeseburger medium rare, and peach-pit panna cotta with blueberries and apricot. Diner is a favorite of mine and I seem to go at least once every couple of weeks. There's always a table and a friendly face and a warm vibe to greet you and the martini and burger are always perfect. Feels a little bit like home after so many years of regularly going there. Rushed home to watch the finale of White Lotus. I would watch anything Jennifer Coolidge does forever and ever and ever and ever.
Monday, August 16
A cappuccino and then tomato toast. For coffee, I go to Saraghina Bakery half the time and then there's this other place around the corner, Odd Fox, that I go to the other half.
Headed into the city to do a bunch of errands. Stopped at Deluxe Green Bo for lunch: scallion pancake, spicy wontons with peanut sauce and chili oil, General Tso's chicken, and a Coke.
Dropped off the scarf illustration from Natasha to be scanned. I was in Nolita and I realized I was urgently craving pistachio gelato. Called my friend Bari (of nearby Baz Bagel) and she sent me to the Sant Ambroeus Gelateria. I got pistachio in a cone and it did not disappoint.
Garment District all afternoon for errands and to check in with my factory.
I was seeing a dance performance at Little Island so I headed to Pastis to meet my friend Kindall for aperitivi beforehand. (I would say first and foremost I am an Odeon girl; we went to Pastis because we were in the neighborhood.) A spritz, fries, oysters, and shrimp cocktail and then I rushed over to Little Island to meet Gabe for the performance.
After the performance, we met up with our friend Sophia and carried out our weekly tradition of what we call Hot Pasta, which is basically our quest to try every red sauce place in Little Italy, for now, and I guess we'll branch out to the other neighborhoods when we've accomplished that. Our spot was Emilio's Ballato, and the order was a 'tini, Caesar salad, spaghetti pomodoro, and tiramisu. The food was pretty solid for the red-sauce Italian genre and we sat under a picture of Gwyneth Paltrow.
Hot Pasta started because we are aligned in that we can eat winter food all year long, even during the hottest part of the summer. Little Italy is so fun and there are so many restaurants. I just have no sense of which ones are shitty and which ones are good, if there are actually any good ones. So we decided to find out.
Tuesday, August 17
A cappuccino, a nectarine, and the last black-and-white cookie for breakfast.
For lunch, Gabe made a delicious tomato, chickpea, herby, egg thing, that I guess I would call a shakshuka, that he cooked from a Carla Lalli Music recipe. If I were not dating Gabe I think I would eat most every meal in a restaurant. But he's a spectacular cook and he cooks for me often (as long as I do the dishes) which is very nice.
Final stop on the Steak Diane Grub Street Diet was Hart's. Hart's and the Fly and Cervo's are my absolute favorite restaurants. Don't make me choose one; it's simply not possible. Hart's, though, is closest to our apartment so has become the go-to neighborhood spot. Pre-pandemic I went at least once a week and I'm so happy they're finally back open as a restaurant (though I miss the market, too!). The atmosphere is always so warm, I always run into someone unexpected and get to say hi, they can always find a spot for you, the food is divine, and the list goes on and on.
The order was a martini, the table-shared roast corn with bottarga and Parmesan, arugula with sweet onion and Parm, fresh ricotta with marinated tomatoes and pizza bianca. Gillian was cheffing and sent out white prawns with cilantro and almonds. Gabe and I plate-swapped the clam toast and lamb burger with anchovies. A glass of pét-nat and then the olive-oil cake with whipped cream and poached peaches.