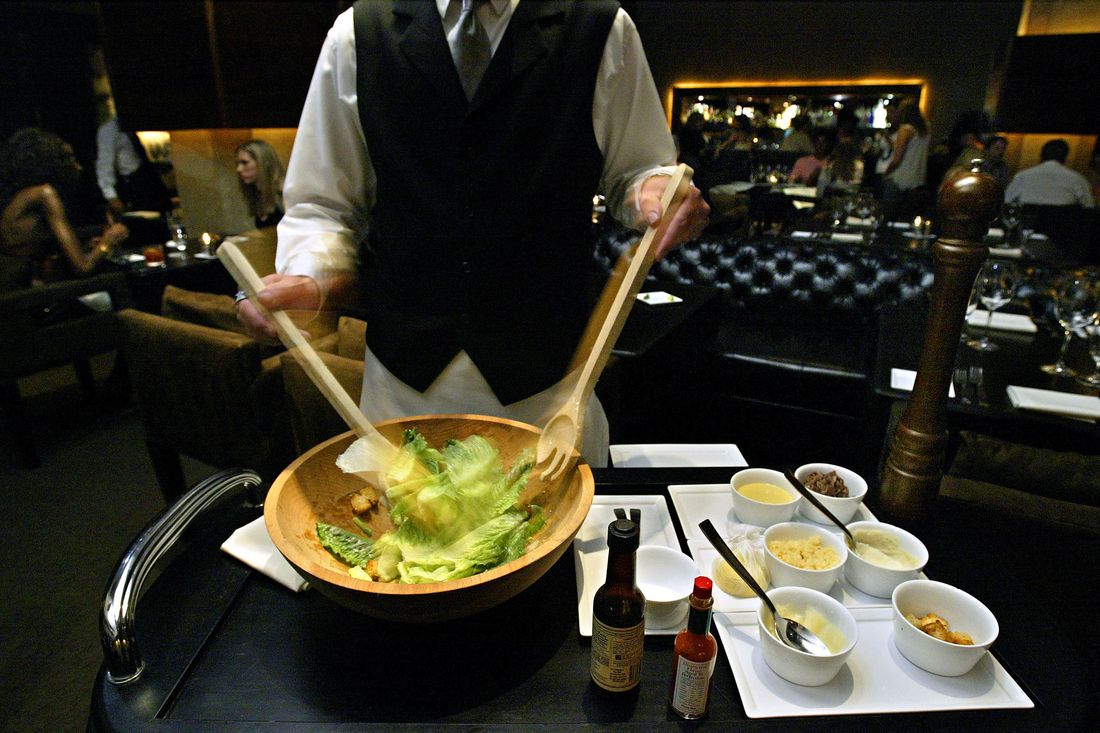 A proper Caesar salad. Photo: Ricardo DeAratanha/Los Angeles Times via Getty Images
I first became aware of the scourge of Fake Caesar Salads at K'Far, Michael Solomonov's Middle Eastern bakery and café in Williamsburg's Hoxton hotel. The menu features an item that has been listed variously as a "Tehina Caesar" or a "Roasted Fennel Caesar." In theory, I have no problem with this. I've got no bone to pick with sesame and love to see new possibilities applied to a classic recipe. Yet the dish that arrives at the table is a pile of fennel with Pecorino (okay) and pita crumbs (fine) … and a dressing that offers none of the bright creaminess that is paramount to the classic Caesar experience. Where is the bite of Dijon? The heft of Worcestershire? The hit of the anchovy? Not on my taste buds — that's for sure.
I don't mean to single out K'far. Over the years, horrible acts have been committed in the name of Caesar. There was the anti-anchovy movement of the '80s and '90s; delis have always played fast and loose with the "Caesar" name (panini?); and the Chopt salad chain has long offered a smoky, spicy "Mexican Caesar," ignoring the fact that the Caesar was invented in Tijuana, meaning — technically — every classic Caesar is, in fact, a Mexican Caesar. But lately, chefs who should know better seem more than happy to sully the Caesar's name with salads that have nothing at all to do with that original recipe.
One night, I met a friend and fellow Caesar devotee at Five Acres, the farm-to-table spot inside Rockefeller Center. I ordered the fennel Caesar salad. "This is a Caesar salad?" he asked. The dressing nodded to the original, but the croutons had been replaced by savory granola. The kitchen could have just as easily called this a "Fennel Breakfast Bowl" and landed as close to the original reference point. "What's wrong with people?" my friend muttered to himself, shaking his head in disbelief.
At Sesamo, an Italian-Asian fusion restaurant on the Upper West Side, the "Caesar" comes with five-spice croutons and nori. Handcraft, a comfort-food spot in Kips Bay, offers "Elote Caesar Salad." A true Caesar is defined by depth that arrives in spite of the recipe's relative austerity: How do lettuce, lemon, and garlic become something greater? This elote variant, however, is a real kitchen-sink salad: charred corn, pepitas, cotija cheese, radish, ancho chile, cured egg yolk, crispy tortilla, and dressing that's spiked with poblano pepper.
As always, I blame Carbone. Although great Caesars have always had a home in the city — and became a staple of New-American spots like Diner — the red-sauce revival helped ignite the most recent wave of Caesar madness with its tableside presentation, itself a throwback that adhered — quite rigidly — to the salad's origins. If anyone had forgotten after eating one too many clamshell versions, they remembered, Caesar salad is amazing. Crispy. Crunchy. Fresh. And the word that everyone associates with a seriously great Caesar: sharp. A renewed wave of Caesar madness took hold. Of course, chefs couldn't help but offer their own spins on this salad.
Within the framework of the particular genre, there is, of course, room for creativity. Some argue that kale amplifies the more rustic qualities of the dressing. Personally, I prefer a soft head of romaine, but I'm not a grump about lettuce. Cafe Spaghetti and Carne Mare both demonstrate that the addition of sesame seeds is hardly a deal-breaker provided the other elements of the salad are afforded the proper respect. And toasty bread crumbs remain forever and always, it should go without saying, a more than acceptable substitute for croutons. I may be a classicist, but I'm not dogmatic.
The problems arise when chefs veer too far off course, but the real issue, I have come to realize, is that "Caesar" is a better sell than "salad," and who can blame chefs for trying to entice their customers? I can. If I see something called, say, "Cucumber Caesar," I'm going to be more intrigued than I would be if I came across a "Cucumber Salad" or even — perish the thought — "Cucumbers in Creamy Citronette." But that word also comes with a heightened expectation — and an implicit promise. If the cheffed-up makeover does not deliver on its end of the bargain, the only sharpness this diner experiences are pangs of bitter disappointment.