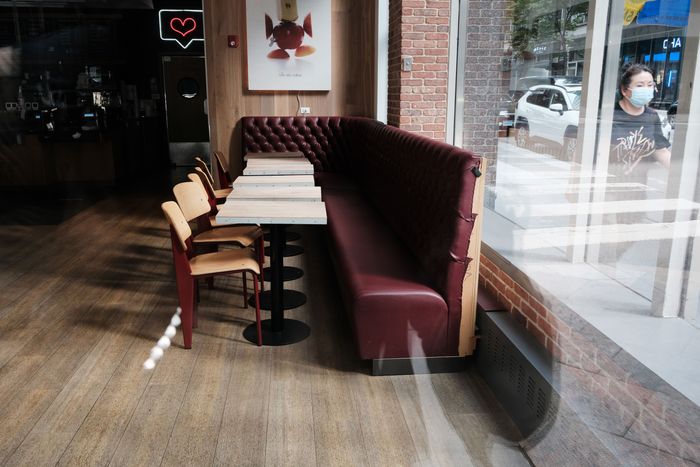 Photo: Spencer Platt/Getty Images
This past summer was supposed to be boom times for restaurants. Everyone knows how that turned out, after concerns over the Delta strain put a damper on the summer. Unsurprisingly, Bloomberg reports, the restaurant industry's brief summer recovery has fizzled out, and last week, the Independent Restaurant Coalition hosted a press conference calling on Congress to add more money to the Restaurant Revitalization Fund. More than 370,000 business owners applied to the fund, which ran out of money in July (265,000 were turned away). And one of the surest signs that the entire industry is still in deep trouble is a new survey showing that the majority of small restaurants could not pay their rent in September.
Restaurateurs who spoke with Bloomberg say that's due to rising costs for, well, everything, combined with the fact that many restaurant workers have not returned to the industry. (At sit-down restaurants, employment remains 500,000 jobs below what it was pre-pandemic.) Food prices have also risen significantly this year. In August, meat, poultry, fish, and egg prices were up 5.9 percent from a year earlier, and 15.7 percent compared to August 2019, the Washington Post reported. (Prices for uniforms and other goods have gone up as well.)
Washington, D.C., chef Daisuke Utagawa tells Bloomberg that that even if restaurants look busy, that doesn't mean they're doing well. His own businesses, Haikan and Daikaya, "are still underwater," he tells Bloomberg. According to one survey, 51 percent of restaurants couldn't pay rent in September. That's up 6 percent over August, and it's significantly higher than the 35 percent rate for U.S. small-business owners overall.
While spending is up, Bloomberg notes that this is because of increased menu prices and that the actual number of customers is down. (Manhattan chef-restaurateur Andrew Carmellini tells Bloomberg he's increased steak prices by 15 percent at Carne Mare, his newest spot.) Rising costs have many restaurateurs caught between a rock and a hard place, revealing the ways in which the industry is broken. Owners of neighborhood and more casual restaurants can only increase prices so much before they alienate customers, but that ceiling isn't necessarily enough to cover costs and can be an obstacle to actually paying people decently.