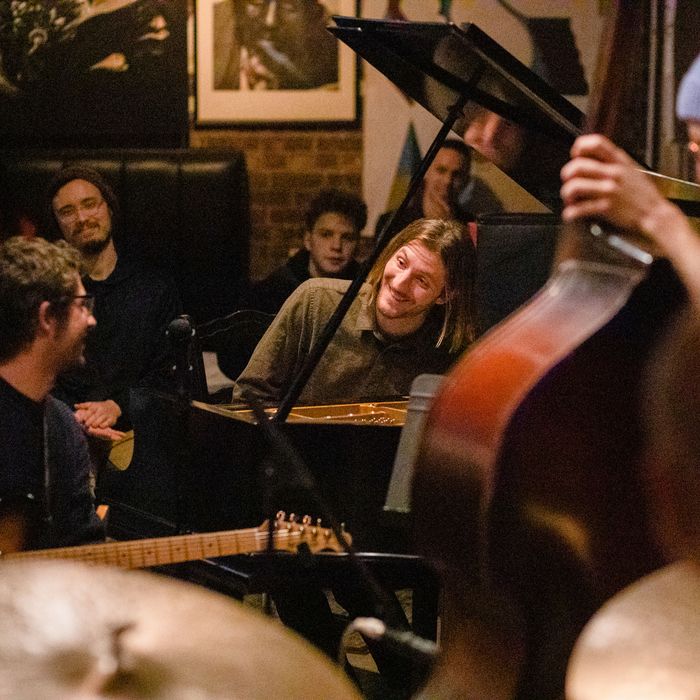 Photo: Maridelis Morales Rosado
New York is a city built on top of its own ghosts. Old places can disappear and be replaced before you even realize they're gone in the first place. That's how I found myself at Ornithology Jazz Club, which occupies a Bushwick carriage house that had only recently been a favorite cocktail bar of mine and the spot I was originally intending to visit, Bodeguita.
I gave myself a moment to mourn the passing of my favorite queer, island-themed bar, but I was also intrigued. A jazz club in Bushwick — a neighborhood mostly known for its DJs and EDM parties — was unexpected. Inside, the bones of the old bar were still there, and I recognized the bartender from Bodeguita. (A good sign). A grand piano occupied the center of the space as a small group played. I grabbed a seat at the bar and took a look at the food menu, which, I was pleased to see, contained no animal products at all.
On paper, "vegan Bushwick jazz club" reads like a parody of itself, a Portlandia sketch made manifest. In reality, the space was warm and disarmingly enjoyable, somewhere I could see myself spending many nights.
This is no doubt because of the experience of Ornithology's founders, Rie Yamaguchi-Borden and her husband Mitchell Borden. For two decades, the couple has dedicated their lives to carving out spaces where jazz musicians can gather while striving to keep those spaces accessible to new audiences. Mitchell founded Smalls in 1994, and the nondescript basement with a $10 cover and no alcohol quickly became a cornerstone for jazz in the West Village, earning a reputation for fostering upcoming talent. Fat Cat, its more boisterous cousin, opened nearby in 2000 and found more fans. "We're addicted to the lifestyle," Mitchell says. "Every time there's a great show, the people enjoying it the most are us two."
Mitchell and Rie moved from the West Village to Bushwick when Mitchell retired in 2019, and Rie began to play Thursday-night gigs at their local bar, which just so happened to be Bodeguita. When the pandemic hit, the couple saw firsthand how the pandemic decimated businesses and robbed musicians of something crucial to their survival: spaces to play. In response, the husband-wife team founded Gotham Yardbird Sanctuary, a nonprofit that coordinates jazz performances around the city while ensuring respectable musician rates for the host venues. In December of 2020, they began hosting a weekly jam session during Rie's old Thursday-night slot at Bodeguita.
"During the pandemic, I had a bunch of time to practice, and I thought, This should be the lifestyle for musicians and artists," Rie explains. "This could be the turning point to set a standard for pay for musicians so they can live life focusing on their art."
This summer, the owner of Bodeguita approached the Bordens with an offer to sell the space. Under no illusions about the difficult landscape of a city still recovering, the Bordens found some partners —  Mohammed Chrishti, the accountant for Gotham Yardbird Sanctuary, and his friend Ishmael Sierra — and officially opened the Ornithology Jazz Club in October.
The couple's reputation means that the featured acts are top names in the jazz scene: New Orleans pianist Sullivan Fortner, guitarist Pasquale Grasso, and Israeli American bassist Omer Avital, to name a few. And the musicians aren't the only creative talent that Rie and Mitchell aim to spotlight: They also want to feature a rotating cast of chefs to handle the food. "As much as I know how jazz artists need a place to show their craft, it must be the same with culinary artists," Rie says. The menu, like the music, is different on any given evening, offering chefs a kitchen space where they can test out new dishes. Monday through Thursday spotlights grilled cheese and other sandwiches by Matt Clifford, while Friday and Saturday are typically creative veggie burgers by Anthony James. Sunday is a rotating chef residency, which Rie fills through word of mouth. "I wanted to offer the kitchen as another showcase space, like the jazz shows."
This past Sunday they handed the reins of the kitchen over to Giselle Stamp, a Brooklyn native who runs a Dominican pop-up called Deadbeets. The menu was focused: a garlicky yuca mash as a starter, Sancocho stew for the main, and coconut flan to finish. By the end of the night, she was scheduled to come back in two weeks.
Creative control of the cocktail menu is in the hands of Luciano Flor and Layla Kovacevic, who connected with the Bordens while bartending at Bodeguita, and the approach to the drink's ingredients, as well as their menu descriptions, is similarly eclectic: The Green Dolphin tells the story of "a cucumber that died and was reborn as a dolphin swimming in the river of absinthe and mint"; the Space Is the Place looks "deep in the cosmos of egg white" where "chamomile, lemon, lavender, and vanilla find self-awareness"; Deep Purple invites drinkers to "step into a world of wonder where dill, rosemary, and pomegranate make sweet love."
Rie and Mitchell weren't sure what the reception for a jazz club would be in Bushwick, but they knew they wanted to keep it accessible for the surrounding community. To do this, they avoid charging a cover and offer drinks for $10 or $12 each. It works, Mitchell says: "We opened the doors, people came in, and I guess they were hungry for it." Every night, the club pulls musicians from across the city to play, and every night the people come: "The most exciting thing for me is that I know that people are hearing live jazz for the first time, and I can park in the back."
After the scheduled band finishes, Ornithology's floor opens for a jam session. Any musician in the audience is welcome to step up and play, and the sessions run until the music ends, typically two or three in the morning. (On Thursdays, these sessions are designed to connect young musicians with established artists and to foster a bond between generations.)
For Mitchell and Rie, it feels like a beginning. "I think there will be more jazz clubs opening in Bushwick," Mitchell posits, comparing this new space to the West Village when he opened Smalls: "On 10th Street, you can see three different bands in one night — if you have the money." He hopes that Bushwick's relative affordability allows Ornithology to be guided not by the pursuit of profit but instead by the fire of creative passion.