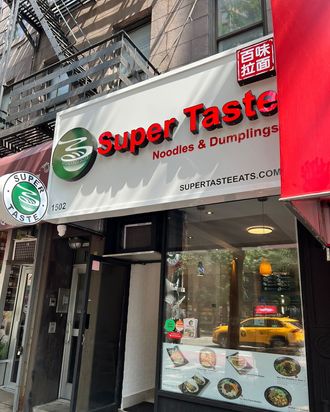 Photo: Courtesy Super Taste
Two decades ago, Qixian "Steven" Yan opened Chinatown's Super Taste, the city's first shop specializing in Lanzhou-style hand-pulled noodles, kicking off a small boom that included spots such as Tasty Hand-Pulled Noodles and the now-closed 88 Lan Zhou. Today, the compact, seven-seat Super Taste remains a no-frills destination for noodle soups and standout dumplings. The neighborhood institution, though, was set to be no more — until Steven told his son, Johnson Yan, that he was planning to close the business. At the time, Johnson was studying to become a pharmacist, but the news from his dad sent him down another path. In August, Johnson opened a second location of Super Taste on the Upper East Side, joining the younger generation taking over and expanding Chinatown businesses like Mei Lai Wah and Big Wong. It's more common than not that places like Super Taste close, so we spoke with Johnson about staking out neighborhood locations, the uptown crowd's summer exodus, and keeping his dad's legacy going.
How long have you been involved in the restaurant?
I've been involved for, basically, my whole life. When my sister and I were younger, my parents would sometimes have us wait tables when the restaurant was short staffed. But it's probably only been two years since I've devoted myself to the business entirely.
What made you want to get involved?
My dad's been cooking his whole life. I really think his food is some of the best out there. I was in college, getting my pharmaceutical degree, when he told me that he was going to shut the restaurant down. He was going to close it during my last semester. This is when I decided I wanted to get involved — I didn't want that to happen. Then I started cooking, and I was like, Damn, I love it. Both my sister and I had wanted to get involved in the restaurant, but we also wanted the job security we'd get from going to college. Our parents didn't want us to get involved. It was really my dad saying that he was gonna shut it down right before I graduated that got to me to be like, Let me give this a shot.
Right now, in Chinatown, you're seeing young people taking over some of these established family businesses, opening new locations. Munchiez by Mei Lai Wah, Big Wong. Have you been watching this?
It did give me a little bit of confidence. But I mostly looked at the places that were successful and what they did. I tried to emulate them.
I did look at Munchiez; I went there, I tried the pork bun. I was like, Wow, this is just as good as in Chinatown. What I took from that was that, Okay, if I do this, I'm going to do it the same way. My dad has been doing this for years. Our fried dumplings have to be made to order. It takes ten minutes to make an order, every time. It can cause all kinds of issues, but I can't compromise on taste.
Are you trying to make the new place feel the same as the original?
I don't know if I'm trying to do that. I wanted it to be a little more clean, but I was adamant on making all the food the same way.
Why the Upper East Side?
I want to be able to share the food my dad has mastered with everyone who wants it.
I did take a lot of inspiration from Xi'an Famous Foods. I tried to emulate and seek out people who have down this similar thing. People who have taken their parents' restaurants and expanded. One of the hallmarks is Jason Wang. So one thing I did is go to every single Xi'an and see how receptive the neighborhoods were to Chinese food. I would talk to people, and when I went to the UES, everyone was like, "We need more Chinese food." During my last semester I would go for five or six hours a day. My dad told me, "If you're gonna do this, I want you to get even more first-hand experience."
So you considered other locations?
Yeah, and I ended up with the Upper East Side, Financial District, Sunset Park. I used to think about Williamsburg as well, but I scrapped that. I ended up going with the Upper East Side because I thought it would be the safest expansion.
Why did you scrap Williamsburg?
I feel like with Williamsburg, you kind of need to have a gimmick, and I'm not really trying to go somewhere and be like, "Super Taste, oh my God, Chinatown, you have to come visit this new location." I believe in just serving really good food, because I want to spread my parents' legacy. I know that opening up in Williamsburg could've been super-good. But I want to make sure nothing is rushed, and I feel like failing in Williamsburg would've dealt big damage to the brand.
Going back to Xi'an, did you pay attention to Jason's story for a while?
As I said earlier, we had always been interested in the restaurant industry. My sister went to Harvard, she did finance, but we have talked every single day like, "Hey, if we took Dad's food, we could probably blow it up."
Is Jason someone who you look up to?
I definitely look up to what he has accomplished, but I definitely disagree with some decisions he has made.
What do you want to do differently?
I don't like how all of his stores are built. I don't like the cafeteria feel. I think he tries to maximize the amount of seats he puts into a space. I want to have a different feel.
Is your sister involved, too?
Very slightly, only helping with logistics. I have an uncle who is big in finance. Both of them are saying, straight up, "Johnson, you're going to have to get good at the numbers."
You're a month in. How has it been?
I would describe how we're doing right now as perfectly acceptable, but nothing better than that. I do know that in the Upper East Side, August is a relatively slow month. People are just coming back now, we haven't really made our presence here super-well known, so how we are doing right now is perfectly good for me. But I am hoping it's better in the upcoming months. This is actually the time of year we do really well downtown.