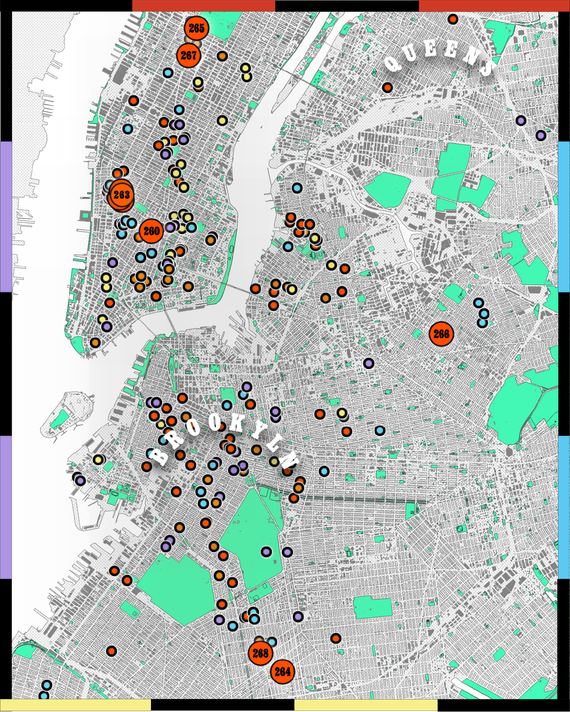 A running list of everywhere I've been, week 27: 260. Temple Bar 261. One if by Land, Two if by Sea 262. Bar Pisellino 263. Smalls 264. Sunset Bagels 265. Marea 266. Soothr267. Top City Gourmet 268. Ellen's Stardust Diner 269. Jalsa
Everyone has a different idea of what constitutes a "fancy" restaurant, of course, although drinks and dinner these days can cost a fortune nearly anywhere without necessarily delivering much of an experience. Usually, I'm not tempted to consider the grander establishments around town: I hate tasting menus, I never want to make a reservation, I won't commit to a dress code, and a moneyed crowd is just not my scene.
But seeing how the city has started to clear out for the summer, it seemed like a good time to drop into someplace nice. I figured I'd be able to show up without a reservation and enjoy an elaborate meal in a relatively empty room.
However, when I showed up to Marea — the seafood palace on the southern border of Central Park that's become something of a power-lunch scene over the course of its decade-plus existence — I was shocked to see it totally full at 9 p.m. in the middle of the week. (I'm pretty sure there was a guy seated in the dining room with a baby on his lap.) But, like magic, the bar had one seat available. I pounced.
I settled into my padded seat. It was easy to get comfortable, which made it clear why neighbors seem to like hanging out here. It only took a few minutes for me to realize I was the only person at the bar who hadn't been here before.
I sipped a $26 tequila-and-passion-fruit cocktail — one of the less expensive options — and got into a conversation with the guy sitting to my left. I mentioned that the illuminated stone behind the bar was striking."Golden onyx," he replied decisively. It wasn't the only detail he identified about the restaurant. By this point, I'd already based my ordering strategy ("start with the classics") on his advice — hamachi with finger lime and pistachio followed by fusilli with octopus and bone marrow — and took his direction on the best bread to select. "I love the focaccia — they make it every day," he said. "I wish they still served it at lunch."
The woman to my right was drinking a martini and started talking to one of the guys behind the bar about his family while he unsealed a fresh bottle of Clase Azul tequila. "That's the third one you opened today!" said one of the bartenders. "You have to ring the bell!" the woman added without missing a beat. Clearly, there was a rhythm to this group.
My fusilli was good enough for me to ask the bartender if there was an extruder in the back or if it was handmade. "It's all handmade here," he assured me. Normally, fusilli is a throwaway shape that ends up carelessly overcooked, but the fusilli you get at Marea consists of two strands of dough twisted into bite-size ropes that matched the chunks of octopus in chew.
You need more than nice pasta to have a good time, and I was taken with the fact that the staff clearly knew everyone else's names — it was like the high-rolling midtown version of Cheers. "Massimo, what happened to your shirt?" said one of the bartenders. When I turned to look, I saw Massimo — wearing a blush suit, extravagant glasses, and a plume of hairy man cleavage. Massimo did not seem to mind.
My dinner for one ended up being $212, which is probably no big deal to the residents of Billionaires' Row but puts it out of reach for me to become a regular. Even so, I started to think about when I'd be able to head back, since the warm crowd really did make it feel like a spot where you'd want to settle in and say hello to your friends from time to time.