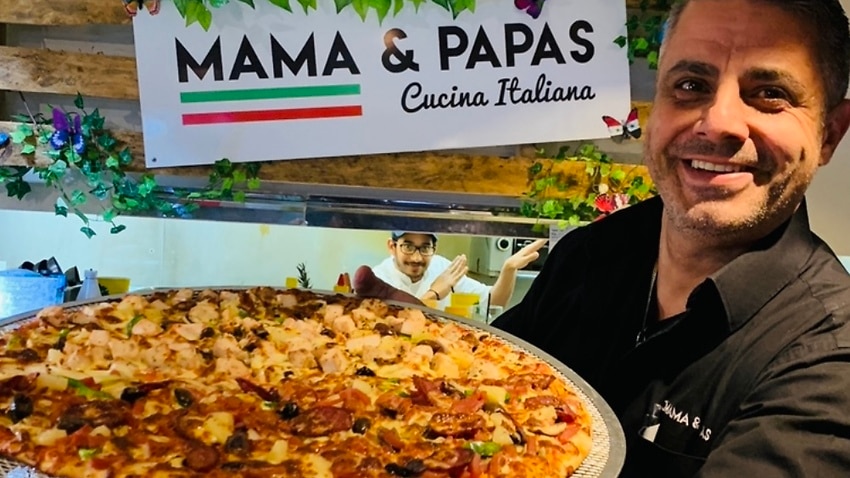 An Italian restaurant owner in Sydney's Parramatta is giving a free pizza to anyone who needs one this weekend in a bid to help locals struggling through COVID-19.
John Chammas of Mama and Papa's Cucina Italiana said he had already seen the coronavirus devastate thousands in the hospitality industry, including those in his own team. 
Mr Chammas' business was forced to temporarily close last week due to coronavirus restrictions.
"I had about 30 staff, the majority were international students, and they've all lost their jobs and they have no income left whatsoever," Mr Chammas told SBS News. 
"So I was making food for the staff and giving it away to them and I thought: 'why not just give them to everyone?'" 
Anyone visiting Mr Chammas' restaurant on Friday or Saturday evening can take one free pizza home for themselves or for a friend unable to leave the house themselves. 
He is expecting to give away upwards of 1,200 pizzas over the two nights. 
"We've got stock that's not going to last six months – a lot of toppings, cheeses, hams, pepperonis – and you can't give that stuff away, unless you've got a pizza oven," Mr Chammas said.
"Rather than throwing them away, let's just make pizzas and give them away to anyone who needs one or knows someone who needs one." 
Australia's restaurants have been limited to providing takeaway and delivery only since 23 March, when the government upped regulations to slow the spread of COVID-19. 
Since then, many restaurants have said they are struggling to keep their doors open, with takeaway orders not providing enough business to sustain them. 
People in Australia must stay at least 1.5 metres away from others and gatherings are limited to two people unless you are with your family or household.
If you believe you may have contracted the virus, call your doctor (don't visit) or contact the national Coronavirus Health Information Hotline on 1800 020 080. If you are struggling to breathe or experiencing a medical emergency, call 000.
SBS is committed to informing Australia's diverse communities about the latest COVID-19 developments. News and information is available in 63 languages at sbs.com.au/coronavirus