What a year. Though we're still living in unusual times, this is our biggest best-of list yet, a sign that Sydney's dining scene remains bloody resilient, despite staffing issues, Covid-19, natural disasters, inflation, and every other challenge thrown at it over the past few years.
Every venue deserves to be here. Some are testing preconceived ideas about a specific cuisine, others are refining classic formulas to offer a holistic, beautiful experience – and some places are ditching the rulebook altogether to create something entirely new. Each is nuanced and interesting in its own way, and every restaurant here is doing its bit to push our dining scene (and conversations around food and what it means to dine out) forward.
Sydney remains a magical, exciting place to eat out – despite what naysayers might have you believe. And for that, we thank the front-of-house staff, the kitchen crews and the people behind the scenes, who work tirelessly to offer endlessly wonderful experiences and let us forget the world, even if just for one night.
Here is what held our attention this year, in alphabetical order.
Aalia, CBD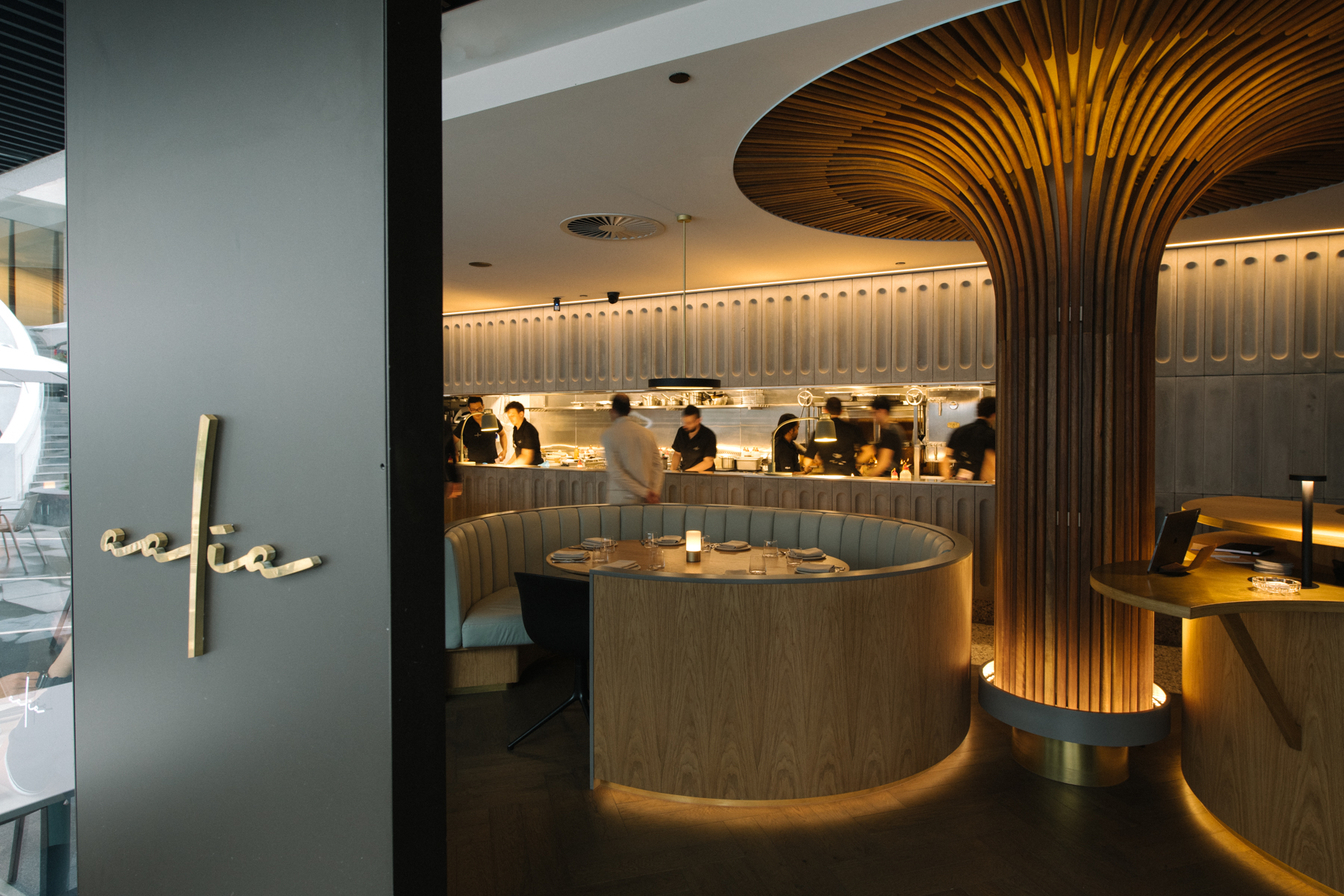 We're big fans of co-owner Ibby Moubadder's Nour, Henrietta and Lilymu, and now also his new Middle Eastern restaurant Aalia. It opened within Harry Seidler's iconic MLC Centre, now called 25 Martin Place (which underwent a $170 million transformation) and there's a couple of things that caught our attention. Firstly, Aalia is adding more nuance to Martin Place's food scene and, without sounding superficial, it's one of the prettiest dining rooms to open this year. We're particularly enamoured by its concave concrete patterns and curvaceous timber ceiling and bar that mimic Seidler's architecture, and his joyful "mushroom" building that Aalia looks onto. It's also ambitious. Executive chef Paul Farag (executive chef at Nour, ex-Fish Butchery and Monopole) is bringing dishes, techniques and ingredients from lesser-known regions of the Middle East and North Africa, which he found by studying cookbooks dating back to the 10th century. There's plenty of tasty things to order but we reckon the show stoppers are the lamb shawarma; khorasan pita; almond-crust John Dory with tarator and chilli; and the banger entree, the sesame leaf with aged rice, cumin and sea urchin. Plus, extra love goes to Eleonore Wulf's wine list, that includes bottles from Syria, Jordan and Morocco.
Bar Louise, Enmore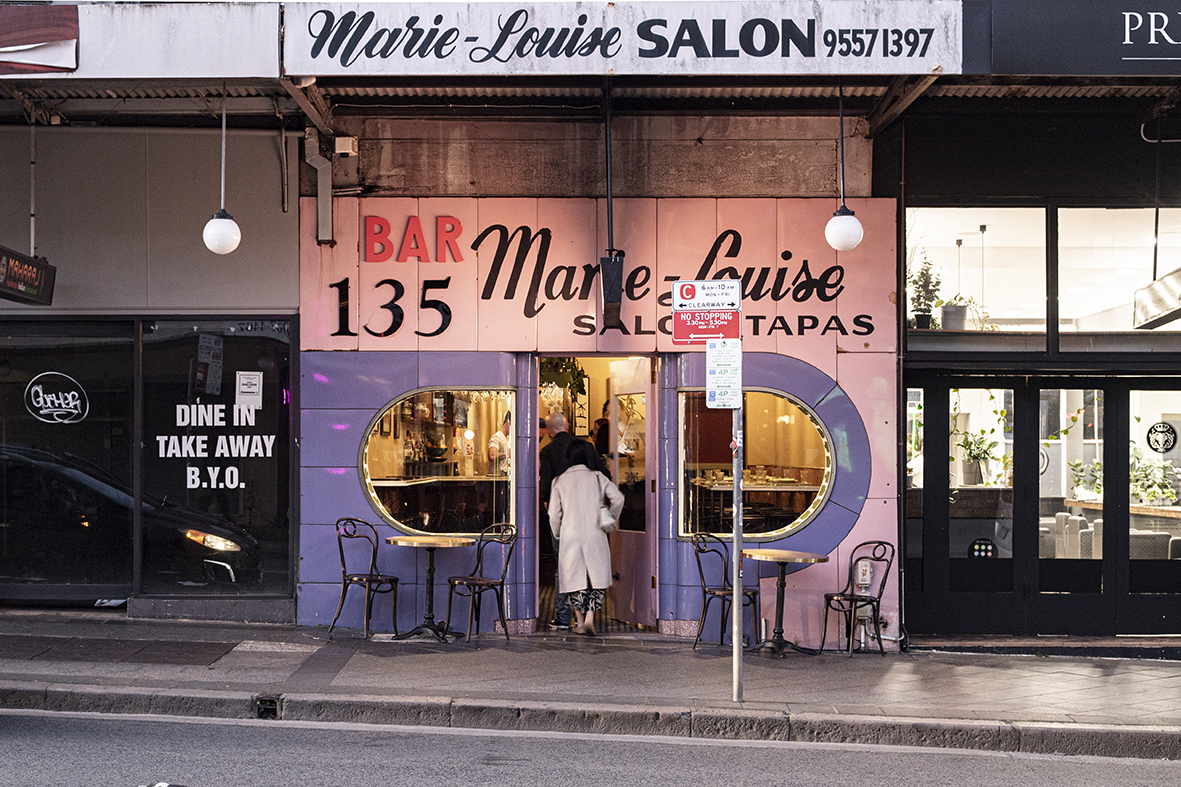 There are so many things to love about this energetic tapas and wine bar on Enmore Road. Firstly it's in the very fabulous former Marie-Louise salon (or the former Stanbuli restaurant), which has been given a refresh by Porteno Group's stylish style maven Sarah Doyle. We particularly love upstairs: the rust-red walls and the remarkable Miro-inspired curtains designed in collaboration with Mikey Freedom. The Porteno Group is the consummate hospo connoisseur behind some of Sydney's best venues, including Continental, Bastardo and Humble Bakery, and the front-of-house maestros Michael "Mikey" Nicolian and Joe Valore work the room like they're doing a dance. They serve Marcelo Munoz's food – think delicious txistorra (thin pork and beef sausage), oxheart tomatoes and smoked paprika octopus – while sommelier Melvin Haxaire-Christophe (formerly of P&V Wine and Liquor Merchants) keeps glasses full with vino from his exciting and spirited global list. If you like sangria, the house mix is the perfect party juice.
Da Orazio, Bondi Beach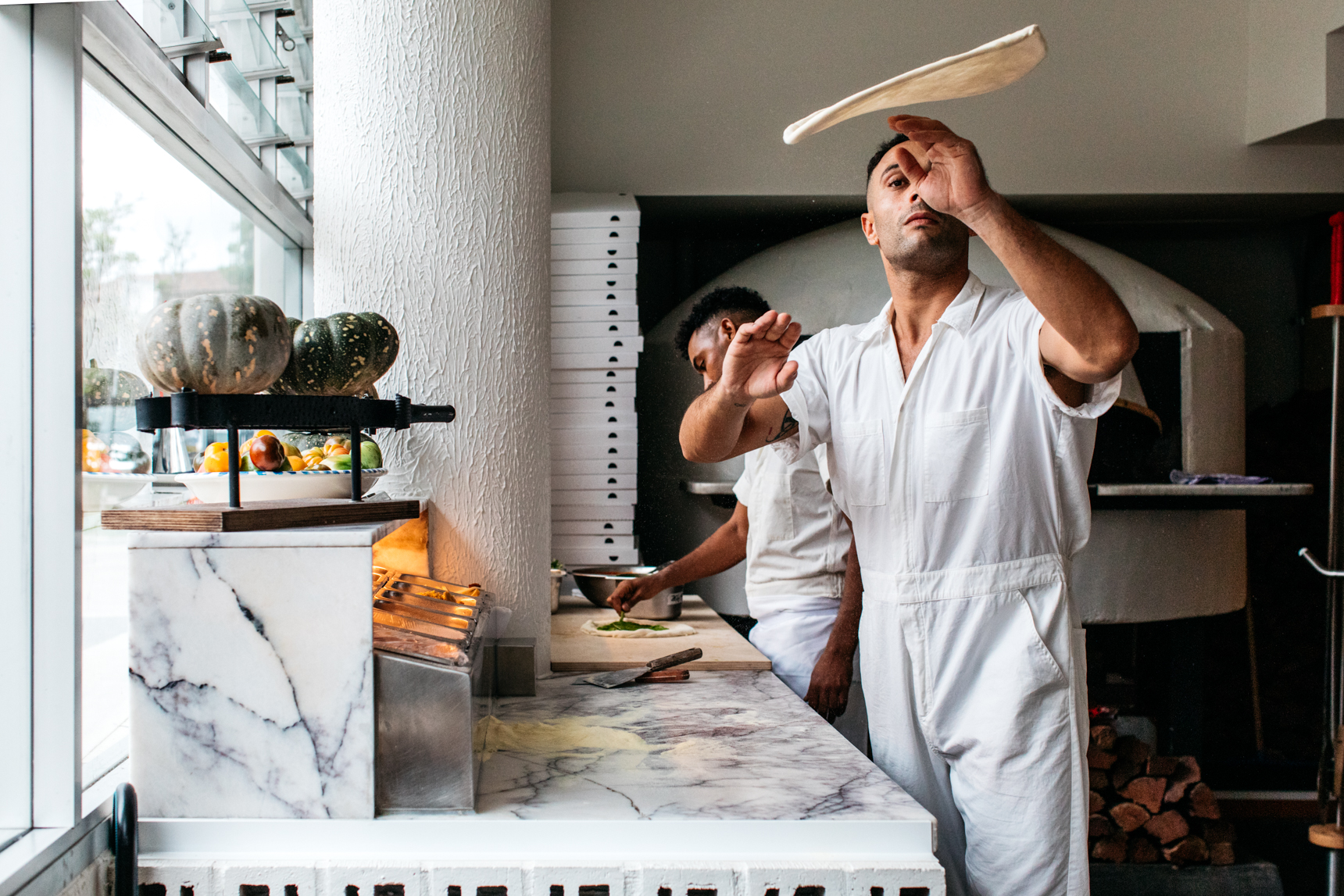 In March, Orazio D'Elia came full-circle, returning to the pretty Bondi spot where he cemented his reputation as one of the city's best chefs. He was the culinary star of Maurice Terzini's bustling Italian joint, Da Orazio Pizza + Porchetta, which closed in 2018. He's brought it back (sans Terzini and with a slight name change) – and his first solo project is simultaneously casual and chic, and has a fun, anything-goes vibe. Da Orazio is not an homage to the original – although many of the old dishes are back, including pastas and the triumphant focaccia con porchetta. If anything, this newbie feels more of an evolution of D'Elia's cooking style and a reflection of the team he's assembled. That includes pizza guru Matteo Ernandes, who is in charge of the Neapolitan-style pizzas, which have impressive high-walled puffy crusts. He's perfected the biga-style fermentation process, so the bases are lighter and more digestible, meaning you can eat more – and fit in the creamy tiramisu. What else do we like? Its jukebox at its next-door bar. Will it spark a jukebox revival? We hope so.
Ele by Federico and Karl, Pyrmont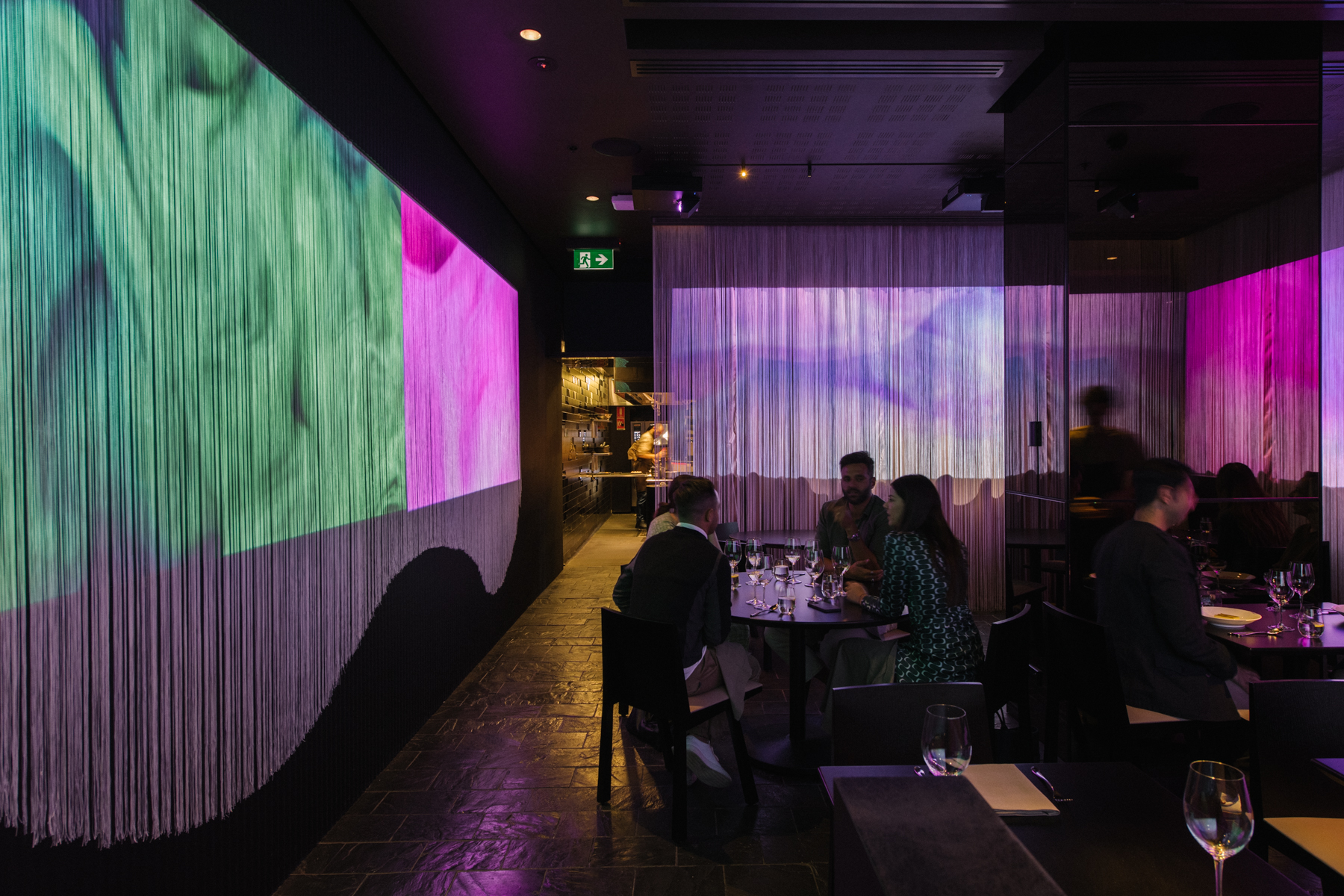 You won't want to get too comfortable when you take your seat at Ele by Federico and Karl. While co-chefs Federico Zanellato (Lumi, Lode) and Karl Firla (ex-Oscillate Wildly) traverse fairly traditional routes at their CBD Italian diner Restaurant Leo, at Ele they're breaking a few more rules. Guests shift tables between courses during an eight-course degustation, which might include dishes such as a Wagyu tartare-topped sourdough crumpet and dry-aged Murray cod with coastal greens. And the room itself shifts and evolves – earth, air, fire and water are showcased in a series of video loops onto screens that surround diners, while the music is specifically designed to enhance the dining experience. The duo had big shoes to fill in taking over the former Momofuku Seiobo space in The Star – and they've done a remarkable job upending any expectations to deliver something impossible to compare to its predecessor, let alone anything else in town.
Fontana, Redfern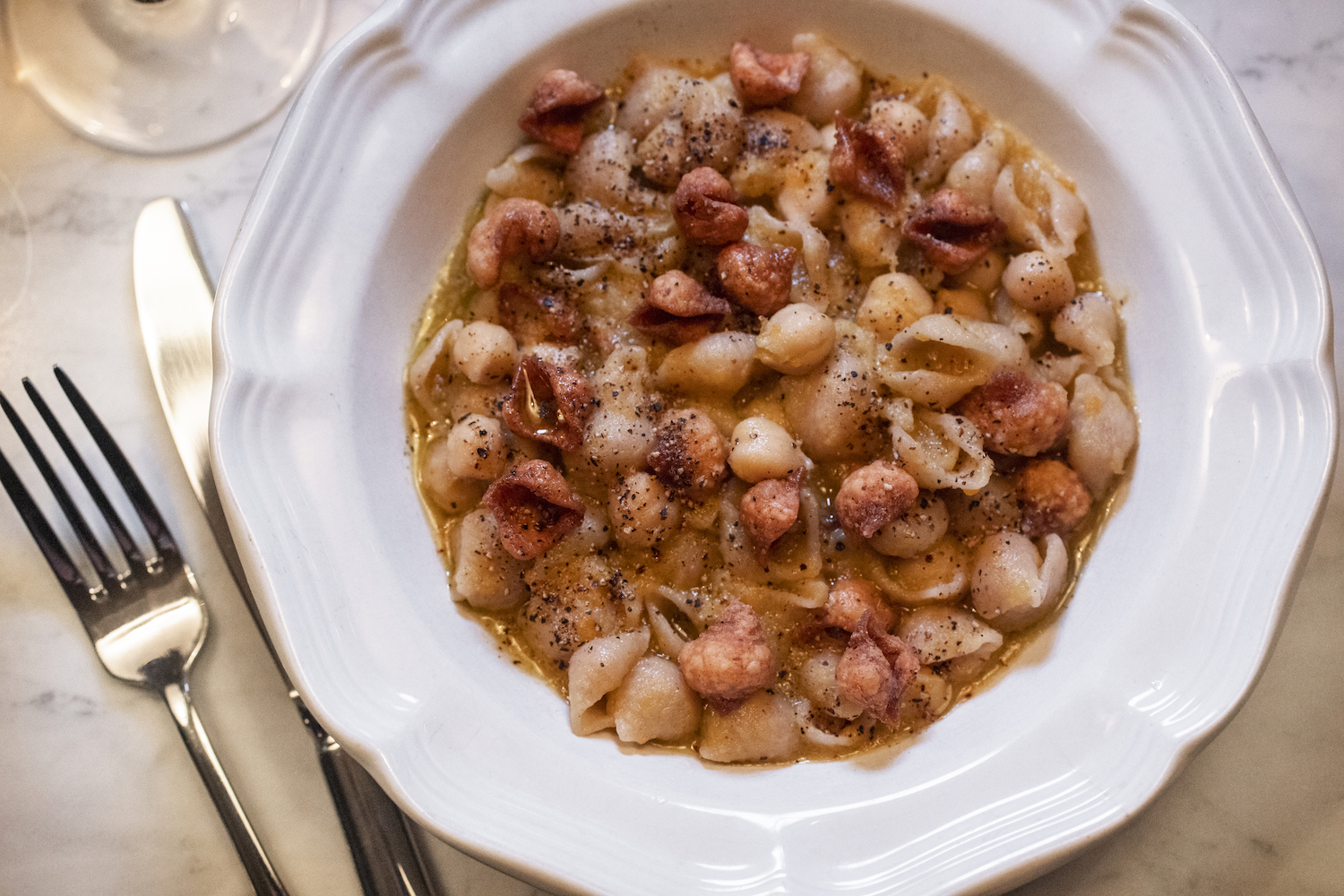 While this low-fi trattoria might not have the same swagger as its owners' previous good-times Italian eatery, Don Peppino's, it's a place we want to eat at often. Preferably on a Saturday arvo when the sun is giving the former Ron's Upstairs space a glorious golden glow. The group's signature ceci e tria (chickpea pasta) is back alongside a couple other pastas, which are all essential orders. So too is the pane fritto (puffed fried bread) draped in anchovy. The ricotta is made daily and is exceptional. There's a bit of price on the wine but the minimal-intervention-leaning list is expertly assembled by co-owner Ivey Wawn, who also runs the front of house. Wawn and other owners Daniel Johnston and Harry Levy have always nailed the neighbourhood Italian restaurant format, and they've done it here again. We're glad the band got back together for Sydney's eating and drinking pleasure.
Gildas, Surry Hills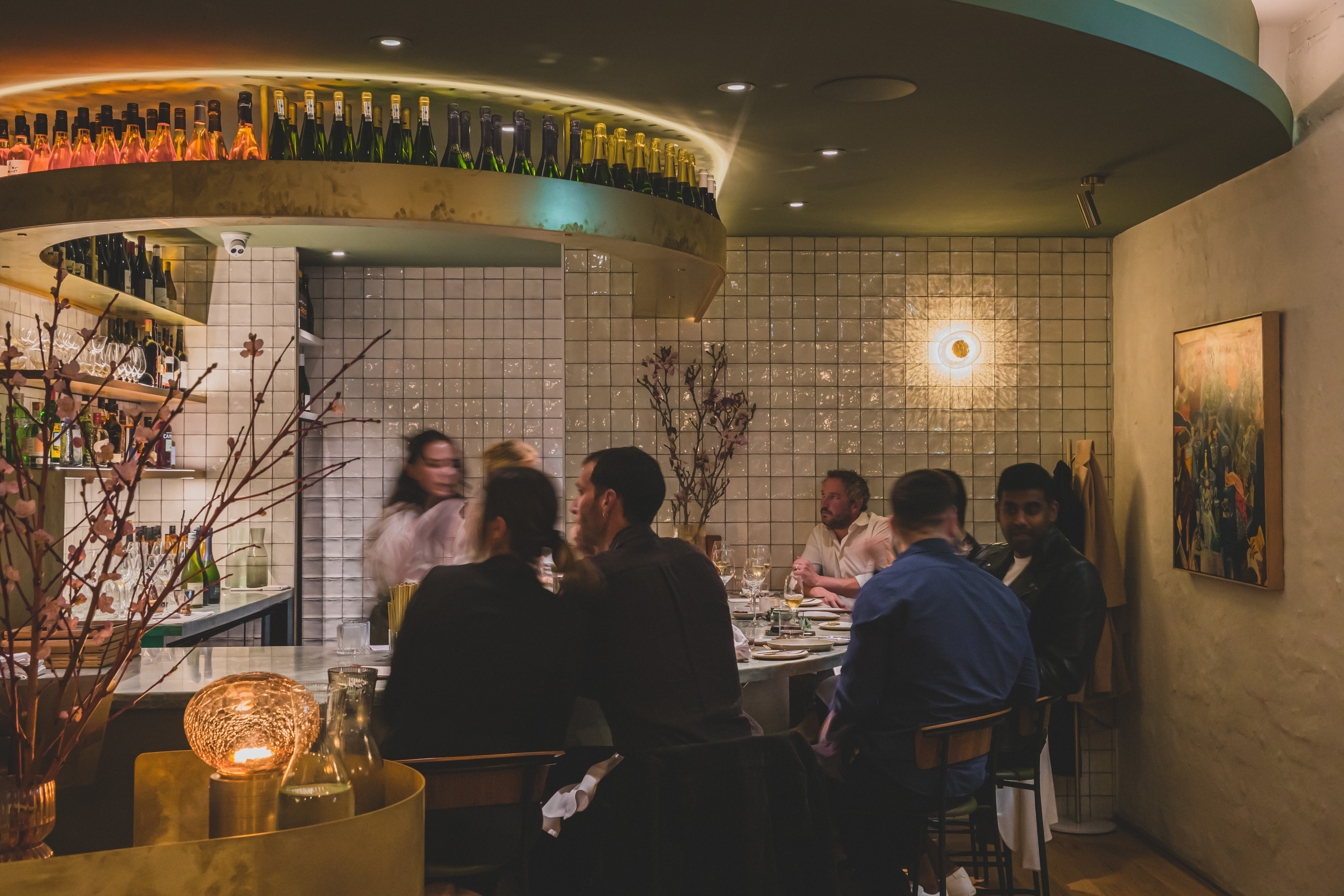 Firedoor co-owner and executive chef Lennox Hastie is renowned for playing with fire – but with years of cooking in Spain's Basque region, opening a wine bar inspired by that cuisine and way of life felt like a natural progression. Gildas is not a theme-park version of a northern-Spanish tapas bar; it's a sophisticated tribute to the region, harnessing produce from both Australia and Spain. It's designed for both short and long stays. Prop up at the bar for a glass of jazzy vino and one of two Aussie-inspired house takes on the classic tapas dish, from which the venue takes its name. (Our pick? The Matilda: seared red kangaroo, salted desert lime and native pepperberry.) Or take a banquette seat and linger over a deeply intriguing dish that's not like anything else you'll find in Sydney: white beans in a jamon broth with pipis and slug of manzanilla. Sydney's Spanish scene is on a roll.
Irene's, Enmore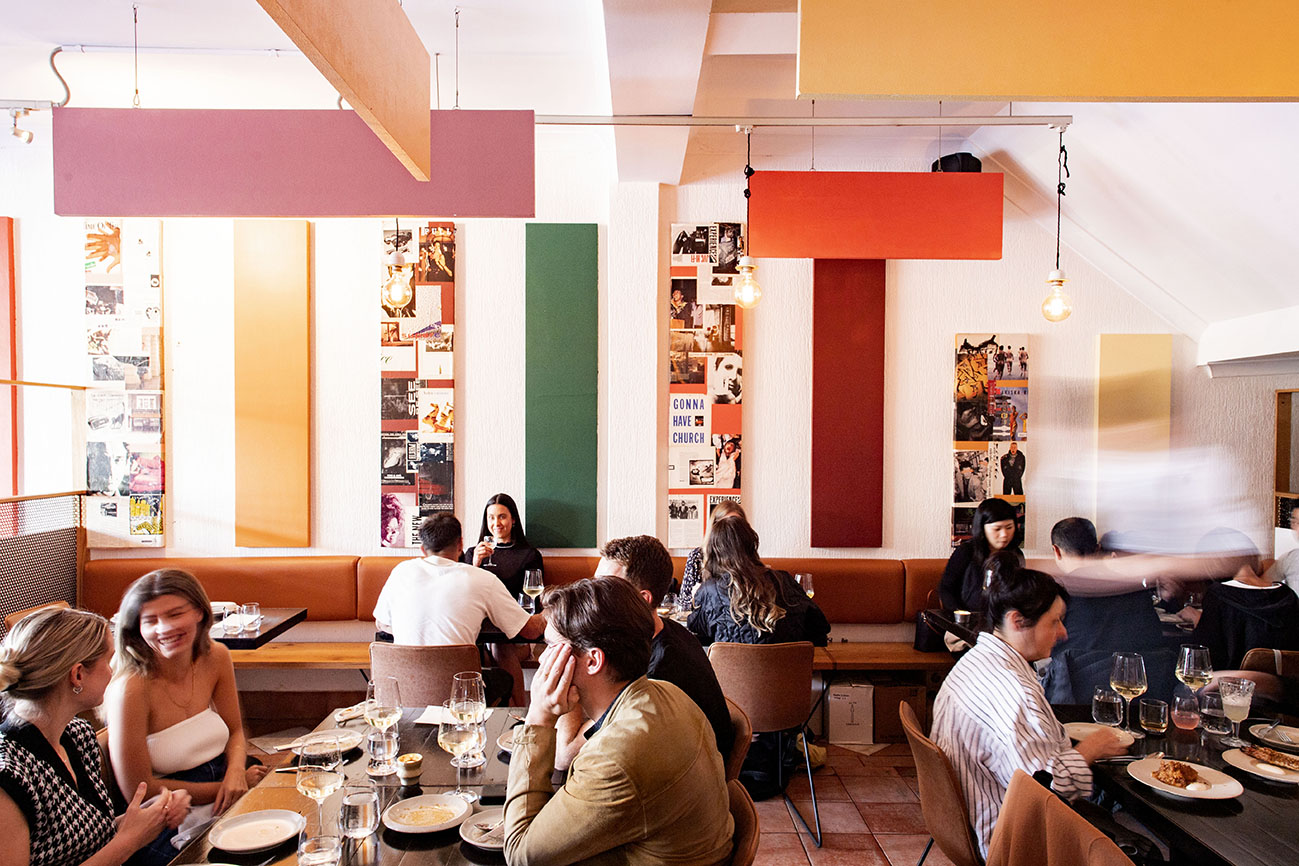 It was a sad day for Newtown when husband-wife team Dot Lee and Jarrod Walsh announced they were closing their well-loved Enmore Road diner Hartsyard (though it will be opening elsewhere shortly). But the launch of Irene's – a new concept that's a collaboration between Walsh, Lee and ex-Bentley Group chef Neville Dsouza – has definitely taken the edge off. Dsouza picks up where Hartsyard left off, quietly crafting imaginative dishes embracing a world of influences – most notably here, the flavours and memories of his native Mumbai. Each dish offers a little surprise. The fantastic zucchini flowers riff on vada pav, a popular Mumbai street food in which spiced potato is deep-fried and stuffed in a bun. Similarly, the mango dessert is a nod to the mangoes with chilli and lime he'd buy from Mumbai's street vendors – here it involves raw and ripe mangoes wonderfully funked-up with chipotle oil. Irene's continues Hartsyard's legacy of never taking the traditional bubbles-white-red path when it comes to drinks pairings; recommendations run the gamut from vermouth to sake, wine and cocktails. Irene's is only locked in for a six-month run – but we strongly encourage visiting and lobbying for a permanent residency so we can continue eating Dsouza's exciting and personal take on Indian dining.
Kiln, Surry Hills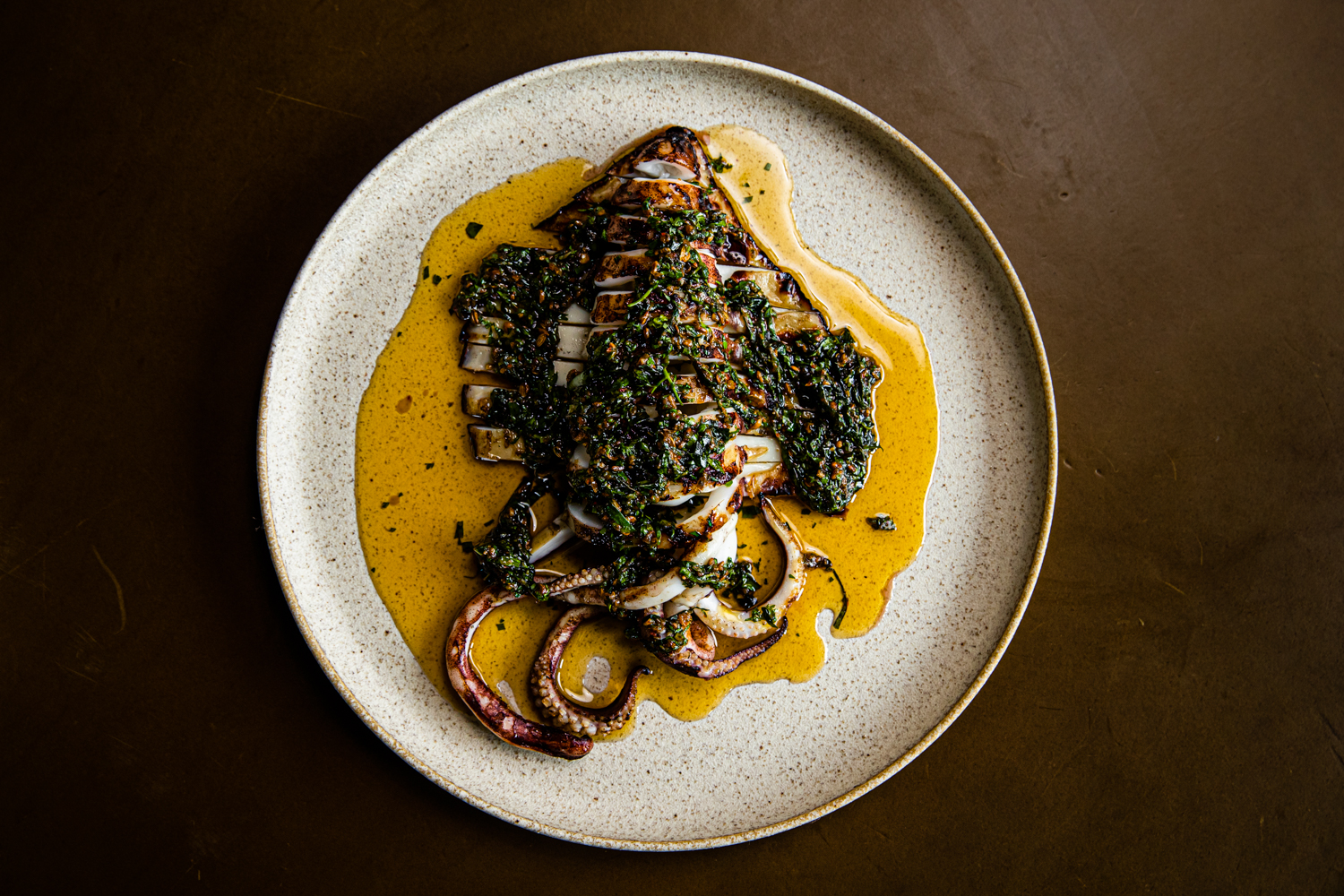 There was a time in Sydney when "contemporary Australian cuisine" was easily defined: food that was considered cutting-edge because it melded flavours and cooking techniques from across the globe without a care for tradition. But what does it mean in 2022 when almost everyone is doing that? Mitch Orr's food at Kiln feels very now because it builds on that tradition but takes it to another place. The maverick chef has always been a self-assured rule breaker, borrowing from Italy, Japan and Southeast Asia, and there's a bit of that here. But Kiln's food feels more than that. It weaves in conversations we're having about provenance, produce and sustainability to create food that is light, fresh, vegetable-forward and exceptionally delicious. Even a simple bowl of rice (koshihikari rice from Randall Farm) is compelling, especially paired with what we reckon is the star of the show: the calamari with salmoriglio. There's equal fun found in the wine list that's curated by drinks expert Mike Bennie, P&V's co-owner. Kiln is on the top level of the so-hot-right-now Ace Hotel and – as well as being simultaneously casual, intimate and comfortable – it delivers a view of Surry Hills and downtown we're not used to seeing. Book in just before sunset to catch the urban scene shape-shift into night, and then stay late for the DJs. Kiln delivers big vibes, big taste and big fun.
Loulou Bistro, Milsons Point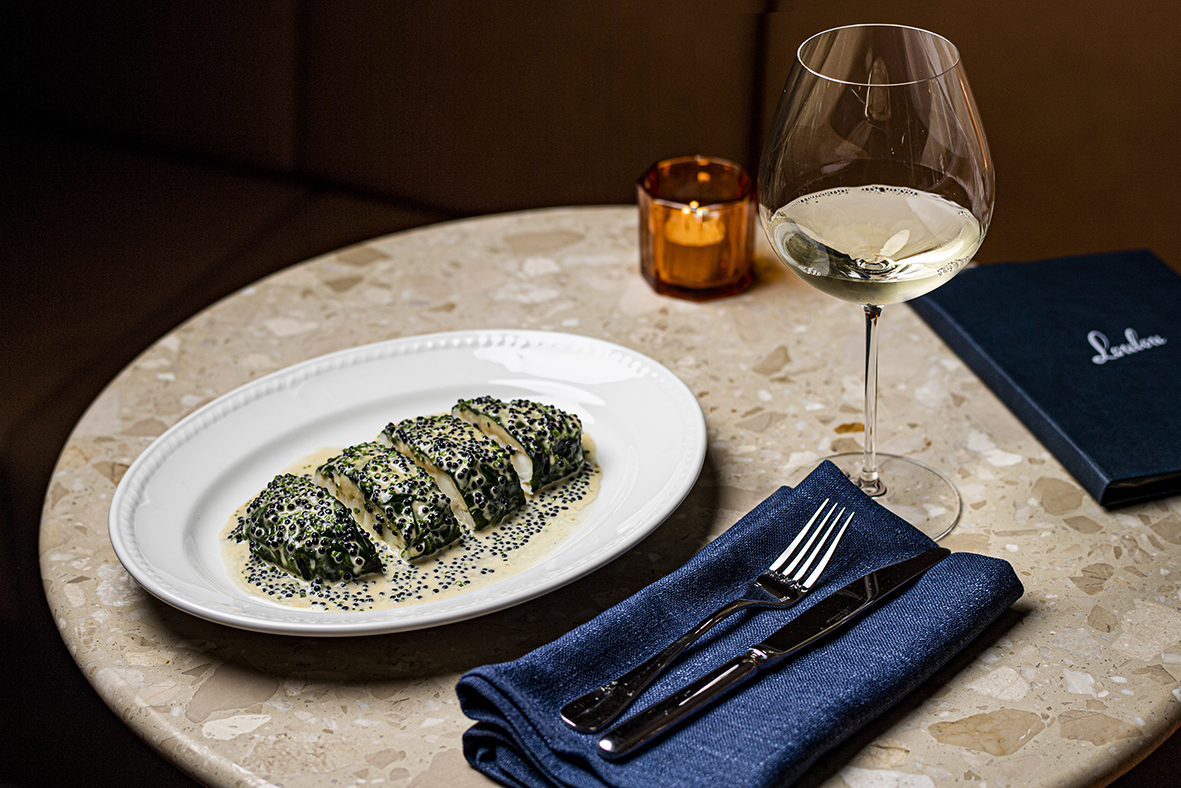 The most popular dish at Loulou is a bit of a surprise – that is, until you taste it: a caviar-encrusted John Dory in champagne and scallop sauce. It's a rich, comforting joy to eat, and testament to head chef Billy Hannigan's (ex-Bistro Guillaume, The Ledbury in London) sophisticated touch. Other dishes are well-executed French classics: steak frites (the fries are truly excellent), a delicately hand-cut steak tartare, and bright, fluffy pommes dauphine. It's not light food, nor food you want to eat every day. But it's absolutely food for eating tucked away in a booth in an elegant, dimly lit dining room for a special occasion. Preferably with a Martini at hand, chased with a smooth burgundy.
Oncore by Clare Smyth, Barangaroo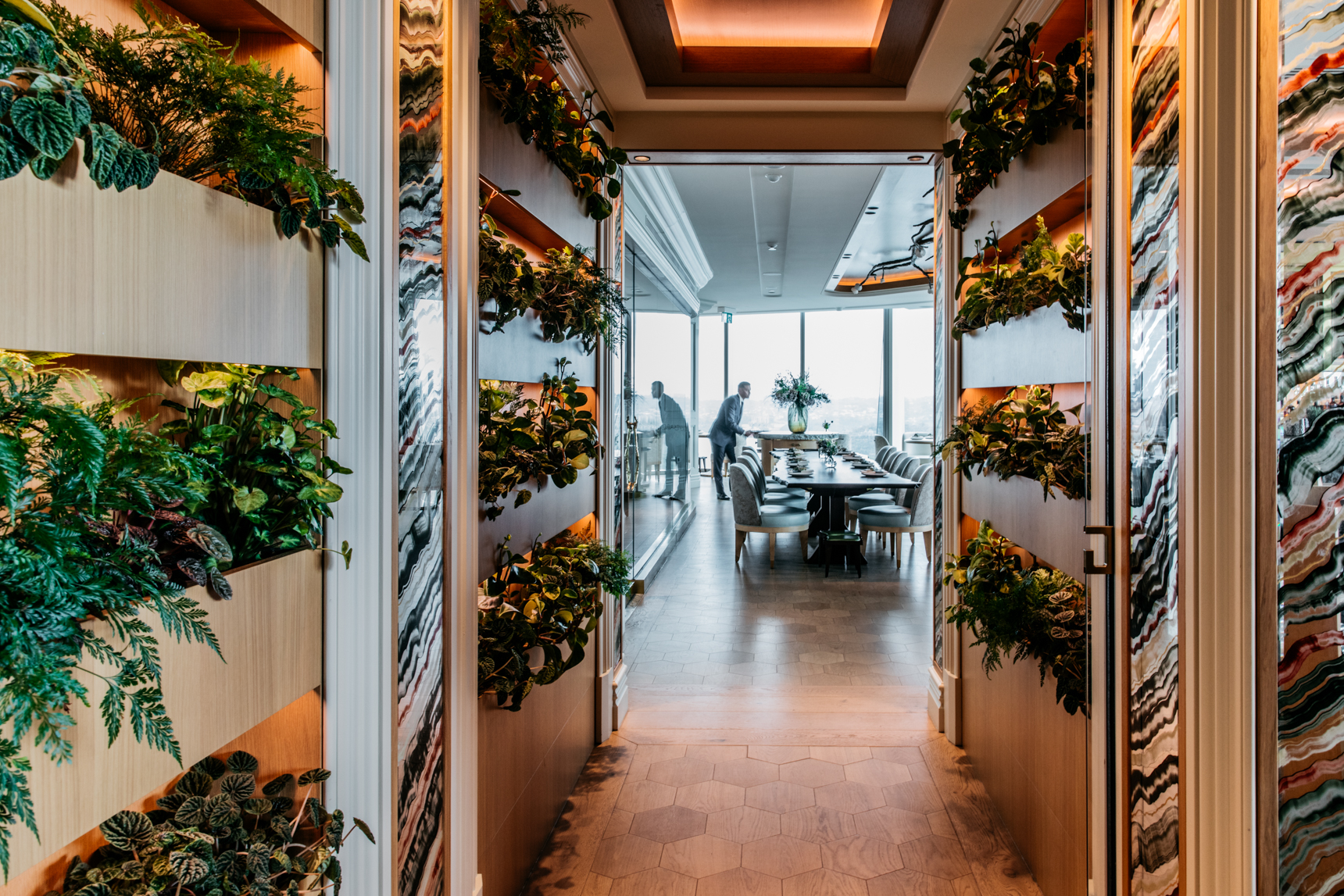 It takes an exacting chef to earn three Michelin stars. And Clare Smyth, whose London restaurant Core by Clare Smyth currently holds a trio of those coveted sparklers, is certainly exacting. Even though she's based 17,000 kilometres away, Smyth's steady hand can be seen in every aspect of her second diner, Oncore by Clare Smyth, in the Crown Sydney tower. Her thumbprint is literally emblazoned on her fine china dinner plates; a selection of her favourite cookbooks lines the shelves; and the dishes speak to her childhood in Northern Ireland, as well as her travels abroad and decades cooking in England, all executed with an Australian touch. Core's most lauded dish, potato and roe, is an homage to her spud-heavy upbringing on an Emerald Isle farm; here it's crafted with a Southern Highlands-grown potato. Other dishes similarly tell a story – a gougere piped with warm cream is tribute to kindly staff at Restaurant Paul Bocuse, who invited Smyth in for a gougere and glass of champagne when they noticed her hungrily staring through a window. It's hard for any dining experience to compete with the views from the 26th floor of a harbourfront Sydney restaurant – but Smyth and her team (including Sydney head chef Alan Stuart) do it in style.
Parlar, Potts Point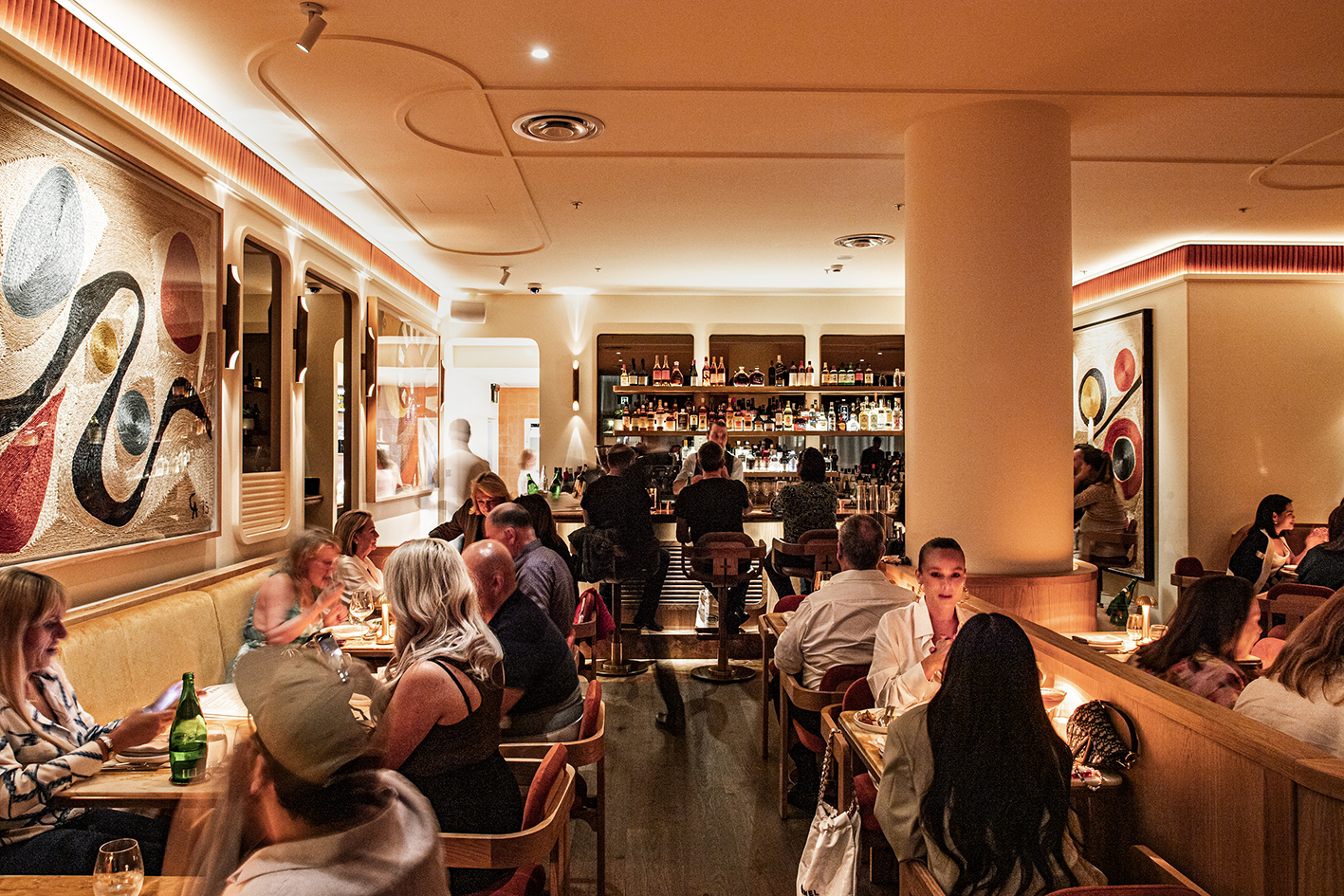 Taking the bar snacks of Catalonia and inserting them into a fine-dining context in inner Sydney is an intriguing proposition. But Parlar, a beautiful, warmly lit, art-lined diner in Potts Point, pulls it off. Head chef Jose Saulog – who also crafted the menu at sister restaurant Franca next door – isn't bound by tradition. He brings flair to every dish, from the simplicity of the Gilda toast – all the fixings of a Gilda (anchovy, olives, pepper) on bread – to the extremely comforting giant vol-au-vent with manchego. Service is seamless, the staff know what they're talking about when it comes to drinks, and did we mention that gorgeous dining room?
Pellegrino 2000, Surry Hills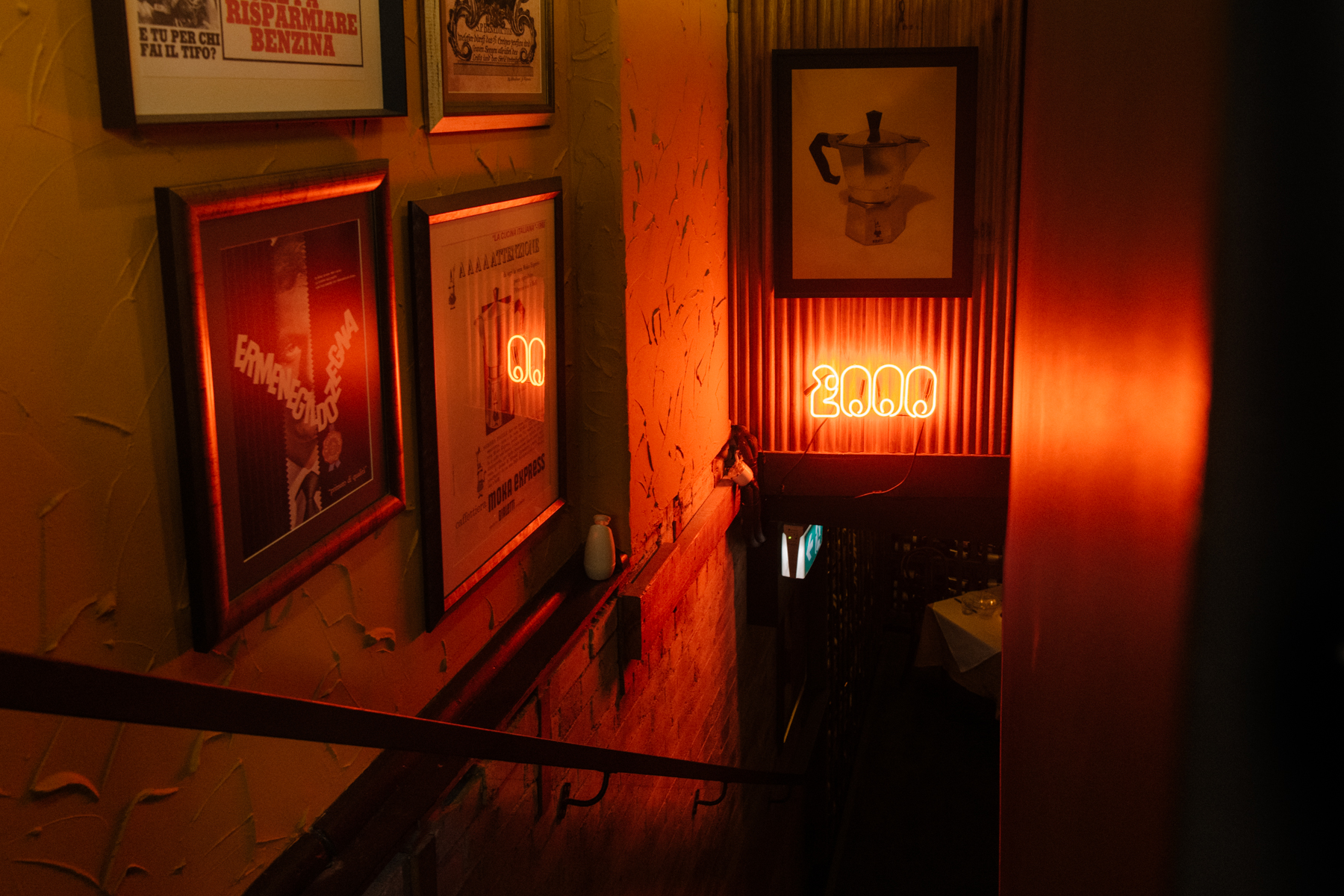 Is there a more fun, exciting dining room to be sitting in right now? Pellegrino 2000 is the kind of place you get swept up by, and find yourself saying things like, "Yes, we will have another bottle of wine," and "Yes, we must get another pasta." Pellegrino 2000 is not reinventing the (Italian trattoria) wheel. It's really no more than an excellent neighbourhood eatery. But there's something to this place that we can't get enough of. We get the same feels from Andy Tyson, Dan Pepperell and Mikey Clift's other place, Potts Point's Bistrot 916. If you went to Bar H, you'll know the corner terrace Pellegrino now commands. It has a unique layout that sees guests sit on stools on the footpath, at a window counter that faces inside to the bar, where more people mingle. We love it. A neon light reading "2000" leads others downstairs to a moody wine cellar complete with candles and gingham-covered tables. The trio say they're going for "garage-style trattoria" vibes, and under vintage photographs, packets of pasta and fresh tomatoes people enthusiastically eat Pepperell's food. We're not going to lie, we've missed the Italian culinary prowess he showed at Alberto's Lounge and 10 William St. Book a table right now.
Porkfat, Haymarket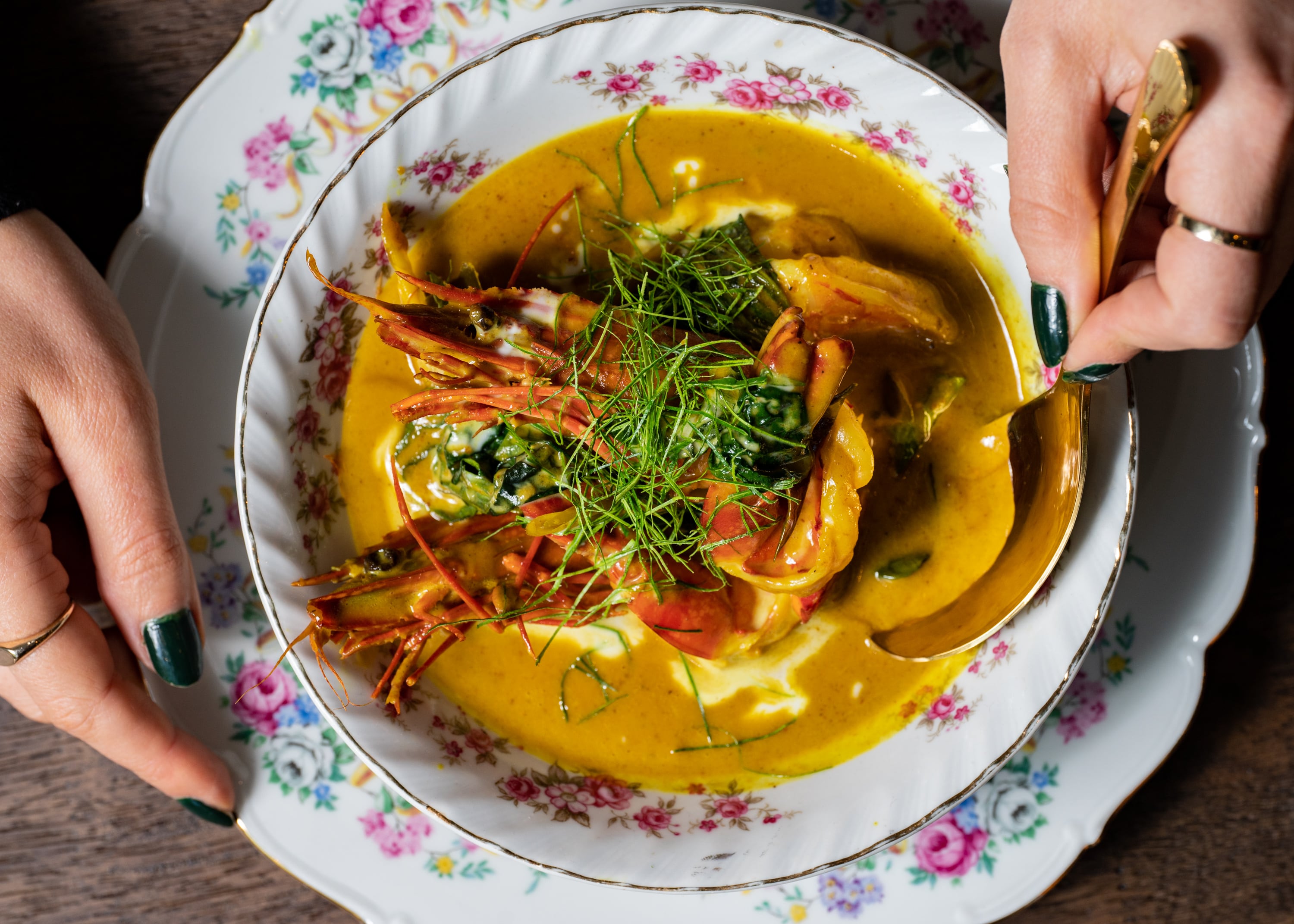 For a city packed with Thai restaurants, it's often hard to find one serving distinguishable dishes (beyond the standard green or red curry). That's not the case at this delightful new 30-seater. Narin "Jack" Kulasai was head chef at Australian Thai-food expert David Thompson's lauded Long Chim, and has created a succinct menu of dishes and flavours that remind him of Thailand. (There's another Thompson alum on this list, see Viand below). That includes deep-fried barramundi with a beautiful zesty mango salad of fleshy fruit, lemongrass, mint and coriander, as well as a Phuket-style curry with tiger prawns and betel leaves. Everything is nuanced and deeply flavoursome. The room, which is set over two levels, isn't fancy but welcoming, and so is the happy and sincere staff. Take notice of the beautiful hand-painted plates made in Wiang Galong (an ancient city in northern Thailand) or from Kulasai's own personal collection. Like the Thai music that plays in the background, it's lovely touches like these that enhance the homey feel of Porkfat. (Note: the wine list is pretty basic but you can BYO for $10 a bottle.)
Rafi, North Sydney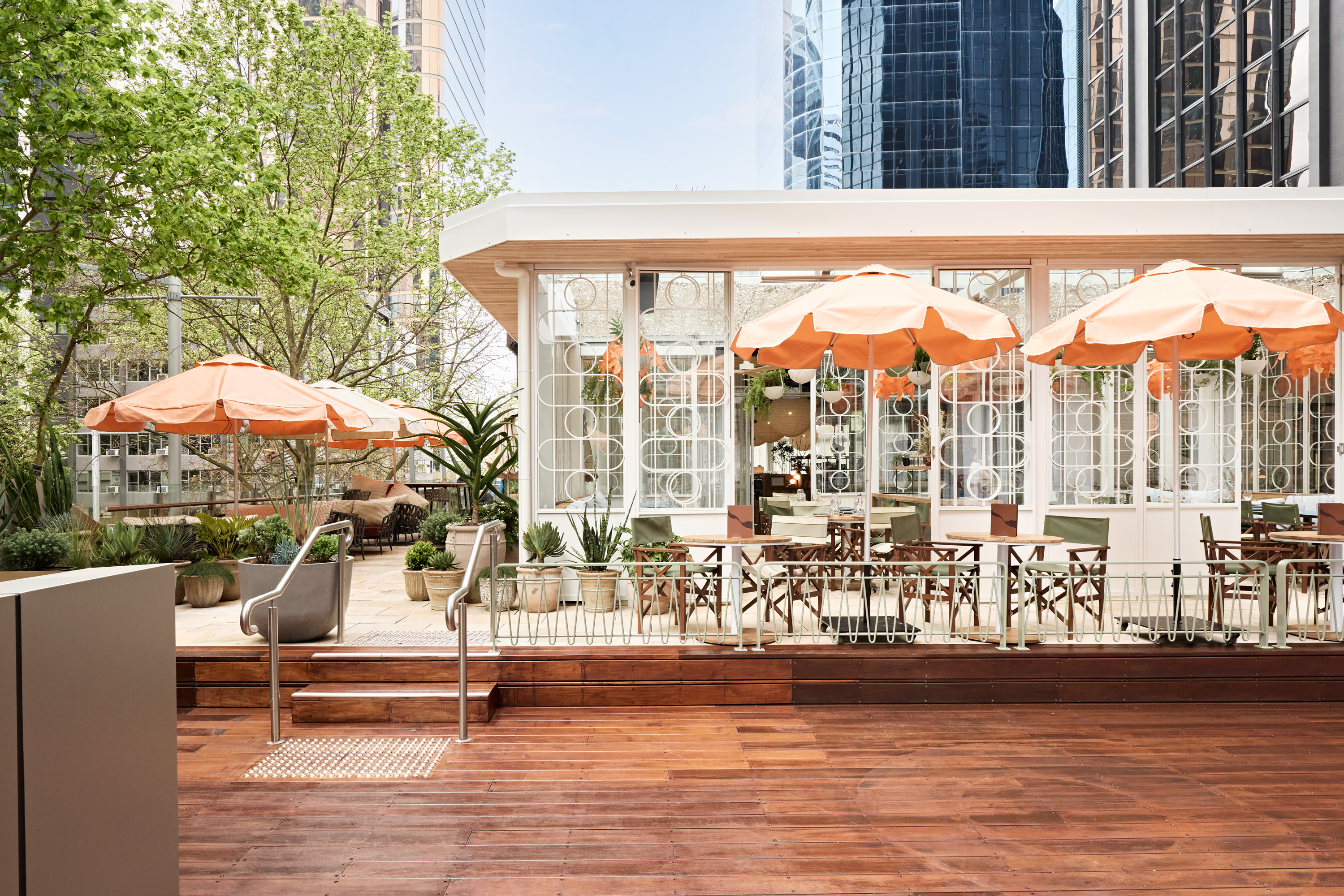 When it comes to variety on the drinking and dining front, North Sydney needs all the help it can get. Or maybe this dynamic bar and restaurant from the Applejack Group (The Butler, Bopp and Tone, SoCal) is the cure-all the area has been screaming out for all these years? Whether you have business in the area or not, you can't deny Rafi's choose-you-own-experience charm. Pull up at the lengthy marble bar for a no-waste cocktail and a plate of Cantabrian anchovies. Transport yourself to a Euro summer with some French rosé on the leafy al fresco terrace. Or choose one of the multiple, art-filled dining spaces inside and plough through a coastal-inspired menu peppered with Peruvian touches. Sterling seafood and chargrilled veg are the stars here (grilled king prawns with chilli miso butter are a highlight), but if you felt like springing for a flatiron Angus steak with a fiery green glop of chimichurri, you could do that, too. The best part? For a place that's surrounded by big banks, this place won't break yours. Rafi is fancy but affordable.
S'more, Castlecrag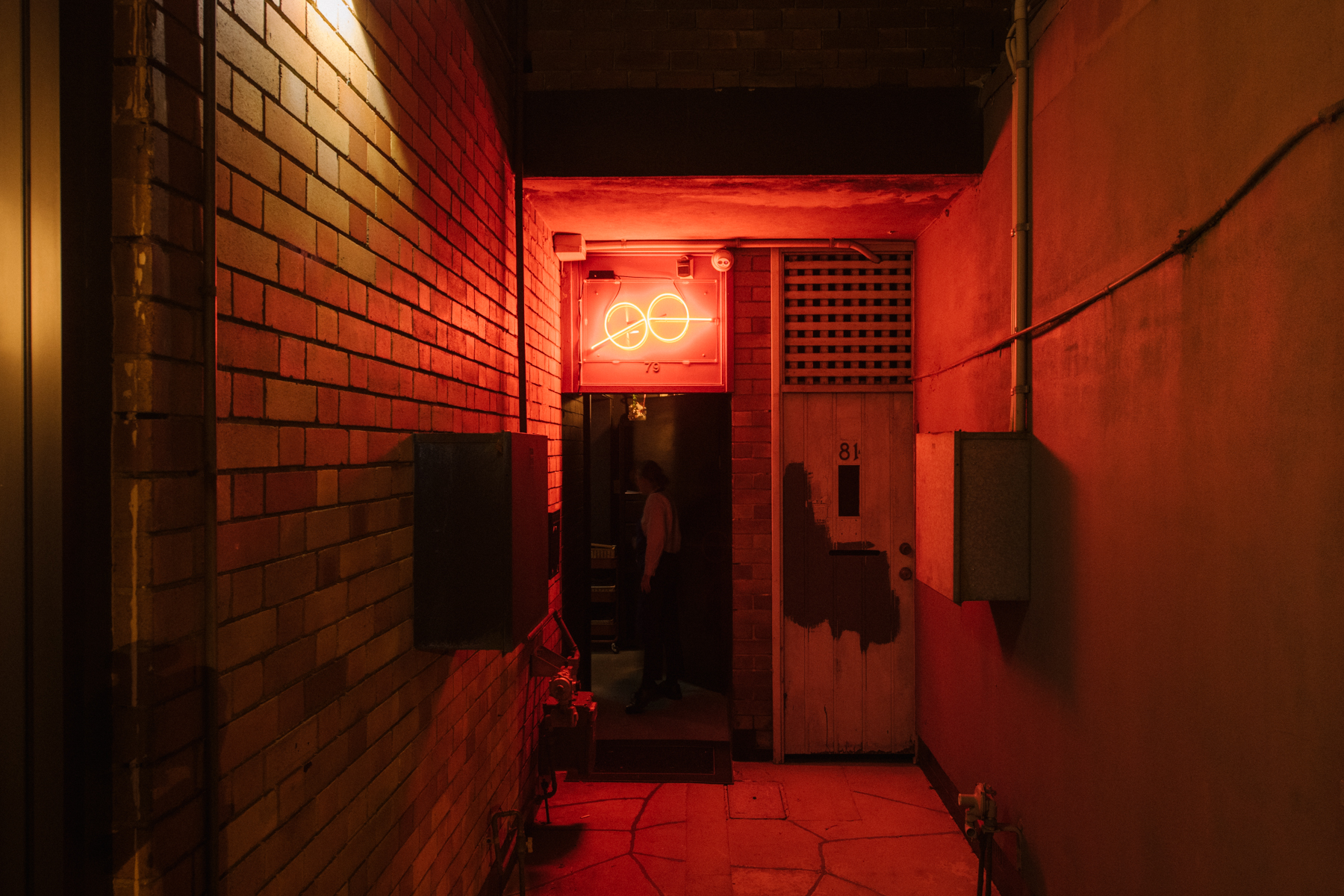 What do Firedoor's Lennox Hastie, Channel Nine's Karl Stefanovic and UFC heavyweight fighter Tai Tuivasa have in common? They've all done a caviar bump at S'more, a neighbourhood bistro in Castlecrag by ex-Merivale chefs Grace Chen and "Big" Sam Young. The duo built a cult following for their luxe private catering business and make-it-rain meal kits during lockdown (Wagyu, lobster, truffles and caviar are their calling cards), and S'more is the next logical step in their haute-cuisine hustle. They've managed to open a singular – and very fun – restaurant smack-bang in the middle of the suburbs that blends European bistro fare with Chinese and broader Asian influences. And while their penchant for high-end ingredients results in some (occasionally) whopping price tags, you don't come to a place like this for a low-key midweek dinner – although maybe you could if you ordered sensibly. But really, the "S" in S'more undoubtedly stands for "splurge". Caviar bumps and Dom Perignon? Right this way. Glossy linguine tossed with umami-punching XO pipis? Now we're talking. A Flintstone-esque, bone-in sirloin with fancy fried rice on the side? Make it rain.
Senpai Ramen, Chatswood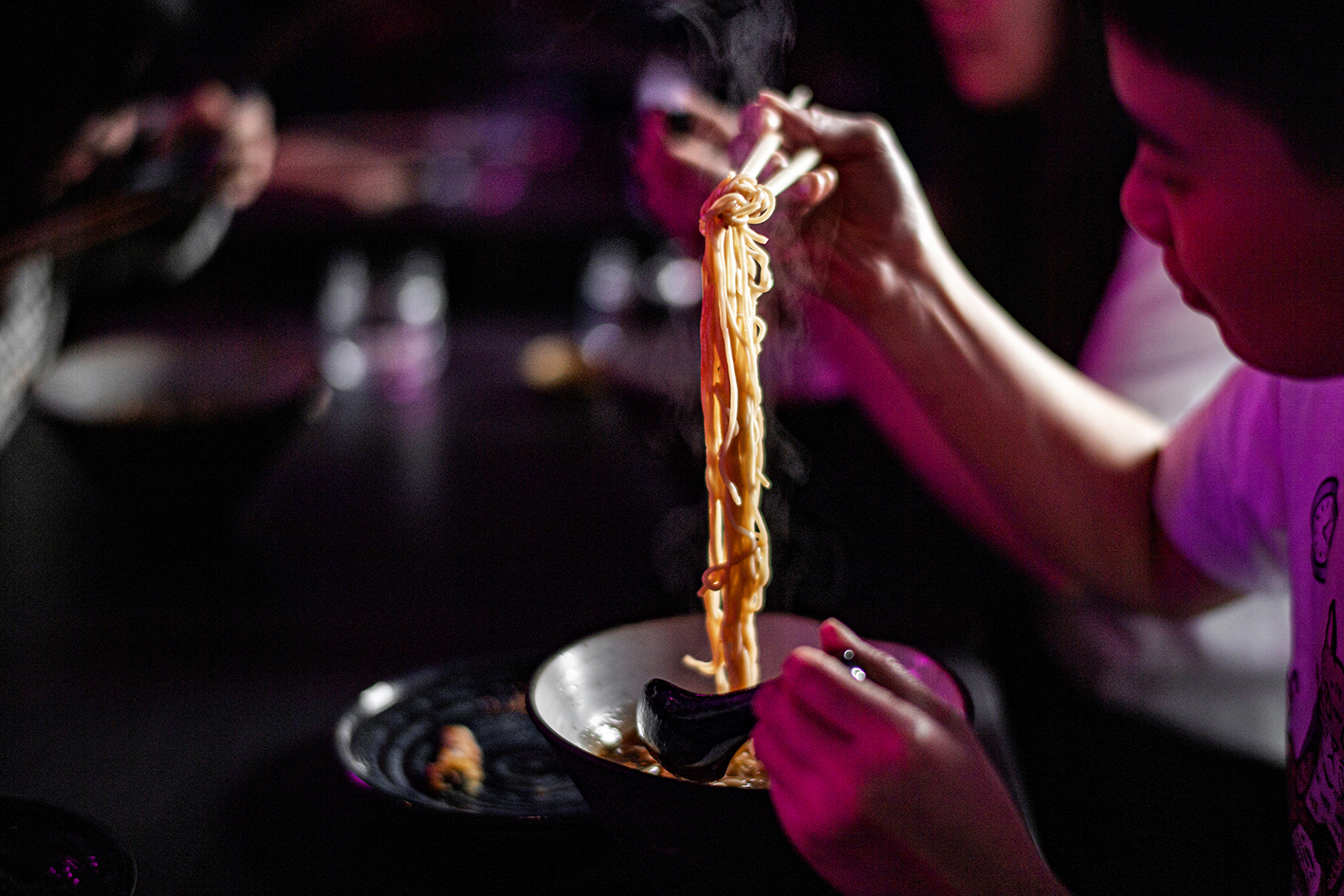 What happens when one of the country's most lauded Japanese chefs decides to open a ramen joint? Until Sokyo's Chase Kojima revealed he was doing just that in December last year, no one had really thought about it before. But Kojima had been thinking about it a lot. What if ramen, traditionally a "quick and cheap" option, was served as part of a 90-minute, seven-course degustation involving "beautiful snacks", primo ingredients and a high-energy soundtrack? The answer: Senpai Ramen. And – true to Kojima's reputation – the results are off-the-wall ambitious. Your experience is left entirely up to the chefs: you might start with sashimi, chawanmushi (steamed egg custard), agemono (something fried) and grilled fish. There's also an option to add a mini chirashi (scattered seafood) bowl served with Kojima's signature "liquid gold" egg sauce. Then it's onto one of five types of ramen (we loved the soy-based shoyu number with smoked duck), which you can enhance with luxe extras such as abalone. This is ramen like we've never seen before in Sydney.
The Charles Grand Brasserie & Bar, CBD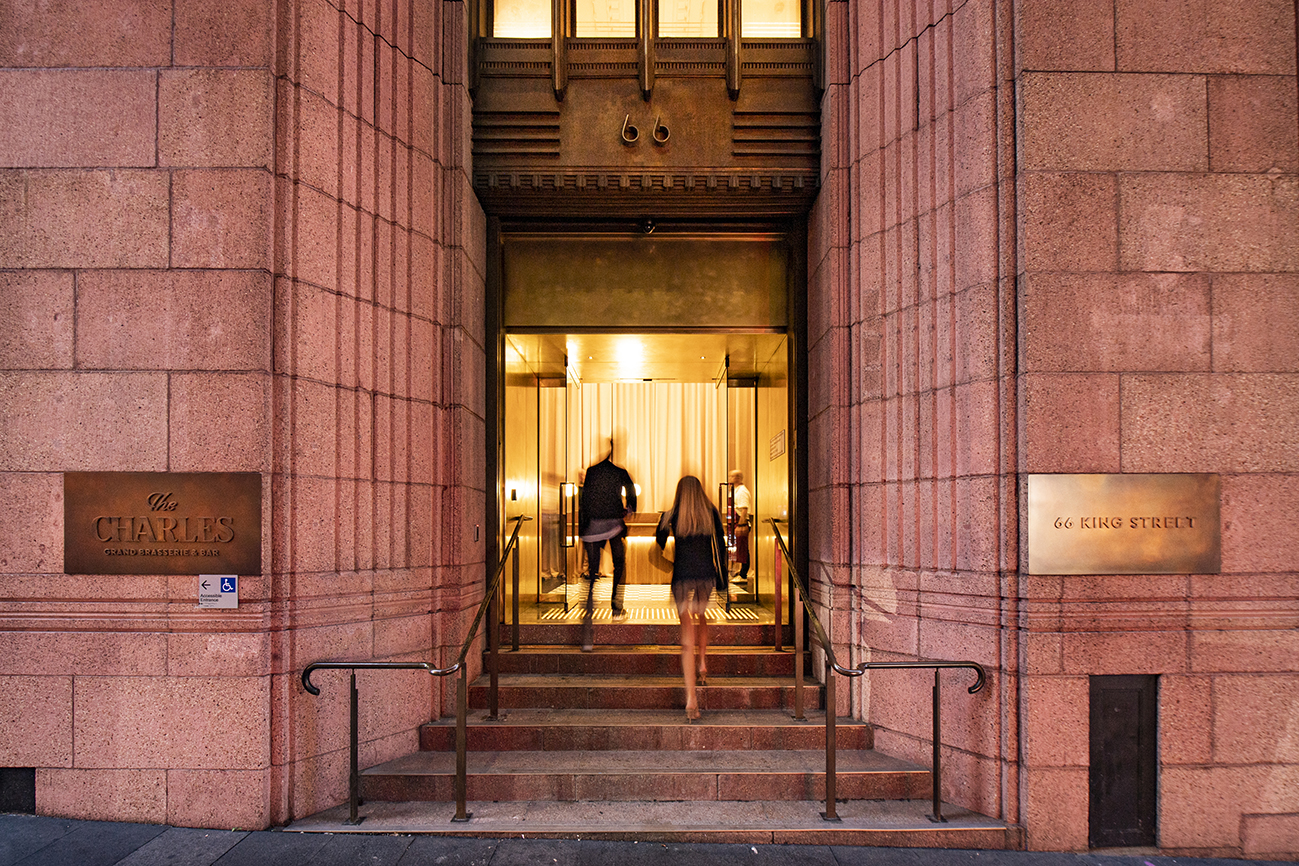 Pan-European brasserie The Charles (by the group behind Loulou in Milsons Point) wants to bring theatre back to dining in Sydney – and we are here for it. We're here for the show-stopping pressed duck, where a dry-aged duck is presented to the table in a nest of Douglas fir and lavender before it's returned to the kitchen, fried to get its skin crispy and carved, and its carcass put through a copper-plated press to create a rich sauce. We're here for the dessert trolley – loaded with sweet and savoury creations by Bennelong's ex-head pastry chef – that roams from table to table under the grand room's soaring ceilings. And we are one hundred per cent here for the Negroni en Blanc, which is just fine in a regular single-serve tumbler, but even more dramatic when it comes in a decanter for the table to share. The Charles brings the dining and service traditions of some of Europe's most storied restaurants into one room – and after just a couple of months, this immaculate brasserie feels like it's been around forever.
Viand, Woolloomooloo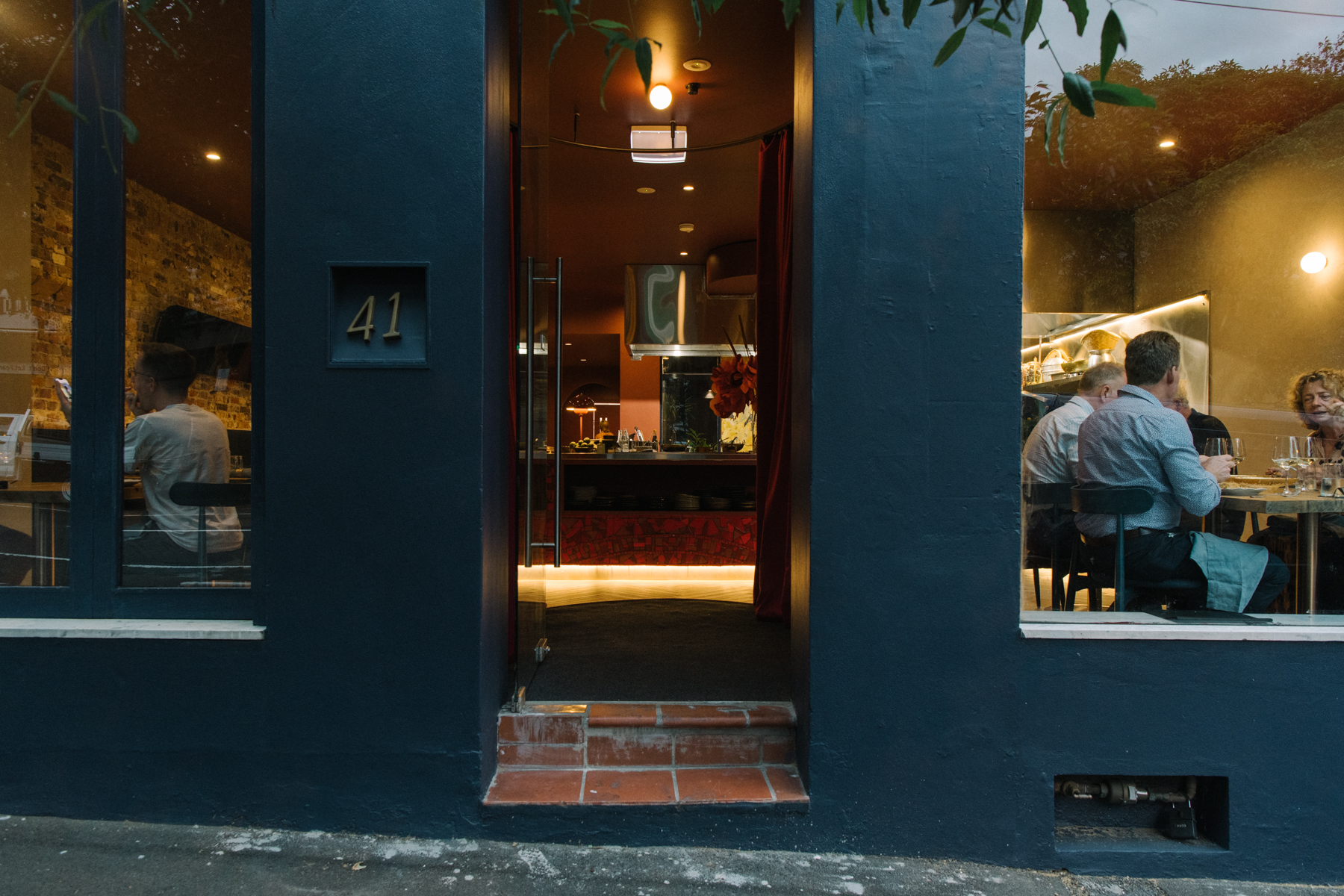 While Sydney might not be short of Thai restaurants, Annita Potter wants to offer diners something they might not have tried before. Potter was Thai food legend David Thompson's right-hand woman, working for years at a number of his restaurants, including the award-winning Nahm in London and more recently as executive chef at his lauded Long Chim, and has run a number of pop-ups around Sydney before settling here. Her menu doesn't run pages long – it's trimmed to a neat eight-course degustation that doesn't include dishes that are ubiquitous at most Thai restaurants around town. Instead, expect five-hour pork curry with tomatillos, makrut lime leaves and holy basil, and flavour-punching salted duck-egg relish with aged pork, green mango and roasted shrimp paste. "They're the kind of dishes I want to showcase because you can't get those dishes anywhere and they're kind of a bit racy for Thai food in Sydney," says Potter. If you're after Thai food that's nuanced and intricate, this is the place.
Whalebridge, Circular Quay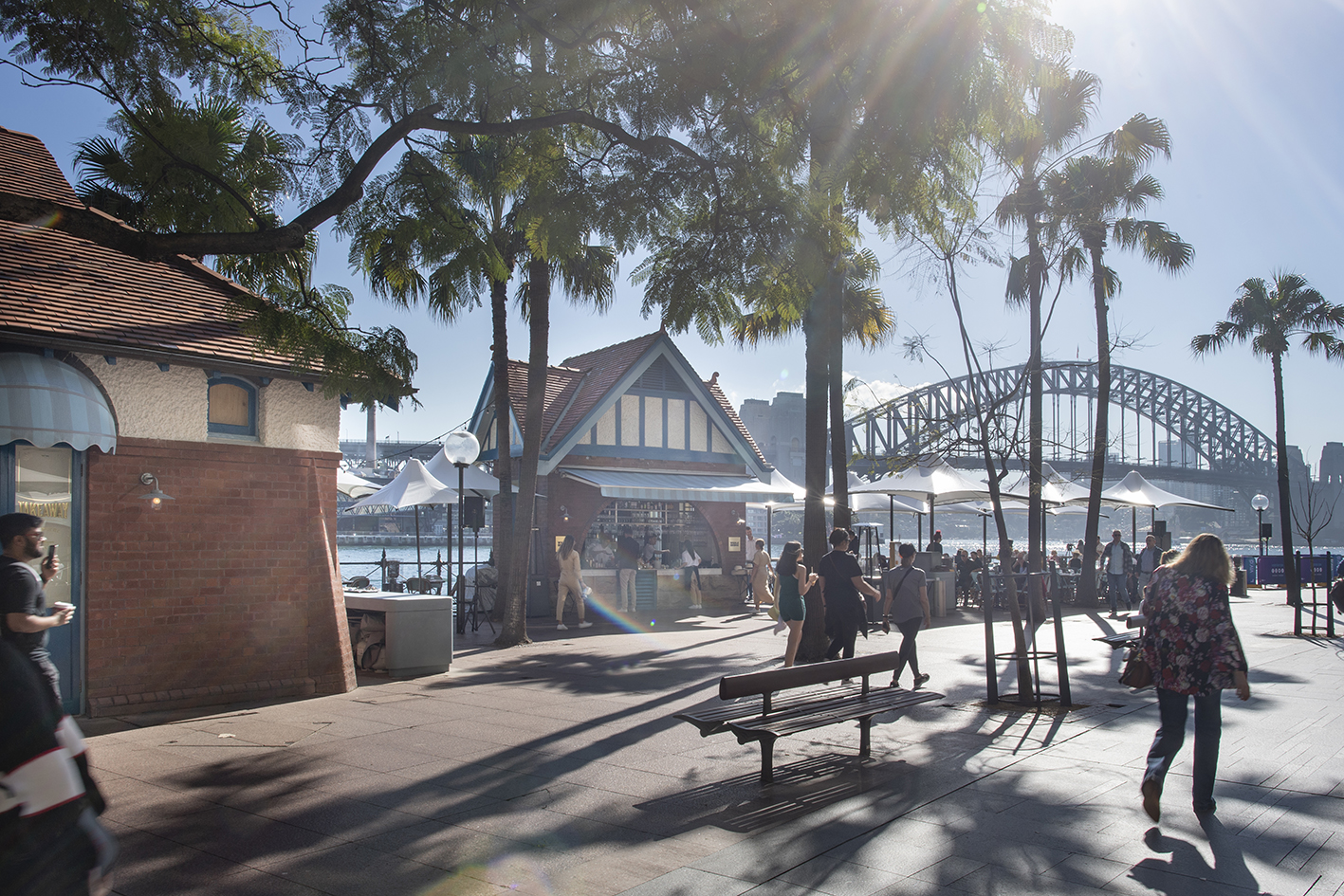 The owners have big ambitions for Whalebridge. The Sydney Collective (Watsons Bay Boutique Hotel, The Morrison and The Imperial) want their completely al fresco French restaurant to be the kind of place that excites Sydneysiders so much they come back again and again. I mean, it doesn't sound like a crazy determination, yet because it's located on the water's edge in front of Circular Quay's bombastic "Toaster" development – on the dazzling foreshore that leads you to Sydney Opera House – there's a risk locals will write it off as a tourist trap. That would be remiss of you – there's lots to like here. Whalebridge's luring power is Will Elliott. The executive chef used to work at Restaurant Hubert and London's renowned St John, and the food he's serving here is big-time tasty. Come for post-theatre snacks, elaborate long lunches and everything in between. Just want a drink? You're invited, too. We love the build-your-own seafood tower; rich bouillabaisse that's packed with prawn, scampi and fish; the crunchy bread served with the smashable French onion dip; and the delightful steak frites. Whalebridge is an exciting addition to Circular Quay – plus if you want views with your meal, this spot can't be beat.
Honourable mentions
Dining out is a luxury we should never take for granted – to be able to eat our way around our remarkable city is a privilege. And it's one food-rescue organisation Ozharvest is offering those who are experiencing food vulnerability, at its Refettorio in Surry Hills, a restaurant built to serve people who struggle to put food on the table. But, once a fortnight, this very special eatery hosts neighbourhood dinners for paying customers. Diners are given the same chef-made, three-course vegetarian meals – made using donated produce – that the Refettorio's regular patrons get. The food is great. Plus, every dollar you spend goes back into helping Ozharvest help those who need it. It's a win-win.
Meanwhile, The Gantry, in the Pier One hotel, has recently had a reno – but, perhaps more excitingly, it has a new-recruit chef Rhys Connell (ex-Sepia, Society). During a "preview season" earlier this year, he tested dishes on diners. And now, he is serving a menu packed with the best of them, polished and refined. They're very interesting – and, more importantly, delicious. The scallop-on-scallop is raw scallop (the seafood) atop another scallop (of the potato variety). Raw yellowfin tuna sits on a bed of burrata, with "slightly dried" oxheart tomato and basil, and comes with bread, for a build-your-own bruschetta dish. And a dessert is made with purple yam, violet jellies and jasmine-rice crisp. It is unexpected and exciting food for a hotel restaurant – and we are excited to see where Connell takes it next.
@barlouise_enmore
@club.fontana
@gildas_surryhills
@irenes_enmore
@kilnsydney
@ozharvest
@porkfatsydney
@thecharles.sydney
@da_orazio
@chef_orazio
@pellegrinos2000
@danielpepperell
@aaliarestaurant
@whalebridge
@viand.club
@chefclaresmyth
@ele.sydney
@federicoz80
@karl_firla
@chasekojima
@loulou.sydney
@parlarpottspoint
@thegantrysydney
@smore_syd
@rafisydney_
Additional reporting by Aimee Chanthadavong, Ariela Bard, Ashley Scott, Emma Breislin, Georgina Safe, Jasmine Crittenden, Yumi Oba.