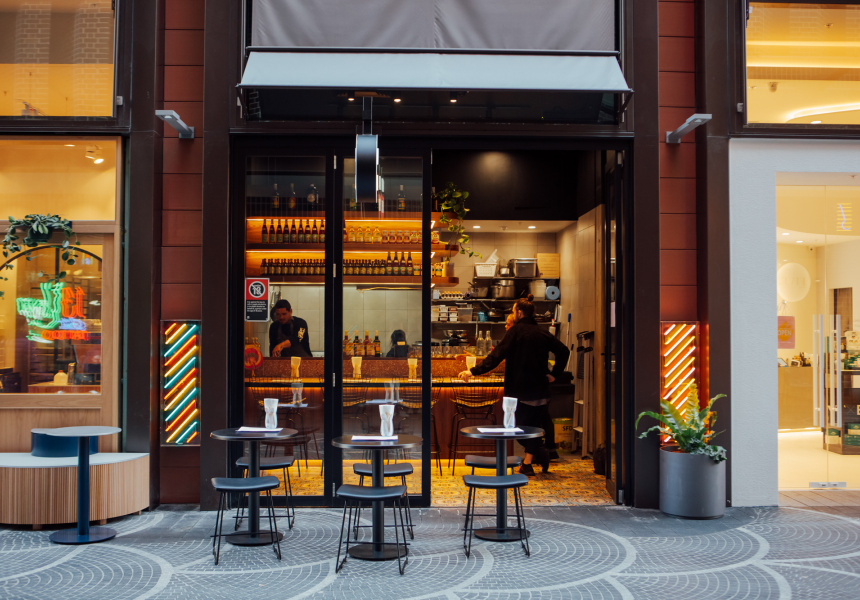 In December 2017, Jonathan Bayad opened Sydney's first and only modern Filipino restaurant, Rey's Place, in a Darlinghurst terrace. Last year he added a smaller, mainly takeaway 10-seat version in Haymarket's Darling Square called Rey Jnr.
"It was simple Filipino food with a few modern touches and modern plating," he tells Broadsheet. "We wanted to introduce the cuisine but also be a place where first generation Filipinos could take their friends and proudly show their food."
In March, both restaurants closed, two more victims of the catastrophic events that have shaped the first half of 2020. "[Darling Square] was really tough going. From my experience, when you first open there's a buzz around, whether it's a new venue or a precinct. It didn't really happen for Darling Square. I don't know why. Maybe [it was] just one thing after the other: the bushfires, the torrential rain and, in the background, Covid getting slowly worse. Sometimes it was dead – this is even back in February."
That put an enormous strain on Bayad's original restaurant, and when the coronavirus restrictions came in, it was too much to manage. "I did think about [closing Rey Jr and keeping Rey's Place] but I'm about to have a baby, and it was going to be too hard going forward. I wasn't interested in going unpaid for 18 months to two years to try and save the business. Once I called time on it all, the stress relief was immense," he says.
Rey's Place is one of many distinguished restaurants to fall due to the bushfire and Covid-19 double whammy, and more are likely to follow. Bayad, echoing the voices of many Sydney restaurateurs, says we can't blame everything on unexpected events; the industry was in trouble before this.
"Hospitality needs a shake-up. The consumers need to accept some of the responsibility in paying for the product. If somewhere charges $4.50 for a coffee, you can't have an uproar about that – that's what it costs. That's probably what it cost 10 years ago. I understand people need value, they're living on tight budgets, but if you're going to eat out you have to pay what a meal is worth," he says. "You can't eat out in a nice place that's interior designed, professionally built, with pro chefs making good food with food products and expect to pay $15 a head. That doesn't work.
"Landlords need to come to the table as well. Rents are unsustainable. Landlords need to ask do they want one tenant for 10 years or 10 in 10 years. That needs to come into line."
Bayad says he took a big risk opening Rey's Place. His restaurant had a price point of $30 to $50, which can be a lot for people unfamiliar with the food he's serving. "If people don't know what it is, it's never their first choice," he says, adding that it can even be hard to convince Filipinos to visit as he's battling against price comparisons with their home country (and some low-key neighbourhood joints that are much cheaper).
Despite all the challenges, and the eventual closures of both Bayad's restaurants, he has no regrets. "I'm proud of what we did. It was a massive risk and it didn't pay off, but I think we were successful in our goal. It was only after I was relaxing at home that I thought, 'This thing I worked so hard for, that's not there anymore.' I don't like to dwell though; you have to move forward."
Bayad does reckon there's still a place for underrepresented cuisines in Sydney. "One hundred per cent. I'm not saying it will be easy but people are more adventurous now, and the emergence of cooking shows has made people much more educated about the choices they have," he says.
As for the future? Bayad says there's unlikely to be another Rey's Place any time soon. "We've definitely got ideas, but not in the short term; there's too much uncertainty."
Want to know more about Filipino food, or maybe you're missing Rey's Place's lechon, adobo sliders, pinakbet and turon? Learn more with our guide to Filipino cuisine, and also where to eat it.