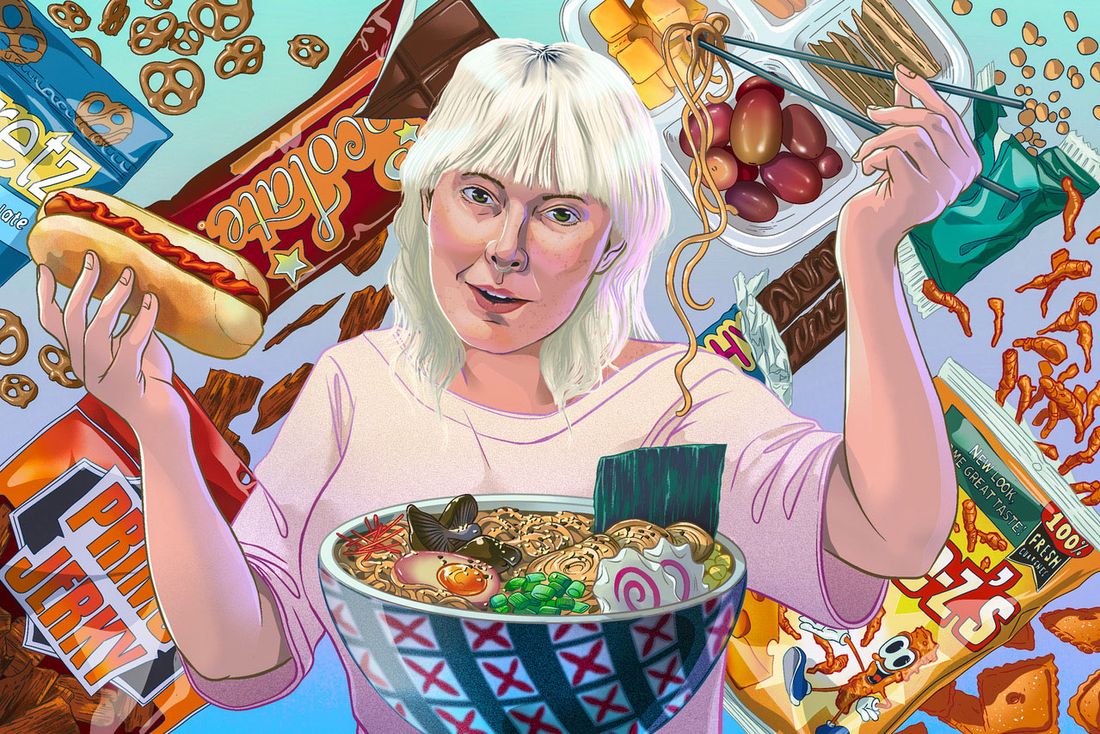 Meath made a point to visit some old favorites while she was in town recently. Illustration: Adam Mazur
For Amelia Meath — one-half of Sylvan Esso, the band she founded with her now-husband, Nick Sanborn — one of the better parts of working as a touring musician is the supermarkets. "Getting to curate what you eat on tour is quite hard," she says, "so the feeling of being in a grocery store like you're at home, I love that. Put me in a produce section and I'm happy." Meath was in town last week to record a Spotify Session at Electric Lady Studios while simultaneously celebrating the vinyl release of Sylvan Esso's latest record, No Rules Sandy, and checking in on some favorite New York spots. "I lived in New York for a few years after I graduated from college, but I was touring the whole time and paying all this rent even though I was never here," she says. "Whenever I did come back, all of my friends would be so exhausted and working three or four jobs and couldn't hang out, so I'd take myself on food adventures whenever I was home."
Saturday, January 14
We had just come from the airport and were totally hangry, so we went to Scarr's. There was a Sandy Liang sample sale happening on the same street and the line to get in was so long. Scarr's was the exact same way.
We put together a big band for the Electric Lady session we were doing, and I made the mistake of texting everyone that we were getting pizza. It was a mistake, because we were in the slice line and everyone wanted some, so I had to do that thing — like a noob — where I got to the front of the line and asked if I could get a whole pizza. They were like "absolutely not," so they charged me $30 for five slices.
Nick and I had to walk down the road with the pizza box, which I managed to sneak into Lullaby. It's one of my new favorite bars, mostly because they have Dole Whips. The last time I was at Lullaby, I accidentally left my wallet, and people stole all of the cash in it but gave the wallet back, so I feel like it has some good juju. The band met us and fought over the slices. I really love taking people to Lullaby because I think it's kind of evil. It's in the basement, it's way too dark, and they're very rude on the menu. It's a bar run by baby 20-year-olds, and the drinks are so good. So is the music.
Sunday, January 15
I was staying on the Lower East Side. I always stay in that part of town so I can get Russ & Daughters no matter what, and I can get there by 8 when the line isn't horrible. Everything bagel with cream cheese. I really have to struggle with them to give me an actual schmear of trout mousse on top of the cream cheese. And I got a deli container of half-sour pickles for the band.
We were recording, so lunches were what was catered at Electric Lady. I wouldn't have chosen to go to Tue Thai, but it was very good. I had roasted duck noodle soup. I love getting roasted duck noodle soup. It's one of my favorite things. I only get it when I'm in the city. The first place I ever had it was at that place Kelly and Ping in Soho, and now whenever I'm in New York I get a craving.
Later we went to Leo. My friend, who's a natural-wine guy, was basically like, Come meet me at this place. When we got there, there were way too many people standing around drinking giant magnums of delicious wine. We had a couple of bottles from the Loire Valley, but there was no room for us. There wasn't any way to sit down or get much food, so we were standing around drinking wine for an hour and a half.
I remembered Minca ramen from when I lived here, like, ten years ago. It's still there and it's exactly the same: It's full of trash, the sink is always running, it's very stressful, but I love their ramen so much.
Every night, we went to the bar at the top of our hotel called Mr. Purple. They play the music way too loud, and the DJ-ing is fucked up. It is wrong. They played Rick James into "Friend of the Devil." All of the seats are trash. And they yelled at us. Someone had gone to Katz's and brought back half-sours so I could try them. They were very fresh. They tasted like they'd just been put in the brine that day. I was trying the pickle at Mr. Purple, and the bouncer almost knocked it out of my hand, like you cannot eat that in here. So I shoved it all into my mouth. Who names a hotel bar Mr. Purple? It's like a place that was built for teens to go and try to not get carded. It was atrocious, and when I'm back I will go again and again.
Monday, January 16
Cafe Mogador for breakfast. It's amazing. I always get there 15 minutes before they open and then I have to stand outside like I'm thirsty for eggs, waiting to be let in. The coffee was really good this time. It was so nice.
Coffee for me is wake-up juice. I get drip coffee, 12 ounces of it, and I don't put anything in it. My dream is coffee from a can, but I'm surrounded by baristas because I'm surrounded by touring musicians, and they're usually one and the same. So I have fancy $8 coffees by default, but if I could …? I love a drip.
Lunch was at Electric Lady. I ate a full thing of watermelon and a full thing of cantaloupe, and I had some Haribo gummy bears for lunch. And we got something called immunity broth from Springbone because everyone wanted broth. It was okay. And their kale salad … it was still deeply punishing, but the crouton-dressing-kale massaging? It didn't ruin my day.
Dinner was Cocoron. Nick, my partner, and Marty, my manager and dear best friend, discovered it around the time we played Bowery Ballroom for the first time, sometime around 2014 or 2015? We wandered in looking for ramen, but we found this soba place instead and it blew our minds. Now we go every time we're here.
They were really free-jazzing it with the appetizers. If there's a bad app, I've gotta try it. They had cheddar cheese wrapped in wonton wrappers, but they weren't deep-fried — they were just kind of baked. Like pigs in a blanket? It had that kind of joy. I loved it.
Tuesday, January 17
My tour manager brought coffee from Vita, and I had half a croissant. It was very good and the lamination was nice. There is nothing more offensive than a shitty croissant. Also when it does that thing where it looks good in the case, but then you order it and realize it's made of fucking Styrofoam? It's so sad.
We were hopping between interviews, killing time, and we went to Totto Ramen. The ramen is still so good. I love a chicken-based ramen; the noodles are perfect, and the people who work there are truly excellent. I used to go there all the time, so I had to go. I had the cucumber asazuke, and I realized as I was writing it down that every time I have ramen, I get cucumber salad. It's my favorite thing. I'd eat it every day. And I had some hot sake in the middle of the day.
Next I had an interview at JG Melon. It was fun. JG Melon does that steakhouse thing where you feel like a fancy old man when you're there. I got the spinach salad, because I love that fucking thing, and a dirty martini. It's a perfect dirty martini there. Then I had a burger, and a side of pickles because I was trying to be impressively eccentric. The fries are so weird and good. They're like thick potato chips. It's like they take a slicer and carve off a curl. It's not a wedge. It's got a good thickness to it, but it's not like a steak fry. I think steak fries are … bad. These are good.
I went and took a nap because of all the food and booze I'd had, and then it was my manager Marty's birthday. For this whole time, we'd been running around trying to feed everyone at the same time and it was a nightmare. My tour manager Alicia found Baekjeong, which was perfect. You get there, all the banchan is out, it looks great. It is so beautiful and truly overwhelming.
Everything in that restaurant is the same level: The food is really fucking loud, the music's loud, the service is really loud and excellent. I loved it. They start you off with the corn-and-cheese thing that's built into the grate. So you show up, they turn it on, and you immediately have fluffed egg, the cheese, all the banchan. It's so good.
Wednesday, January 18
I needed to get a matzo ball soup before I left, and I'd never been to the Russ & Daughters Cafe, so I went there. It was very fancy-feeling in a way that I was not expecting. Also, I got to watch two bartenders be trained by a manager, who was taking so much pride in showing them how to use a cocktail shaker while I was having my matzo ball soup for breakfast. It was so sweet, the care he took showing them how they need to chip the ice.
I don't think enough people know about chipping the ice in a martini anymore! That's my favorite part, when there are the ice chips on top. I get a dirty Beefeater martini shaken with an olive. That was my mother's drink, so it was the first thing I knew how to order — at an open bar at a wedding when I was, like, 12. It was like, I love this.
The coffee at Russ & Daughters was great, and then I got a coffee at Ludlow before going to WNYC to do some interviews.
After that, we had to go to Sirius XM up in midtown, and I realized we could walk. We walked past La Bonbonniere, which is my favorite restaurant name to say. Every time I go, I just say it all day long. La Bonbonniere. It's run by a woman named Marina, and I know her name because the last time I was there all of these frat boys at the next table were just fawning over her.
La Bonbonniere is the dream of a breakfast restaurant. It's so good. The food always comes like three minutes after you order it. I got scrambled eggs with American cheese. They do the cheese right, right on top. They have really good hash, and the toast is perfect. It's the stack of four pieces of toast and it's buttered so that it's delicately soggy in the middle but not too soggy. Heaven.
I wanted to end with this beautiful soliloquy about Sunny's. It's my favorite bar in America. I lived in Red Hook so I could go to Smokey's Round-Up every Wednesday … but despite having checked the website twice, and Smokey's website, when I got there it was a fricking film set and they wouldn't let me in.
So then I went to Fort Defiance. During my brief period of being the world's worst brunch waitress at Kevin's, I would immediately go to Fort Defiance and spend all of my tips on chicken-liver mousse and martinis. They've moved since then, but only a block away. They've still got mousse and the pimento cheese, and it is still excellent — like, they haven't gotten bored. Mostly, it's amazing to come back to a restaurant ten years later and see that the spirit is still there.