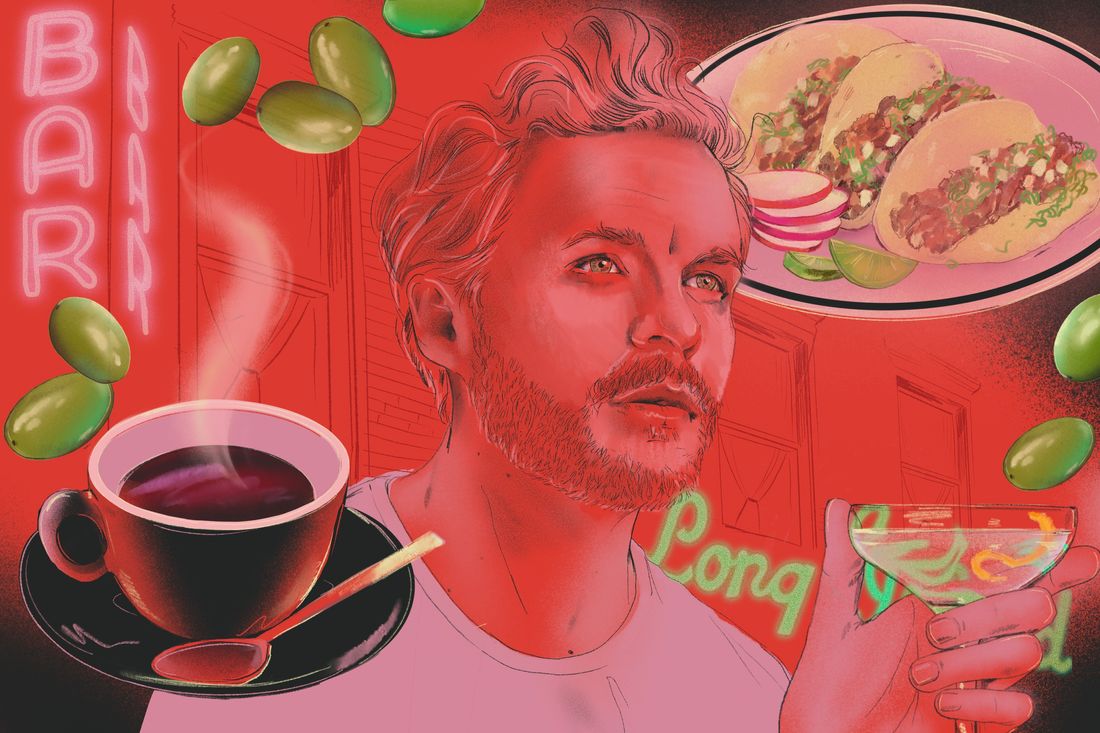 Matsson's new album, Henry St., is out April 14 on Anti Records. Illustration: by Lindsay Mound
Like many people, Kristian Matsson — the musician and songwriter who performs as the Tallest Man on Earth — moved out of Brooklyn during the early days of the pandemic, first to western New York and then home to Sweden. He was back this week to play some shows ahead of the release of his new record — called, fittingly, Henry St. — which will be out next week. Between performances, he found some time to revisit his favorite falafel shop and to get the one food he can't really find in Sweden: tacos. 
Friday, March 31
We were in San Francisco. My girlfriend and I went to Tartine. It was a glorious meal and wildly different from being home. We went every morning that we were in town. I had an Americano and a breakfast sandwich on a sweet-potato bun with folded eggs and some mustard-y mayo. I have a guilty pleasure, which is the McDonald's cheeseburger, the little guy. It's like candy, in a way. This breakfast sandwich tasted like that — something about the sweetness of the bun and the dressing. And it had pickles.
Then we had a big drive, nine or ten hours in the van, so the rest of the day was mostly gas-station snacks and whatnot. We were drinking Starbucks coffee, whatever comes in the can. Eventually, we got to Yucca Valley.
We went to this place called the Tiny Pony. It was great. I had a flatiron steak with a, like, parsnip mash. I used to be a vegetarian, but I do eat meat again. I think that after being in a van all day, feeling low energy, I needed the steak. I also had a pickletini, which was fun.
I'm a fan of gin martinis. They make great, very dry martinis at the Long Island Bar in Brooklyn. Before this tour started, we were able to stop in New York before heading to the West Coast. Jet-lagged, we went straight to the Long Island Bar for martinis and the cheeseburgers, single patties. It felt so great, like being back home.
Saturday, April 1
We woke up in the Airbnb where we were staying. Well, I woke up first and I had to figure out how to get coffee. I found a coffeemaker, and we had beans — whole, unground beans. Magically, there was a grinder, too, so I went out to the garage to use it so I didn't wake anyone else up.
Later on, I had an egg sandwich that my tour manager had brought from a breakfast place.
Many years ago, a tour used to mean me jumping on the bus. Back in Europe, I would travel by myself on trains. But then it quickly escalated into a thing where you need, for example, ten guitars for a show. We have ten people on this tour, between the band and the techs and everyone. My tour manager and I are coming up on 13 years of working together. It is, in a way, a family business.
It was a beautiful day, and we got to spend a few hours in the desert. It felt great to be in the sun, since most of us live in Sweden, where the winters are dark and long.
Then we drove to Pioneertown, California, which is a wacky place to be in the world. Like, yes, their mayor is a goat, but it hasn't been commercialized, in a way. It's still pretty hippieish, and it's a beautiful setting — the mountains are still snowcapped in the distance.
We got to the dressing room and there were Clif Bars and fruit and some kombuchas. The venue that we played — Pappy & Harriert's — provided us with dinner. I had salmon and mac 'n' cheese, which was a funky combo, but it was made well. On tour, you realize mac 'n' cheese is everywhere in America.
Sunday, April 2
We were flying all day, and I don't like to complain about airline food. I had a chicken sandwich.
When we landed and got to the hotel, we ordered takeout from a place called Ako Asian Fusion that I found on Grubhub — and it was great. I had ramen with tofu and kimchee.
Coming back was very nostalgic because I used to live in Brooklyn. During the pandemic, I moved back home to Sweden to be close to my parents. I wanted to be there in case they needed my help. I had never, in my adult life, spent so much time away from traveling. One of the foods I tend to miss is real Mexican food, which is something we just don't do in Sweden. We have something called Taco Friday, which came about in the '90s. A spice company came up with it, so it's hard-shell tortillas and the seasoning mix. But after having real tacos, that's what I try to cook for myself whenever I'm home.
Monday, April 3
Rucola is a favorite. It's close to where I lived, and there's something about its bread. It has this rye bread that just — I don't know — it just hums. When I'm having what I would think of as a "good" cup of coffee, I like when it has the character of the edge of sourdough bread. That sounds so pretentious, but I don't like the fruity taste of a coffee. This bread that Rucola has is like what I would want to taste in a coffee, so there is really something about how they taste together.
Lunch was at a place on Court Street called Darna. It's very small, but I wouldn't call it a hole in the wall. It's super-nice. I was still feeling nostalgic, so I got the same thing I order every time, which is the lamb sandwich. Darna makes its own pita bread, and it makes its own juices, too. I had the Green Clean with apples and lemon and kale. It's very tart, and I could happily have it every day.
We were playing Bowery Ballroom, which I love. It has some magic. Years ago, there was a good-bye concert for Other Music after it closed. We were sound-checking during the day, so it was completely empty except for one chair with a woman sitting in it. It was Yoko Ono. She was performing with Yo La Tengo and had decided to stay to watch the rest of the sound check.
After the show, we did takeout from Kiki's on the Lower East Side. Even when I lived here, I didn't spend a lot of time in Manhattan, but we always went to Kiki's.
Tuesday, April 4
We went back to Rucola. We needed a rest, and we slept in for a very long time, so we had coffee at the hotel — pretty good — and then it was more like a brunch at Rucoloa. My girlfriend had avocado toast with a hard-boiled egg and I had a quinoa bowl with a glass of Champagne. We both snacked on the green olives, too. They come with a little lemon.
Then I went to see my friend who lives in Red Hook. We caught up, and I got a haircut. She lives right next to Pioneer Works, so we went to San Pedro and had some mushroom tacos, too.
The show was at Music Hall of Williamsburg. It's very strange to play there right after Bower Ballroom because it was modeled after Bowery. It looks the same, but it sounds completely different.
We got takeout from Xi'an — I had noodles with beef and a cucumber salad and also some dumplings. It's back on the road in the morning: We're playing in Massachusetts and then flying to Sweden, which means a few days at home before we start a long stretch through Europe for the summer.