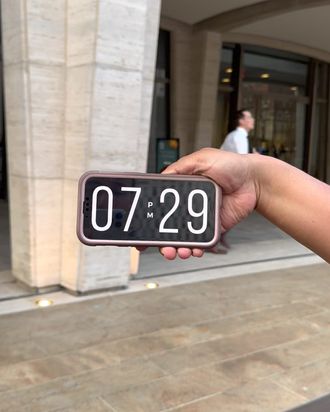 What would happen if we showed up to the city's hottest restaurant without a reservation at the worst possible time? Photo: Zach Schiffman
Since April, I've been sporadically checking up on impossible-to-access restaurants to investigate (a) if they are as popular as their reputations would lead us to believe, and (b) what happens when somebody shows up at 7:30 and is willing to wait as long as it takes for a table. I've debased myself at Bad Roman and endured a 112-minute wait for some bar seats at Lilia. I've also been anxious about Tatiana, Kwame Onwuachi's Lincoln Center restaurant that — even within the genre of impossible tables — has been described as uniquely booked up (and that was before the New York Times called it the best restaurant in the city). I knew that they did hold some space for walk-ins, but that it was limited to six seats, all of which would surely be snatched by the time I arrived at 7:30.
I asked my most patient friend if she wanted to join me — "It's going to be a gorgeous night," I offered, "and we can sit by the fountain!" — but warned her we might end up standing around for many hours before ultimately eating at whatever fast-casual chain was still open at midnight.
Walking into the plaza at Lincoln Center, I noticed hordes of people lining up for the opera, the ballet, and the theater. Surely, some of these people were lining up for Tatiana, as well? Across from the Vivian Beaumont, I noticed some outdoor seating: couches with marble tables and umbrellas, sandwiched between a wall of potted plants and the western side of David Geffen Hall. They were empty, and I wondered what they were for. Maybe a warm-weather cocktail bar that would open for the summer?
I made eyes at the hostesses guarding this empty fortress and headed into the restaurant for my regularly programmed mission of securing an "impossible table." The crowded vestibule was filled with people who had dutifully reserved their tables weeks — months? — in advance. Unsurprisingly, I learned that the main dining room was fully booked, and was told to check with a different host at the bar. "Last call is at 10:30, and there are one, two, three … 11 names ahead of yours," said the bar host. I assured him that I was more than happy to wait all night, and he reluctantly wrote down my information on a pad of paper. (Not even an iPad? This didn't seem promising.) He then suggested that I check the outdoor seating, and then told me that they were serving "bar bites" out there.
Outside, the crowds had mostly entered their eight o'clock performances, and the scene was relatively quiet. The (self-imposed) parameters of "Impossible Tables" dictate that I am not allowed to cheat: Snacking on bar bites does not count as securing a table. I started to wonder how late the P.J. Clark's across the street would stay open, or if I'd be left to go home hungry. I asked to see the outdoor menu anyway and — surprise! — it wasn't a bar menu at all. I cross-checked it against the main dining room's menu: the same!
Would this count as abandoning the queue? I remembered that no one cares about these rules except for me and looked at the delightful array of couches in the sunset. The outdoor seating at Tatiana is the antithesis of a streetery. It's more like Paris, en plein air. It's roomy, far off the street, and separate from the crowds but close enough to people-watch. It had immediately become my favorite outdoor seating in the city. So I asked about this wait. "Oh, there's no wait at all," the hostess replied. It was 7:45 p.m. on a Wednesday, the weather was a literal 10/10, and I was about to walk right into Tatiana without a reservation. The only "wait" was the time it had taken me to check in with the various staffers.
We loved our meal — honeynut piri piri salad, lightly crisped corn bread and cod, braised oxtail that melted off the bone, and a very accurate powdered-donut-flavored ice cream — and I figured I should just enjoy my luck. Our waitress said they were still sorting out the mechanics of how they'd seat people outside, but for the time being, the tables can't be booked ahead. You might not have the same good fortune that I did, and I'd still be nervous to try this on a Friday or a Saturday, but I am happy to report that the notoriously crowded Tatiana wasn't just the easiest table I'd gotten for this assignment. It might have been the easiest restaurant table I've gotten, ever.