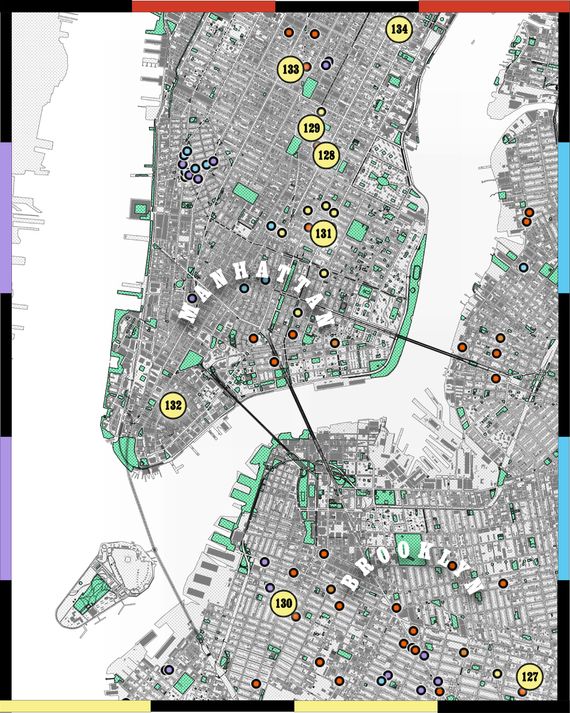 ➼ A running list of everywhere I've eaten, week 12: 127. D'Antan 128. Chito Gvrito 129. Union Square Cafe 130. June 131. Sigiri 132. Manhatta 133. Towa 134. Tempura Matsui.
On Thursday afternoon, OpenTable showed just two available tables at Tempura Matsui, but when I arrived at 7 p.m., it was more or less empty. On my first pass, I'd missed the entrance to the minimalist onyx structure, dwarfed as it is by the connected luxury apartment. I knew I'd finally found the Michelin-starred restaurant when I spotted, through the rain, the half-length curtain in the doorway.
I unloaded my umbrella with the maître d', whose voice I recognized from our earlier phone conversation, when I'd asked if they could accommodate a diner with a crustacean allergy. (Yes, was the answer, as long as I didn't mind shared cooking oil, which I didn't. I hope my allergist doesn't read this!) I then entered the dining room, accented with wood grain on the floor, ceiling, and booths: a vision of austere Japanese cottagecore right next to the Midtown Tunnel exit. I had the seven-seat countertop, which surrounds the tempura masters' work space, to myself. The only other customers were a two-top consisting of a preteen boy in a starched pink oxford and a woman I'm guessing was his mom, who were finishing up their meal at one of the three tables.
The lack of customers was fine with me. I had arrived at this restaurant in search of an intense experience after my long COVID week of delivery pies and desk-side steak dinners. This week's previous outings had been a celebration of à la minute eats that were missing from my delivery-only diet: fresh pasta, crispy duck breast, raw oysters, craft cocktails, and wine by the glass. You know the vibe. It all passed muster, but I was still reeling from the isolation, and I wanted a restaurant that paid attention to me.
Naturally, omakase came to mind. What is more precious than being fed not just course by course but bite by bite? Since I'd never been to Tempura Matsui, I decided that my tasting bites should arrive hot and crisp, fried to exacting specifications in a blend of cottonseed and sesame oils just a few feet from my mouth.
Inside, there were just two servers working the floor, the man who greeted me at the door and a tall, younger waiter in a white button-up and a black vest with a name tag. They performed all the classic gestures, including pulling out my chair and helping me take my coat off, with a proficiency that felt appropriate for a $200-plus dinner.
I was sipping on buckwheat shochu when the meal kicked off with a couple slices of amberjack and squid sashimi. "You should save a piece of squid to eat with the shiso," suggested the maître d'. What I didn't know at the time was that these very precise instructions would continue throughout the entire meal: When warm, wobbly foie gras chawanmushi garnished with porcini arrived, I was advised to scoop it by directing my spoon straight down as opposed to scraping it across the top of the liver custard.
By the time my first pieces of tempura came out (squid), a young woman set down her Louis Vuitton pochette at the counter seat to my right and ordered an unfiltered iced green tea that matched her mohair sweater. I had already prepared my condiments — as instructed — by stirring a sphere of grated daikon into the tempura sauce and using a bird-shaped metal contraption to squeeze a wedge of lemon into a saucer. There was also a small dish of very fine salt.
Each of the dozen or so tempura courses arrived with its own instructions, all relayed by the servers just as the tempura — only one or two pieces at a time — was placed in front of me by the chef. The squid was good with lemon and salt, while I was supposed to eat the first of two asparagus pieces with salt and the second piece dipped in sauce. Japanese whiting came out as a battered filet, with the small, crispy skeleton served on the side. The flesh went with lemon and salt, "but for the spine, we recommend just the salt."
Midway through, a young couple came in and sat next to me at the counter. The guy ordered two Diet Cokes and two waters, and he seemed disappointed to learn lobster wasn't available that night. "I hear the price of lobster has gone up," he mused to his not very talkative date.
Meanwhile, my meal progressed with tempura salmon that appeared with a tiny dish of cold ikura for topping. When uni arrived, protected from the batter by a layer of nori, I was told to bring the plate up to my mouth while I bit — to catch any potential drips. Surprisingly, all this guidance didn't feel patronizing and was instead a welcome extension of the care that had clearly been taken in cooking each bite; these people just wanted the best for me.
"It's very hot," I was warned about the zucchini, "but don't be afraid of the hot." I embraced the coaching, immediately giving it a quick pass through the dipping sauce and making sure to pick up a few bits of radish just as they told me to.
At some point in the night, Diet Coke leaned over and told me he had just been to "the other tempura place" and liked this one better. I was thankful to be on the right side of the tempura divide but also sort of annoyed that I didn't know about the other place.
"Was it worth $200 for fried stuff?" a friend texted to me as I rode the train back to Brooklyn. I was tempted to write back that it was technically $200 for very fancy fried stuff, but I knew the food was only part of what had made the meal absolutely feel worth it. Instead, I got to unburden myself of any decision-making, to the point where I didn't even have to think about when to add salt or squeeze a bit of lemon onto my food. For a couple of hours, I didn't have to worry about anything at all, which, as it turned out, was exactly what I needed.