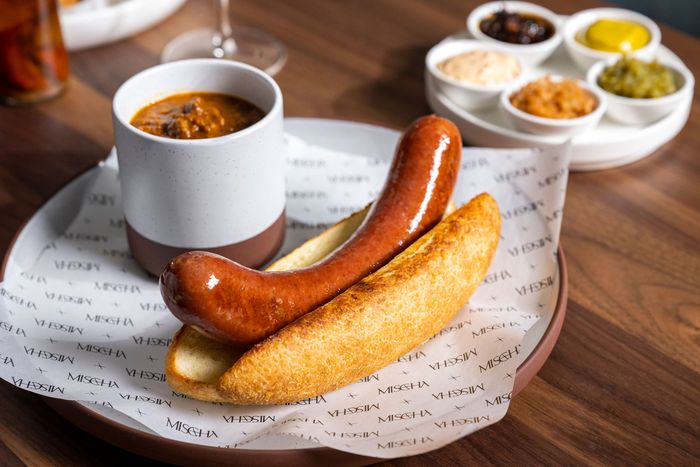 If this were a burger, nobody would care about the price. Photo: Evan Sung/Courtesy of Mischa
There is one dish in New York that people cannot stop talking about right now, and it is a hot dog. A "mighty mongrel," as the New York Post put it. The "it restaurant order this summer," according to The Wall Street Journal. "The greatest sausage in a bun in the city," per the New York Times. This "whopping wiener" is the "must-have summer dish," declared the Daily Mail.
It is served at Mischa in midtown, it costs $29 before tax and tip, and everything written about this "posh banger" — yes, the news hit Europe — takes the same approach: This hot dog is expensive, but in the end, it is also quite good. But again: Wow, expensive! Upon merely learning of the hot dog's existence this week, a colleague sprinted over to my desk to ask me whether its price is "real."
It's real, and I'm sort of surprised that everyone is so hung up on it. The detail that has most, uh, stood out in my mind is this taut, jaunty dog's shape: Even by the usual standards of a frankfurter, this thing is excited to get eaten.
It's also delicious, given that it's made from brisket and pork and is slow-cooked in beef fat before it's griddled and nestled into a homemade potato roll. There's a sidecar of dry-aged beef chili and an entire little platter of dips and toppings: mustard, bacon chile crisp, kimchee, homemade pickle relish, and pimento cheese whipped into a smooth purée. Is $29 too much for this? It wouldn't even raise an eyebrow if it were a $29 "beef sausage with traditional condiments," and I know this because the new West Village wine bar Libertine charges $31 for its saucisse-purée, which is a sausage and some mashed potatoes, and nobody seems to care about the price much at all. Somehow, the addition of a (really nice) bun diminishes the perceived value of the meat.
Actually, it's not quite that, either. If the exact same ingredients that Alex Stupak uses for this dog — aged beef, homemade bun, pickles, chile crisp, and cheese — were reassembled into a burger, his restaurant could charge $35 and it wouldn't attract any attention. "Oh, another fancy chef burger," customers would think, correctly, before ordering it anyway because fancy chef burgers are still irresistible all these years later. Simply by employing the words "hot" and "dog," Stupak's menu creates a lowered expectation that the finished dish of course surpasses. If another restaurant on East 53rd Street charged the same price for its best, most-talked-about entrée, the midtown masses would call it the bargain of the year. (At the Grill, a block away from Mischa, an espresso martini costs $26.) What is it about the hot-dog equivalent of a Black Label burger that has people so worked up?
Luckily, I doubt we'll have to talk about the "$29 hot dog" too much longer. With all of the attention it's gotten this summer, it wouldn't be surprising to see the price jump up over $30 sometime soon — a hike that would be met with mild shock, maybe, but one that also feels somehow justified.