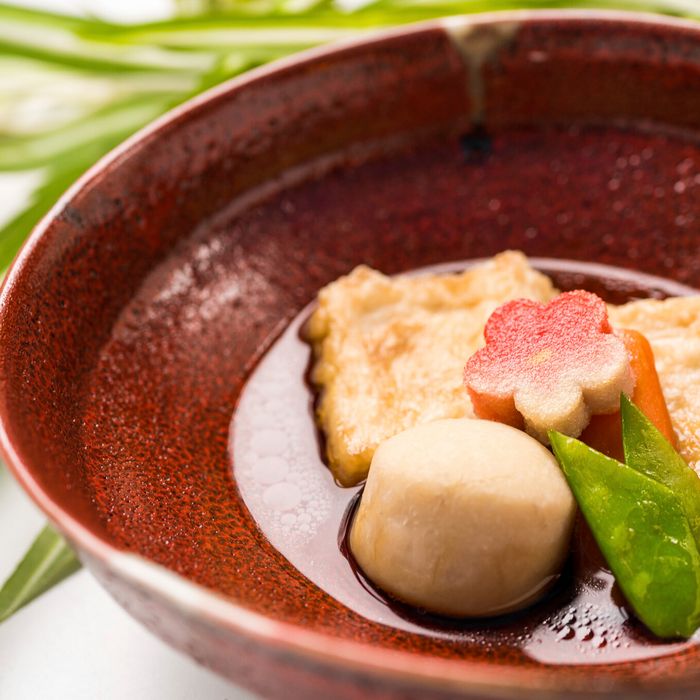 Homemade sesame tofu and warm dashi at Momoya in Soho. Photo: Courtesy of Momoya
Even with a weekly column, I often encounter great ingredients and ideas that don't quite fit into a story. Instead of keeping them to myself, however, I want to share them. Here, in no particular order — and with no strict criteria for inclusion other than pure deliciousness — is a handful of dishes I heartily recommend.
I wish I knew more about the cuisines of Serbia and Croatia, partly because this is the best stuffed pepper I've ever eaten. The beef filling is bound with short-grain rice and packed in a yellow bell pepper that cooks to a soft pulp. It's served in the center of a shallow bowl of mashed potatoes surrounded by a moat of the roasted-pepper juices. Our server said it's their most popular dish and they have customers who just order this one dish to go, but if you eat it on the premises, you get the added benefit of being able to order off the mostly Eastern European wine list, on which all but one of the bottles are $50 or less.
While I was deciding what to order at this narrow bakery and shawarma shop, someone extended their arm from behind the counter to pass me a single warm falafel garnished with tahini and a pinch of sumac. It was fresher than any falafel I can remember, with a dark crust that gave way to its soft, herb-stuffed interior. I had originally come to try some lamb slowly roasting away on a spit, intending to order a plate of falafel only as a matter of course. The lamb sandwich was worth traveling for, but this falafel is my new reason to go back.
When I first walked into this shop — a new outpost of the original Kerber's on Long Island — it was mostly because I was surprised to see a bakery open until 10 p.m. Once inside, however, I saw a selection of cookies and pies that made it clear why this spot has quickly become a neighborhood favorite. I grabbed a savory hand pie filled like a classic chicken pot pie (there are options like pulled pork and shepherd's pie, too). Even though they'll reheat the pies in the store for you, I opted to take mine home instead for lunch the next day. It was as filling as a burrito, with a pleasant, buttery crust and a leek-heavy interior.
In the same way that others may default to edamame, I choose agedashi tofu as my must-order sushi-bar side dish. At the Soho location of the Momoya mini-chain, the tofu is made on the premises, which helps contribute to its delicate texture, and the incorporated sesame adds some heft and roasty flavor.
You'd think a restaurant called Foul Witch wouldn't shy away from the term head cheese on the menu, but the Italian word testa may be more fitting anyway given its preparation: Once sliced, this terrine reveals a terrazzo of roughly chopped meat and fat. Critically, this dish is served on a heated plate, so a bite spreads easily on the provided bread. It's enhanced with a bold shake of fennel pollen and grated orange zest, which adds some welcome brightness.
We may be 1,300 miles away from Miami, but the Cubano sandwiches there don't have the benefit of the smoked ham made at this butcher shop and salumeria. The mustard is hot enough to make your eyes well, while the pickles are salty and fresh. Pressed together with roast pork and Swiss, it's sturdy enough to take on a trip or picnic, too.
Although pappa is often translated as "bread soup," it's best when it's more like a tomato stew with just enough bread to lend somebody so it can absorb even more olive oil. At this Brooklyn osteria, it's served warm, not hot, and finished with fresh basil and cracked pepper. It's a deceptively filling dish but lovely on a warm summer night when you don't want to commit to anything too heavy.