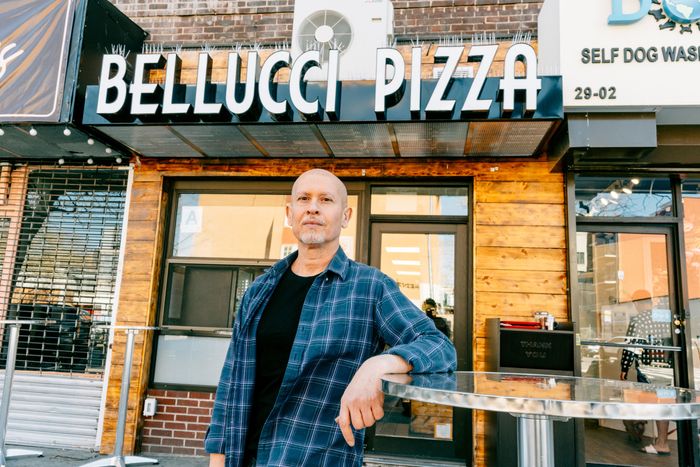 Leo Dakmak, who has sued his former pizza chef Andrew Bellucci.
Photo: DeSean McClinton-Holland
The Bellucci Battle is heating up: Bellucci Pizza owner Leo Dakmak has filed a lawsuit against his former chef Andrew Bellucci, Courthouse News reports. Drama has ensued since Bellucci (the man) left Bellucci (the pizzeria) to open another pizzeria, Bellucci's Pizzeria, a half-mile down the road on 30th Avenue in Astoria. According to the 31-page lawsuit, Dakmak is suing over federal trademark infringement, unfair competition, and defamation.
Last time we checked in, Dakmak and Bellucci were busy feuding, having gone from partners in pizza who had found each other on Craigslist (a modern romance!) to, as Joshua David Stein reported at the time, "sworn enemies." Bellucci claims that Dakmak wanted to expand into Manhattan, with or without his pizza chef, and that using his "motherfucking name" to do so "was the final straw." Of course, Dakmak disputes this, alleging that Bellucci "used the credit card like free money to buy all sorts of garbage that he didn't need." When Dakmak asked Bellucci to turn over his company credit card, he claims, Bellucci quit.
Among other things, the lawsuit states that Dakmak has sent "multiple cease-and-desist letters" to Bellucci over his use of the Bellucci name, that Bellucci "defamed" Dakmak on Instagram and through the slogan "The Real Bellucci's," that Dakmak has "received numerous threatening voicemails," and that consumer confusion has resulted.