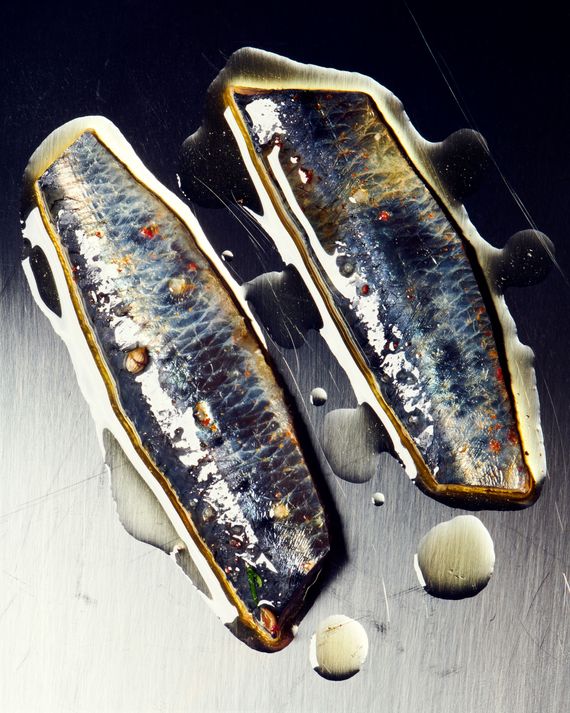 At Le Rock, order les sardines. Photo: Hugo Yu
I've been eating New York for half a year now, and while some standout nights have already come close to their own version of perfection — Eyval's dynamic vision of Persian food, the casual opulence of St. Jardim or Place des Fêtes — many of my dinners have blurred together a bit: Alt-martinis and glasses of volcanic whites usher in bread baskets with "house butter" and rustic Italianate pastas that mark a midway point before large-format proteins ("to share") and a slice of cake or bowl of custard for dessert. The New American wine-bar trend — small plates leading to progressively bigger ones — has become the New York paradigm. Little Gem is the "It" lettuce (apologies to kale), while early-pandemic vestiges such as bean salads and tinned fish endure amid the pick-me decadence of caviar, oysters, and seafood towers. But within the sameness there is excellence, and I can imagine a meal that cobbles together the best versions of the moment's most ubiquitous dishes.
I'd start with the collection of breads from Nura, yeasty warmth delivered in the form of garlic-coriander naan from its tandoor oven and Parker House rolls in a rotating flavor combination like saffron and perilla. To drink: a martini, the exact definition of which continues to be stretched. I like the version at Lullaby on the Lower East Side, "washed" with olive oil that gives the cold gin some real body. The cocktails at Oiji Mi impressed me with the way they put Korean spins on Western drinks; the martini gets a woody fragrance from pine soju; a Vieux Carré is infused with dates and comes with a side of tapioca pearls flavored with orange; a non-alcoholic jatchata (their take on a horchata) is made with pine-nut milk.
For food that's cold and small, Lula Mae, a Cambodia-meets-the-American-South restaurant in Clinton Hill, serves its trio of oysters with a splash of koh kong, a dipping sauce made of (among other things) chiles, fish sauce, garlic, and lime, with a sprinkle of fried shallots. Along with an oyster tinted with fish sauce and yuzu at the Vietnamese Mexican–leaning Falansai, both places made the case that fish sauce might be a more natural fit for the sweet brine of the mollusk than an astringent mignonette.
In our ongoing canned-fish era, you could absolutely pay for a tin of sardines at spots like Le Dive or Pastis— the latter of which nearly Joker-fied me at $20 — but a more thoughtful preparation of the blue-backed fish is the sardine escabeche at Le Rock, lightly cured and chilled with a poppy, red-vinegar marinade of fennel and coriander, served with pickled carrots, onions, and skinny guindilla peppers. For truly uncooked seafood, I give the nod to the tostada de viera at Ensenada: layers of raw scallop on top of a freshly fried tortilla lathered with labneh that's dressed with apple, jicama, and a salsa seca. A smattering of fried poppy, sunflower, and pumpkin seeds gives it a nutty glow.
Meanwhile, the ideal tartare in my mind's eye is still at Ignacio Mattos's Estela, now a decade old. The secret to its lightness has been known for a while: It's not beef; it's bison, which Mattos mixes with cornichons and radishes at his more recently opened Corner Bar, as well. It's good but suffers from living in the shadow of its hotter, smarter older sibling. The most surprisingly inventive steak tartare I had came at Joomak Banjum, where chef Jiho Kim's French pastry background is on full display: The raw beef came striated with a mozzarella chantilly, pickled mustard seeds, a drizzle of chile oil, and shards of a wafer-thin gochujang tuile.
Of the Little Gems I've had — and there have been so many — my favorite was simple and herbaceous: The salad at Bar Bête has spicy mustard dressing, tons of dill, and rings of fried shallots that are like fancy Funyuns. As for radicchio, I want the Castelfranco I ate with a steak knife at Place des Fêtes — a little ash underneath paired well with the Brabander cheese and hazelnuts scattered about. But I do still love romaine (classic and snappy, the Marisa Tomei of lettuce), and one of the most distinctive preparations seemed the most unassuming: At Yellow Rose, the salad is dressed with a smoked tomatillo dressing, little bits of anchovy, and cotija cheese.
At this point in nearly any New York meal, there is a mid-course of pasta. I didn't know what to expect with the lasagna at Rolo's — certainly not a wrinkled green sheet. To be accurate, there are two green sheets of spinach dough sandwiching béchamel and Bolognese, all blistered in a wood-fired oven. It's beguilingly homey, until you realize you definitely could not make this at home. At Raf's, corrugated ribbons of mafaldine, generously sauced with braised rabbit and dyed green with fava-bean pesto, contained the essence of spring. And one more: the kalguksu, a.k.a. knife-cut noodle soup, that was on the vegetarian menu this winter at Naro (maybe the most undersung vegetarian tasting menu in the city), with a bouquet of mushrooms — enoki, oyster, maitake — and bracken for a deep, belly-of-the-earth broth.
Speaking of fungus, that mushroom mille-feuille at Claud really is as divine as you've heard — shattering layers of puff pastry, melted Whitney cheese, and a good hit of vinegar to give it a high note. It's one of the best savory pastries you could have.
Unfortunately, the cavalcade of large-format proteins — what we used to call "entrées" — hasn't delivered the same level of excitement. I can think of some kitchen failures (an overcooked pork chop at Gus's Chop House, inedible halibut at Caviar Kaspia), so at least we still have the solid reliability of St. Anselm's $29 hanger steak. For the powered-up, power-priced version, there is a $98 strip steak at the Grill with caramelized onion, a bulb of melted garlic, and a gravy boat of house steak sauce that I want a bottle of for my home. (That hard-to-place note of sweetness? Raisins, of course.) Just chew slowly and imagine that you are a media warlord.
I also liked chef Emily Yuen's Japanese beef-curry potpie at Lingo in Greenpoint, which arrives — sticky and satisfying — with its marrow bone sticking upright from the center, like a meaty tree stump. And then there is the skirt-steak quesadilla made from a cacahuazintle corn tortilla with salsa macha and Oaxaca cheese at Sobre Masa, a restaurant in Bushwick with a tortilleria attached, which easily served the best Mexican I've had so far.
Finally, I know I was hard on Bad Roman, but I can say that the desserts — trompe-l'oeil lemon cheesecake that looks like freshly picked citrus, and icebox tiramisu cake that was like the Italian version of Fudgie the Whale — were the most successful encapsulations of what this restaurant wants to be: irreverent, playful, and straightforwardly delicious.