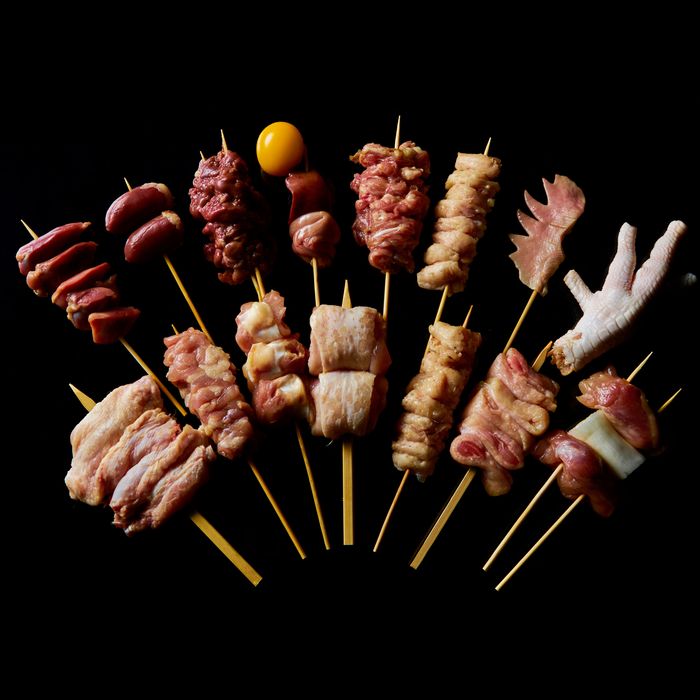 Skewers from Kono. Top (left to right): gizzard, heart, kidney, chochin, neck, tail, crown, foot. Bottom: wing, belly, knee, oyster, tail, belly skin, inner thigh with scallion Photo: Marcus McDonald
Lately, chicken has been on my mind. Though it's often in my meals — dry and diced in a sad desk salad when I'm "being good" or fried into sodium nuggets when I'm "being bad" — I can be dismissive about it as just "a protein." Its ubiquity has led to its own diminishment. Even the fancy whole chickens at the grocery store come gutted, beheaded, and chlorinated. In perhaps the most degrading gesture, that same chicken carries some of its missing parts in a wet purse inside itself. How we eat chicken is reflective of how it's produced: thoughtlessly and mechanically.
When we say something "tastes like chicken," we mean it tastes like the breast meat — blandly familiar, inoffensive. In this way, the breast has taken on gastronomic significance for the entire bird. America's obsession with breasts began as part of a national postwar effort called the "Chicken of Tomorrow": a competition to find a breed with "breast meat so thick you can carve it into steaks." The Vantress chicken won, and chicken farming was on its way to become the horrific industrial science it is. These days, chicken breasts are considered a "clean" source of protein for anyone who wants r/leangains, for whom the meat is merely grams of potential muscle mass. In this light, there is something perversely funny about bodybuilders with big tiddies downing chickens with a similar body type. You are what you eat, I guess.
I thought about all those discarded parts — the feet, the cartilage, the comb — while eating at yakitori restaurants around the city, which may be the best places to experience the complexity contained within the chicken. My first memories of yakitori are locked away in the half-basement izakayas on St. Marks like Taisho and Kenka, where we would fill up on cheap skewers and get drunk off Calpico cocktails. I've found some better options in adulthood. I would skip the Anthony Bourdain–famous Yakitori Totto — on a recent visit, the service was haphazard and listless; many of the skewers were overcooked and underseasoned — in favor of the raucous bustle at Izakaya Toribar further east. The restaurant was a more grown-up version of those old college hot spots. I went with a group of four friends, and we split a bottle of sake and ticked off our choices on a paper menu. It has a solid spread of yakitori with an incredibly juicy tsukune, a chicken meatball. Each of us evangelized for the parts we loved (gizzard for me, liver for Matt, heart for Eldrich), and happily tried the ones with which we were less familiar, until the skewers piled up like tinder.
Then there are the omakase counters. On 53rd Street, there's Yakitori Torishin, which has a loose midtown energy of businessmen after work and tourists with shopping bags. At $100, it's a good introduction to the possibilities of various chicken parts. My friend nibbled on the meat of the breastbone cartilage before realizing that was the main part. Torien in Noho is certainly the most expensive yakitori counter in the city with a menu that costs $180 (soon to be $185). The restaurant, an American outpost of a famous Tokyo establishment, has a performative bluster — a stern, almost comic photograph of the chef, Yoshiteru Ikegawa, hangs in the vestibule — with the cooks and staff shouting greetings and farewells. We had a handsome waiter, who said he was an actor, father, and skateboarder (in that order), recommend a lovely bottle of sake. Still, in terms of the food, I found myself underwhelmed by a serving of cured chicken breast with shredded shiso that did nothing to rehabilitate white meat's reputation and perplexed by a round of scallion tucked inside the chicken's oyster, that tender nub of meat freed from the top of the thigh. The most memorable skewers were the vegetables, like compact broccoli florets and molten slices of zucchini with dimpled skin.
Instead, it was during a two-and-a-half-hour dinner at Kono, hidden in a long passageway between buildings on the Bowery, that I found chicken in its most elevated form. Past the restaurant's sliding wood door is a three-sided bar, not unlike an amphitheater, surrounding a square space with the grill at the center. When my friend Rachel and I arrived, the server handed us each a bowl of chicken broth "to warm your palate." It was deep and fortifying with the medicinal glow of ginger. "I feel like I'm having a conversation with a chicken rather than eating a chicken," my friend said. "I'm getting to know it in a real way."
Kono is sincere, reverent, and, at times, playful — an instrumental string version of "This Is How We Do It" played softly on the speakers as chef Atsushi Kono paddled the charcoal with a fan. After the broth, we had a snack of fried chicken skin artfully piled into a wooden box often reserved for sake overflow, with thin shavings of fried purple potato and ginkgo nuts toasted to an oily yellow. A chicken-thigh roulade arrived next, topped with uni and kinome leaf and a flourish of cedar smoke. Then the monaka, the classic Japanese wafer sandwich, only instead of adzuki beans, this was a pâté with a layer of truffle miso and shaved truffles. The scalloped edges of the mochi cracker closed together perfectly, like a clamshell, as we ate it like the world's most delicate chicken-liver sandwich. It was smooth and airy with a sweet richness like cool cream.
Depending on the night and availability, the skewers vary, but Kono serves parts you normally don't find at other yakitori restaurants, such as the oviduct, which looks like a lantern; the artery; and the coxcomb. The night we went, we enjoyed the fatty crisp of the tail, the crowd-pleasing meatiness of the oyster (dressed only with green dots of yuzu koshō), the iron flecks in the heart, and the dark, brooding quality of the kidney. The finale was a robust tsukune, made of ground chicken and duck, served alongside a dipping sauce of raw egg yolk. Yakitori may be the best way to eat the multitude contained within the chicken, and Kono may be the best place to do it. "I often think about the producers and purveyors I work with," reads a chef's note tucked inside our napkins. "I want to honor the fruits of their labor — leaving little to waste — to show my appreciation and gratitude."
I recognize this is all reverential and possibly fetishistic (and, at $175 per person, it is certainly a meal for special occasions), but I also want to suggest that there is value in treating something as common and disregarded as the chicken with reverence and care. Each skewer is a concentrated attempt to present a part of the animal — like a cut of beef — in its most singular form. I like this dimly lit, minimalist yakitori temple in large part because it forced me to slow down and realize that I didn't know the chicken very well at all.