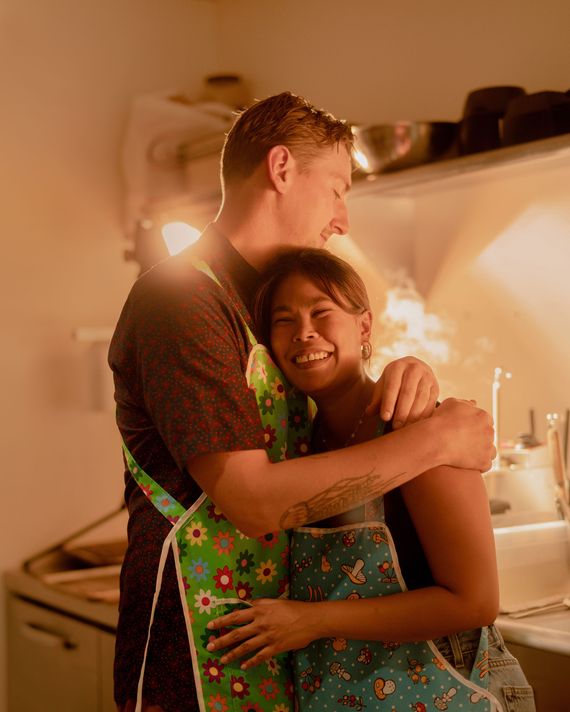 Little Grenjai co-owners Trevor Lombaer and Sutathip Aiemsaard.
Photo: Tonje Thilesen
At Little Grenjai, a new Thai delivery spot that opened this past spring among the ever-growing high-rises of Downtown Brooklyn, the menu is very short. With just 13 items, plus a few sides including jasmine rice, the focused list was inspired by the food co-owner Sutathip Aiemsaard craves when she's homesick for her native Thailand. "Thai people don't eat pad Thai everyday," she says. "But our holy basil pork stir-fry — that's something I eat almost every single day when I'm home."
"Home" is Bangkok, where Little Grenjai got its start. In 2016, Trevor Lombaer was traveling in Thailand. He'd bought a one-way ticket, looking to immerse himself in the country's food, having grown disenchanted with his job as a line cook in Brooklyn. He decided to try the online-dating scene, swiping right on Aiemsaard. It was the first time she agreed to go out with someone she'd met on Tinder. They got together and immediately found a shared passion: eating. A few days later, Aiemsaard took Lombaer outside Bangkok to her family's hometown of Samut Sakhon for a seafood feast, and soon after, they decided to travel together, falling in love as they learned recipes everywhere they went. By the end of the trip, three months later, Lombaer convinced Aiemsaard to move to New York. They applied for a marriage license immediately.
While they waited for the visa process to be completed — with Aiemsaard in Bangkok and Lombaer in Brooklyn — they dreamed up Warung Roadside, a pad Thai truck fabricated out of an old hot-dog cart. Aimsaard, who has a background in design, handled the branding and graphics; Lombaer tested recipes and navigated the logistics of opening a food truck in New York City. After Aiemsaard arrived in Brooklyn, the couple worked side by side, turning out plates of noodles while growing their new business and life together. In fall and winter, they'd travel through Asia; in the spring, they'd return to the truck. But as they were preparing to reopen in March 2020, the pandemic arrived, and they decamped to Lombaer's aunt's house in Sagaponack.
In the Hamptons, the couple launched the Sagaponack Supper Club, a takeout and delivery operation that soon turned into a weekly pop-up at Sagaponack's Old Stove Pub. "The concept was bold worldly flavors celebrating all the places we'd visited," explains Lombaer. "We'd do an exploration of Vietnamese food, Mexican food, and of course Thai food. We thought about how no one could travel at that point, so we helped them experience parts of the world through food."
The warm reception to the pop-up led them to Little Grenjai, which operates out of a ghost kitchen in Downtown Brooklyn. The name, explains Aiemsaard, comes from the Thai concept of grenjai, or extreme thoughtfulness, in which you go to great lengths not to put another person out. And, she says, "we're just a little grenjai — we don't sacrifice Thai food's funk and heat."
The spice blends and condiments are all homemade, and while there are some "chef-y" riffs on dishes — such as adding Long Island duck confit to the khao soi or a vegetarian laab with portobello mushrooms instead of meat — they never sacrifice flavor for creativity.
In just over a month, they've picked up some fans: "This is the kind of Thai food takeout we've been looking for in Brooklyn," says Elena Besser, a chef and recipe developer. "If it were socially acceptable, I'd eat the cracklin' pork belly on the bamee moo krob like popcorn." Another frequent customer, Eric Brettschneider, says he appreciates the attention paid to vegetables, as with the holy basil Brussels sprouts.
Lombaer's longtime friend and neighbor Palika Makam is also a regular, and — she's quick to add — that's not only because of their personal relationship: "We've ordered from them a bunch, and it's not just to support our friends. It's good-ass food." Growing up in a South Indian household where her mother cooked the best dosas and idlis in town, the only takeout her mother agreed to was Thai. "I thought I knew Thai food, but when I was introduced to this, I realized that I had just seen the tip of the iceberg."
Makam appreciates the shop's small menu — "Quality always suffers when there's too much" — and says each dish travels really well. (While developing their recipes, the couple waited 30 minutes before tasting dishes to test their durability.) But Aiemsaard and Lombaer have bigger ambitions — including a brick-and-mortar restaurant they're working to open in Bed-Stuy. In the meantime, they are working side by side every Monday through Friday, cooking the food that brought them together.