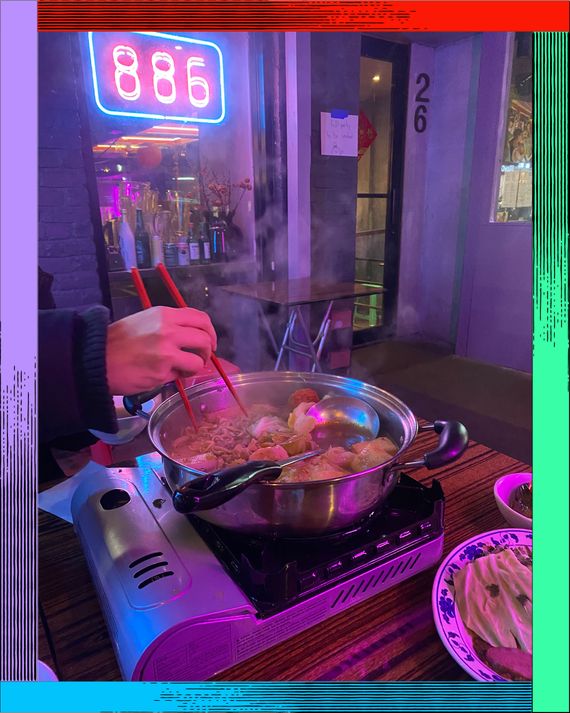 Hot pot in the cold, at 886.
Photo: Tammie Teclemariam
This article originally appeared in The Year I Ate New York, a newsletter about eating through the city, one restaurant at a time. Sign up here.
As I type these words, the hottest table in Brooklyn is Bonnie's, the Cantonese restaurant in Williamsburg that opened in early December. Everyone I know has either been to Bonnie's, wants to go to Bonnie's, or is somehow eating at Bonnie's all the time. I must have seen the restaurant's tropical-fruit plate a hundred times on Instagram before I finally glimpsed it in real life. By the time I got to the restaurant last week, I figured I knew what to expect. Then I tried the broth.
Always get the broth, that's my motto. Or at least, it should be. I desperately want to be a Broth Person, perpetually beshawled and sipping on warm, collagen-rich meat infusions from a.m. to p.m. The broth bug has hit me especially hard this winter, so it was without hesitation that I ordered the pot of chicken broth at Bonnie's.
As we sat, I noticed all the people waiting at the door to have their vaccination cards checked. Most arrived in groups, hoping to secure the large round table by the front window, which not only has excellent visibility so you can be seen from the sidewalk, but also — perhaps more crucially — sports a lazy Susan. Over at the bar, an older guy who seemed like a regular was laughing with two women beside him while he finished a malted-milk sundae.
Soon, a metal teapot like you'd find in practically any Chinese restaurant arrived from the kitchen, filled with golden chicken liquid, flanked with fresh cilantro and scallions. My friend and I served each other the broth in our matching teacups throughout the night. But instead of satisfying my cravings, it mostly just managed to whet my appetite for more broth.
Broth is so basic and essential that it's hard for anyone to really claim it, but the modern broth revival can be dated to 2014 and the opening of the first Brodo window. Today, Brodo is a full-fledged business with a subscription service in addition to four locations across New York City. If there is a Broth Person mothership, this is it; there are people who go to Brodo for breakfast.
One benefit of broth is that it is nutrition in its most basic, elemental form. Broth is simple, but inside the West Village Brodo store, I struggled to order, first choosing from the four available broths, and then from the slew of flavor and fat add-ins. I also noticed an option for a 96-ounce box of broth, though even I couldn't fathom the occasion that would necessitate such an order. "Do you sell many of the big ones?" I asked. "All the time," one employee responded. "People order them for events." I ended up ordering beef brodo with "tom yum" ingredients mixed in. It cost $11.
Broth is life, but I was starting to want some actual food. I decided to further test broth's bone-warming properties by ordering a version that came with noodles. I was relieved, on another very cold night, to be seated right away at Madame Vo, the Vietnamese restaurant where pho is a specialty. I was happy, but I cannot say the same for the couple who came in after me and refused their reservation because they didn't want to sit at the long bar running down the wall of the narrow space. No soup for them.
Behind me, almost every diner had a deep bowl of something brothy. I had come for the house pho, which is made with a beef stock that simmers for 24 hours. Switching between a mouthful of brisket and a gulp of soup, I started to see everything according to the broth binary. Anything could be a broth, unless it was not. My pandan soy milk: chilled broth. My morning coffee: upper broth. A carafe of sake: downer broth. Dumplings: decidedly not broth, but certainly a thing that has a wonderful relationship with broth.
I know this last point to be true because of a bowl of broth I ordered at Agi's Counter in Crown Heights, right at the beginning of its lunch service when I had an entire wing of terrazzo counter to myself. Though tiny Hungarian dumplings were suspended in the broth, they only existed, as far as I was concerned, to support the perfectly translucent yellow chicken stock. Is there such a thing as too much broth? I wondered as I slurped at my bowl. Not when it's this cold out, I decided conclusively. I am warm and hydrated and I see no reason to rush back to a diet that involves mostly solid food.
A running list of everywhere I've eaten, week two:
27. KIT 28. Runner Up 29. Bonnie's 30. Brodo 31. 886 31. Madame Vo Kitchen 33. Wheated