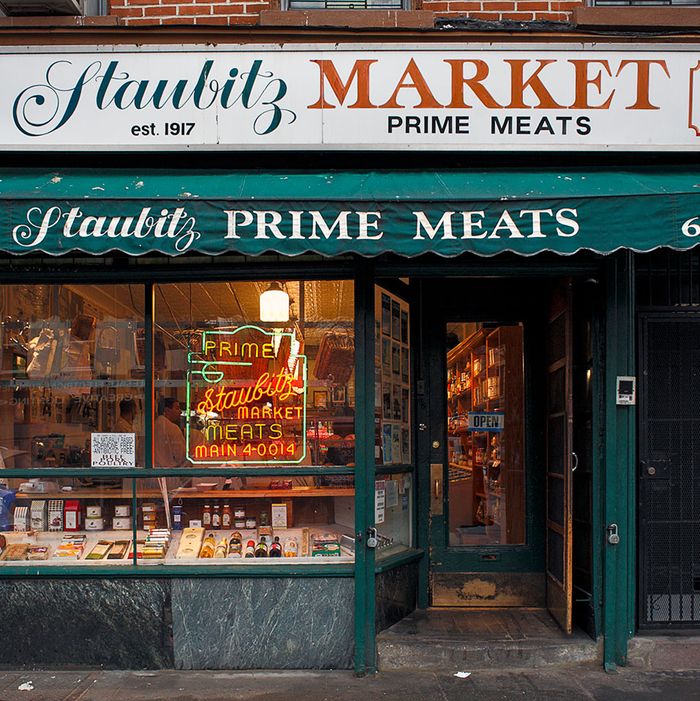 Staubitz Market, as seen in 2009, has been open for more than a century. Photo: James T. and Karla L. Murray
"We were a bunch of idiots from the city," says John McFadden Jr., pointing to a time-faded photograph mounted on the back wall at Staubitz Market, the city's oldest butcher shop. It opened in 1917. The photograph was taken in 1987. Six men in a rubber raft, paddles in hand and wearing bright-orange wet suits, careen geekily through Class V rapids on the Lehigh River. McFadden Jr. points to a grimacing man in a blue beanie: "See, there's Dad." His father, John McFadden Sr., who took over the butcher shop in 1967, died last October. "It was freezing cold, and we thought the wet suits would keep us warm and dry," recalls his son. At some point after the photo was taken, the elder McFadden toppled into the white water, caroming backward downriver while his son frantically yelled for him to turn around so as to better see any hazards approaching — boulders, downed branches, holes. "It was terrible," McFadden Jr. says. Then he points to an adjacent photo, same setup, slightly calmer water. "But we went the next year too."
There are other photos in the shop. Behind the counter, various large pictures of the butchers — from 1920, 1980, 1990, and 2007 — testify to the longevity of the institution. A wooden booth in the back corner is as old as the store itself. Once, a cashier sat inside, ringing up a steady stream of customers. Now, it's mostly used by one of the shop's six employees as a place to eat lunch in solitude. Although its history is long, the butcher shop's future might be short. A few weeks ago, McFadden Jr. started a GoFundMe campaign titled, simply, "Save Staubitz Market." He wrote, "I'm the son of John McFadden Sr., the former owner of Staubitz Market. Working side-by-side with my father since I was 11 years old, we have served the community and its families for almost 3 decades. Sadly, my father passed suddenly and unexpectedly leaving the state of the business in shambles."
The McFaddens came into Staubitz by chance. In 1955, McFadden Sr., then a recent graduate of Food Trades Vocational High School (which now houses the Lesbian, Gay, Bisexual & Transgender Community Center) had been laid off from his job as a butcher in Far Rockaway. On his way to the unemployment office in Cobble Hill (now shuttered), he stumbled on the butcher shop. He pushed the door open and asked the butcher — a man named Martin Lang, who had taken over from founder John Staubitz — for directions to the office. Lang offered McFadden Sr. a job. He declined. Lang made another offer. "Look," he said, "Come work for me for four days, and I'll pay you for five. If you like it, you stay. If not, you get paid for an extra day's work."
McFadden Sr. accepted. Twelve years later, in 1967, the same year McFadden Jr. was born, Lang sold the business, by this time flourishing, and the building to McFadden Sr. for $17,000. Today, McFadden Jr. remembers the glory days of Staubitz Market. "I came on full time straight out of high school," he says. "It was a very profitable business."
Both McFaddens watched as the neighborhood changed. Some families were priced out. Others aged into obsolescence and on to Florida. Their younger, wealthier replacements often worked too much to cook at home or financed the neighborhood's burgeoning restaurant row on Smith Street. Still, as recently as 2017, Staubitz was in good shape. "Originally, this neighborhood had eight or ten butchers, but they all went under. They couldn't stand through the transition," McFadden Sr. told the New York Times that year. "As the others died out, their customers came to us. And business is better today than it ever was."
But it wasn't. Despite what his father said, McFadden Jr. tells me, "Over the past ten years, we've seen a steady decline in sales." He blames a constellation of factors including vegetarians ("not that there's anything wrong with that"), the "demonization of meat," and increased competition from Amazon or Whole Foods Market (owned by Amazon). At the same time, the rising cost of insurance, taxes, and food has diminished margins: "Our only option was to raise the prices to something like $75 a pound for steaks, which the market simply won't bear." So Staubitz has been on the decline. Not that its many customers would have noticed: The butcher case is as full of tenderloins and rib eyes, homemade sausages, and Canadian chickens as always. Hunks of parmesan cheese — cut to order — still sit on the counter. In the freezer, elk and ostrich wait in ground and frozen form. Even McFadden Jr. didn't really notice at first.
McFadden Sr. had kept certain aspects of the business from his son. After he became confined to a wheelchair — the result of a fall — the elder McFadden grew more territorial. "I started taking over," McFadden Jr. says. "I think, somehow, he felt that if I took over the business, he would kind of lose his identity." So while McFadden Jr. took care of the shop, his father zealously guarded the books. At the time, McFadden Jr. was confused by his father's reluctance to invest in equipment like a new butcher case or repairs that the store desperately needed. But, he says, "we were getting paid. The vendors were getting paid. So I didn't worry too much about it at the time."
Over the years, especially toward the end of McFadden Sr.'s life, the father and son began the process of transferring ownership, but "it was a lot of stops and starts." When McFadden Sr. died in 2022 after a brief hospitalization, he hadn't properly transferred ownership to his son. And, perhaps worse, the records showed that the business was in a dire state. Simply put, says McFadden Jr., "the store was falling apart."
As it turns out, the store was literally falling apart. Since July 2020, when a three-story building collapsed in Carroll Gardens, the Department of Buildings has stepped up enforcement on this stretch of Court Street. Two years later, it issued a violation for 222 Court Street — the Staubitz building — due to its crumbling façade. Another followed in September. And this April, one more violation for low boiler pressure. "Our building is not going to collapse," says McFadden Jr., "but we had the façade issue. We agreed to repair it, but the DOB wants it to be done in a certain way. They want the whole façade removed. Plus our building is landmarked, which doubles the price of any construction." McFadden Jr. says he has been told it will cost at least $125,000 to repair everything. (A general contractor told me that the landmarked status of the building shouldn't raise prices too much but agreed that the repairs can become expensive. "It seems that the building was just poorly maintained for too long," he said.) "The decision to go with GoFundMe was not easy. I don't take it lightly," says McFadden Jr., but there isn't enough money left. "I've drained all my personal sources of income."
In April, the neighborhood bid farewell to another longtime shop, G. Esposito & Sons, formerly at 357 Court Street, and it's difficult not to make comparisons. Is Staubitz poised to become the next casualty?
Asked about his feelings about his father, McFadden Jr. says he's disappointed and angry. "It's hard for me to understand this, because I have an 18-year-old son, and I would be so full of pride and joy to see him take over the business," he says. "I don't know why my dad wasn't." Instead, McFadden Jr. was thrown into the water, hurtling through the rapids without a guide.