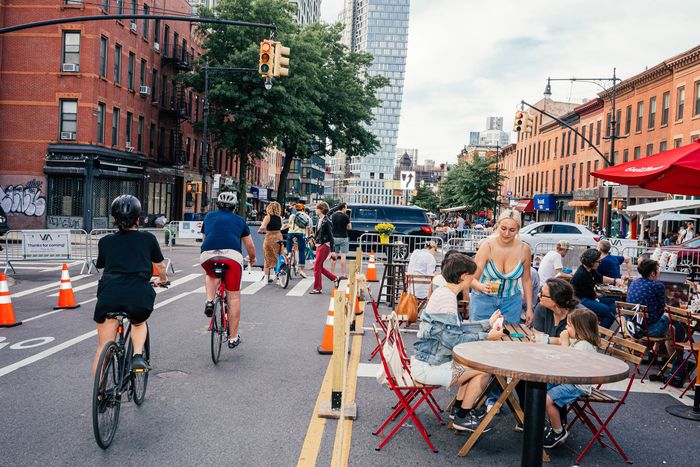 Vanderbilt Ave Open Streets. Photo: Jutharat Pinyodoonyachet
This past Saturday, Brooklyn's Vanderbilt Avenue began its 2023 Open Streets season, when the seven-block stretch that runs south from Atlantic Avenue to Grand Army Plaza transforms into a promenade party: Restaurants spill onto the sidewalk and into the street, musicians play, and families meet to catch up over drinks. But the situation is not looking so hot this year; over the summer, streets will be dug up, water will be shut off, and construction vehicles will make their way onto the avenue. In talking to the neighborhood's restaurant owners, it sounds as though many of them are bracing for the worst.
The reason for the work is the boom of high-rise developments that are part of Pacific Park, the megadevelopment project formerly known as Atlantic Yards. Officials say the influx of new and incoming residents necessitates upgrades to the existing water and sewage infrastructure. Whole swaths of the street will need to be removed for access, directly impacting the restaurants near the intersection of Dean Street and Vanderbilt, a group that includes LaLou, Chuko, Alta Calidad, and Patti Ann's.
Although the work isn't set to start until the summer, the Department of Transportation has already started urging owners to take down any outdoor-dining sheds, some of which were recently updated ahead of the warm weather. "It's hard to really make sense of the request, which doesn't seem to match up to the timeline," says City Councilmember Crystal Hudson. She has been fighting to get the sheds removed by the Department of Sanitation at no cost to business owners — Renato Poliafito, the owner of the café Ciao, Gloria, says he was quoted $4,000 to remove his shed — but so far the only official concession is that the sheds don't have to come down until after Memorial Day. That's not much relief to owners such as Poliafito, whose café is only open during the daytime hours, when the pipe work will happen: "It's going to create all this construction craziness, this madness in front of my shop for who knows how many weeks."
Some business owners have gotten a preview of what it could look like. Alta Calidad chef-owner Akhtar Nawab says he was impacted by work done in front of the restaurant during the fall. The street in front of his restaurant was torn up, and customers had to walk across a plank to get to the restaurant. "They were backing a bulldozer up — just literally right up against — two inches from our door every day until 11 o'clock," he recalls. Alta Calidad experienced a hit to sales then, and CFO Michael Wetherbee predicts that the upcoming work could mean a loss of up to 30 percent in revenue. "They've parked an excavator directly in front of our restaurants numerous times," he says, "and have dug up the area in front of our restaurant and the side of our restaurant no less than four times in the past couple of months."
The presence of construction equipment is just one concern for owners. Starting in June, water will need to be shut off in sections, too, during daytime hours, disrupting crucial prep hours even at restaurants that are only open during the evening. "We need running water to operate, right?" says Ilyssa Satter, co-owner of the popular wine bar LaLou. "The DDC suggestion was like, 'Oh, bring in water tanks,'" she says. "Which is, okay, not really super-helpful." The restaurateurs say they have been told the shutoffs at their businesses could last anywhere from two to four weeks, while a representative for the DDC says that water shutoffs in individual locations should "typically last" less than a week, while certain locations may require additional days.
The rep for the DDC notes that the agency has a "community construction liaison" whose full-time job is to keep locals and business owners informed about progress, take in complaints, handle requests, and share information about utility shutdowns. Business owners, though, say that right now they have more questions than answers. "No one can say with 100 percent certainty that my café's water line will be shut off or not," says Poliafito of Ciao, Gloria. "They won't know until they start tearing up the street. Other people may have more time to prepare for a shutdown, but I'll know a couple days before."
"The best information I got was we'll find out when the water's going to be shut off three days from when it happens," says Chuko's co-owner Jamison Blankenship. He says one main concern is that the short notice will make scheduling "impossible" — and will inevitably affect the number of hours his own employees can work. Similarly, Nawab says that he anticipates having to talk to employees about a reduction in hours.
"Why couldn't this have been planned for cooler months, the winter months, when business is a little bit slower?" Satter laments. "I don't think we ever anticipated that DDC and the city itself would just be so noncommunicative and so not interested in hearing our concerns," she adds.