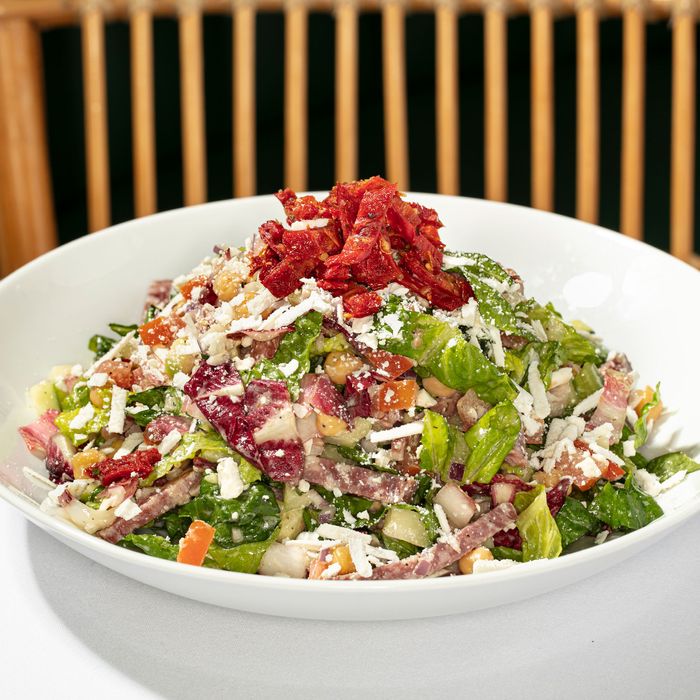 A properly huge salad at American Bar. Photo: Melissa Hom
There are two types of salads in this world: sides and mains. The first option, typically an accessory to something else, can sometimes feel like it's relegating greens to an unnecessarily subservient role. The strange thing is, the meal salad can be even more offensive, cramming a rainbow of produce into a plastic clamshell and transforming it into a pile of chopped slop that mostly exists to help office drones power through their afternoons.
When you eat a salad at work, it feels like work. But a main-course salad at a restaurant is something else entirely, like the difference between chugging down a paper cup of office coffee from a pod and sipping a fresh-made latte out of a porcelain mug. At their very best, restaurant salads are not merely meal salads, they are true Big-Ass Salads, each component of which has been carefully chosen to work within the service of the greater good.
Take the chopped salad at American Bar in the West Village as an example. Most of the restaurant's lunch menu is what you might term "country-club adjacent" ($15 pigs in a blanket, a $24 turkey club). This salad stands out, with a confetti of minced salami and sun-dried tomatoes that get trapped with cucumber chunks and chickpeas into the ridges of shredded lettuce. And while I have not yet gotten the chance to start a weekend with its brunch-only lobster Cobb, I can't imagine it would be bad with a Bloody Mary on the side.
Chilled lobster can also be had atop the baan salad — a mix of fried red-curry rice, avocado, romaine, and watercress, plus cilantro with the stems intact for extra crunch — at Thai Diner. Is the combination good? I will never know because I instead ordered mine with a huge pile of crackly chopped fried chicken on top, and I can't imagine eating this particular BAS any other way.
It's true that many Big-Ass Salads benefit from an oversize portion of protein, but it's hardly necessary. Obviously, the element that helps any great salad stand apart is the crunchy bits. The hippie salad at Williamsburg's Cozy Royale nails this with a generous amount of crispy fried chickpeas that add a welcome pop of grease to the cheese-covered romaine. Cozy is not open for lunch on weekdays, so you can't sneak away from remote work for an hour to enjoy the salad, but it does run a totally reasonable $18 during weekend brunch.
Of course, the BAS comes in many forms. At Jacob's Pickles, slabs of fried chicken tower over a foundation of iceberg, bacon, and ranch to create a sort of reserve Milanese effect. Mark's Off Madison serves a chopped-chicken-and-Bibb mixture that's so big two bowls barely fit on the same table (yes, you'll have leftovers — of a salad!). The fermented tea-leaf slaw at Rangoon is at least 30 percent peanuts, seeds, and fried legumes, while the tuna tataki at Satsko — with a seared, sesame-crusted filet laid over a bed of frilly whole leaves — is more like the seafood equivalent of a steak salad. And then, for a true steak salad, the version served at Quality Eats features medium-rare beef over greens with fried wontons and orange segments, or you can even get a sirloin salad at Keens.
Herein lies the beauty of this particular genre: The Big-Ass Salad is a complete vehicle of veggies, protein, crunch, flavor, and sauce. It's a mystery — to me, anyway — why it was ever treated with any less respect than other entrées. Of course, the format has become corrupted by convenience and endlessly proliferating chain outlets. But over these past few weeks, as I've actually sat down and made a point to enjoy some giant salads in restaurants around town, I've gained a renewed appreciation for the care that goes into the very best versions.