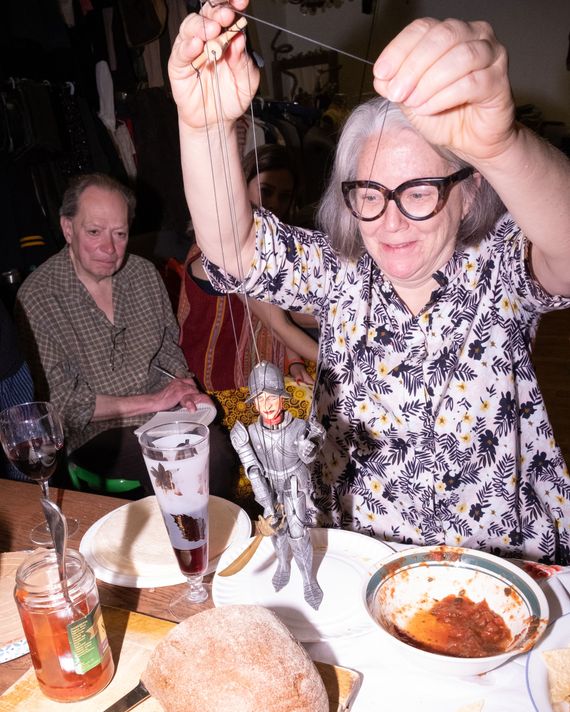 A small wooden dinner guest.
Photo: Adam Powell
Vít Hořejš is sitting alone behind a beat-up laptop at his crowded dining table, grumbling to himself before fully acknowledging our presence. "You're the first ones here," he says, and gestures toward a bag of radishes. "You can cut those."
Hořejš is a towering man with a tidy mop of white hair, a bulbous nose, and a right eye sealed temporarily shut by a bout of lingering shingles. His East Village apartment is a swelling jumble of framed art and history books, vases and clocks, paper ephemera, treasure boxes, and a battalion of wooden marionette puppets. They hang from cabinets, on shelves, in baskets, behind furniture, and in kitchen corners. Their strings are tangled, limbs limp, and their painted eyes of all colors stare blankly out into the dining room.
Hořejš is a puppeteer and the artistic director of the Czechoslovak-American Marionette Theater on East 4th Street. He also hosts the Czecho-Slovak-Moravian-Silesian-Romani-Ruthenian-Polish-Hungarian-American Club, where CAMT's puppet troupe meets over wine-soaked dinners at his apartment down the street from the theater. Once a month, the attendees come together to do two things: learn Czech songs for their next show and practice the art and mechanics of puppetry.
"Do puppets have souls?" we ask Hořejš.
"No," he responds, then reconsiders. "Yes."
Puppets have remained significant totems of Czechoslovak culture for more than 400 years. Most Czech and Slovak families have a toy puppet theater in their house, and it is also said that puppets outnumber people in the city of Prague. They were originally born of woodworkers who specialized in carving religious sculpture and began whittling small figurines with the same spirit as they carved their saints.
Furry American puppets tell jokes on Saturday-morning television or dance on Broadway, but in Central and Eastern Europe, crude blocks of wood and string have made substantial contributions during war and political occupations. In 1620, when citizens of the Holy Roman Empire were forced to give up their native tongue for German, the performers and craftspeople of Prague found a loophole around the language mandate: No law prohibited inanimate objects from performing in Czech. Across the empire's territories, itinerant puppet theaters staged shows and marionettes performed in the mother tongue of their puppeteer to keep the suppressed languages alive.
Puppeteers rebelled again during World War II when the Nazis occupied Prague. They organized anti-Fascist puppet shows that were initially overlooked by Nazi authorities until they caught on, and both puppet and puppeteer were thrown in prison.
Hořejš averted a similar fate when he defected from the USSR satellite Czechoslovak Socialist Republic in 1978. He boarded a refugee plane to New York City, and then started to perform with several theater troupes in the city. Near his first apartment on East 74th Street, he befriended the last Czech receptionist at Jan Hus Church. She told Hořejš that before the war, the church was also a puppet theater, and led him to the attic where a family of neglected, stringless, antique marionettes with Czech-carved heads and American-carved bodies had been stowed away for decades. There were bearded men, legless women, a king, a queen, a water spirit, Kašparek (the subversive Czech fool notorious across Europe under different, culturally respective pseudonyms), and a violinist.
Hořejš restrung the puppets and hung them with the witch and devil marionettes his mother and sister had smuggled in from Prague. He began to stage puppet shows across the country. The performances were all centered around Czech food folklore: The Wandering Egg, Salt Over Gold, and The Twelve Months. In 1990, he founded the Czechoslovak American Marionette Theater in the East Village, and the puppeteering dinner congregations were born.
On the night we attend the Czecho-Slovak Club, Hořejš lays out a table of simple foods: cut radishes and butter, cucumbers, carrots and dark rye bread, cherries, tea rusks, pâté, Viennese cakes, and Moravian wine. Guests arrive at steady intervals: Eve brings sulguni cheese that she picked up in Brighton Beach that afternoon; Greg helps himself to wine, while his wife, Katarina, finishes a phone call in the bedroom; Ben, an English expat who opened a water Shiatsu operation in Williamsburg in the '90s, cuts salami; Valois, with ghost gray braids and poised elocution, reads news from Ukraine aloud from her phone; and sisters Michelle and Debbie shuffle detritus from the table to make room for more food. There is also a pool of Zoom attendees.
We sing our way through a dozen Czech songs and joyously repeat the phrase scházíte se jako šváby na pivo — "you all congregate like cockroaches for a beer." After we empty yet another bottle of wine, Katarina stands up at the dinner table and performs an aria that a shepherd's wife on the Carpathian salaš would sing from across the pasture to call her husband in for dinner.
During our time with Hořejš and CAMT, we learn that the best puppeteers are able to hide the strings, make them invisible. A truly great puppet show relies on parts going unnoticed: to sneak the story past the audience's disbelief and render it real. Like Hořejš, Katarina (who is from Bratislava, the Slovak capital), grew up with puppets, and she tells us about the subpar puppetry she first encountered when she arrived in the United States: "It was like if I watched my father put on a puppet show — upsetting." A puppeteer should constantly keep their puppet moving; people breathe, so puppets should likewise never be still. And it is crucial that their feet remain on the floor. Otherwise, "you lose the illusion of them as people; why are they flying?"
At the end of the dinner, Hořejš pulls a quartet of antique marionette dancers from a bookshelf behind his chair. On a tabletop dance floor speckled with cake crumbs, spots of hummus, and carved blocks of cheese, he has them step and twirl on top of his computer while we all gather around the table and clap.
"The first thing you learn in puppetry is how to untangle things," Debbie explains.
"No," Hořejš interjects. "The first thing you learn in puppetry is how to tangle things."
A week later, in a cramped Dumbo warehouse, CAMT performs the show they had practiced over dinner. Puppets of all sizes and scowls from eras past and present hang from the rafters on standby, and we notice Katarina's husband and four children are in attendance. As the lights dim, Hořejš barrels into the room with the rest of the troupe following behind and starts the show. Eighteen marionettes dance, sing, drink, thieve, and die onstage. Their feet never leave the ground, and we are reminded of something Katarina told us at the dinner: "I breathe into the puppet, and it tells me what to do."