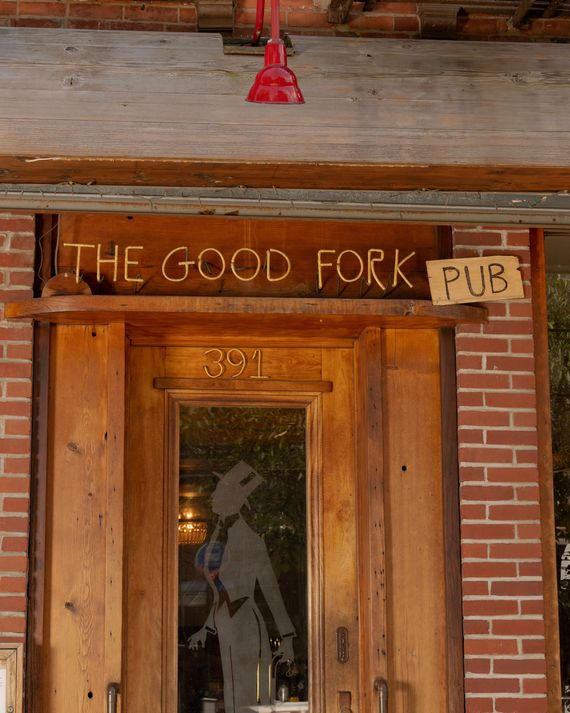 The Good Fork had long been shuttered when the sign was posted on the door: The Good Fork was not dead, only hibernating, and would soon be coming back, albeit in a slightly different form. "We will open as a Public House where all the people of Red Hook and beyond are welcome to sample our food and drink under ye olde wooden ceiling," it read. And with that, the Good Fork was officially reborn as the Good Fork Pub.
When Sohui Kim and her husband and business partner, Ben Schneider, opened their first restaurant in 2006, it helped to usher in the era of peak artisanal Brooklyn, land of Mason jars and talking in great detail about where your coffee came from. It was a neighborhood restaurant in a neighborhood with exceedingly few options, which might have been enough, but the twist was that the Good Fork was startlingly good. It was a local drop-in joint that became a culinary destination, serving steak and eggs with kimchi rice and roast chicken in black-bean butter sauce and wild-boar ragout. Much of the food was Korean-influenced, but not all of it; the only guiding principle was "stuff Kim wanted to cook."
"It was sort of this anchor restaurant for 17 years," Kim says, sitting in the restaurant's backyard, over the gentle strains of sawing from inside. When it was flooded by Hurricane Sandy, the neighborhood rallied to bring it back. In the years since, they have opened two more restaurants — Insa, a Korean restaurant in Gowanus, and the revived Gage & Tollner — and if the Good Fork had been anywhere else, they might have packed it in.
They'd pivoted to takeout, briefly, in the early days of the pandemic. Later, they lent out the space for pop-ups. Good Fork alum Leeland Yu's Chinese American concept, Mr. Lee's, took up residence for several weeks last spring, and the roving cafe Somewhere took over in the summer. "Whenever we did something here," Kim reports, "people would say, 'Come on, you guys. We need the Good Fork back.'" And, fundamentally, she agreed. "I live half a block up the street," Kim says. "I know there's a need here. And it just seemed sad to let it die when we still had the lease."
The question was what to do with it. A full-service restaurant didn't make sense to them anymore. "Red Hook is a tough neighborhood because there's not a lot of density here," Kim explains, and that's before accounting for the rising cost of labor and the ever higher cost of food. "So we needed to rejigger the concept a little bit." Longtime neighborhood bartender Barry O'Meara, formerly of Bait & Tackle and a local institution unto himself, joined up to help them with the opening. The new business would be a pub, in the truest sense.
"This notion of the public house fascinates me because it's all over," Kim says, from quintessential British pubs to Greek tavernas and Japanese izakayas, all designed to meet the same essential need: a place to sit down and rest your feet and get unpretentious sustenance. "And it's always a convivial, welcoming, community-based place," she continues with increasing passion. "It's fast-casual as it was designed in the 17th century."
Out back, Kim's walk-in refrigerator is still on stilts, a post-Sandy innovation: "If there's another 15-foot storm surge, at least that will be spared." There's a tangle of edible weeds growing in the backyard — purslane, wood sorrel, lambsquarters — and picnic tables, and when it opens next month, she's envisioning a firepit. The idea is to run it from noon to 10 p.m., serving lunch and dinner, with the bar open later on the weekends, a come-as-you-are hangout by the sea.
It will be warm and sturdy and reliable; they'll rotate the British-inflected menu as often as they can. "Maybe a beautifully made shepherd's pie," she suggests, considering the potential menu on an appropriately drizzling afternoon. "Maybe it has minced lamb, or maybe it has chunks of lamb and it's stewed properly and covered with beautifully silken mashed potatoes we blitz with a little cheese — a proper shepherd's pie. Or maybe a day like this is a solid soup day." She is intrigued by the notion of a ploughman's lunch, with grilled flatbread, "some hunks of beautiful cheddar cheese, a little charcuterie, some pickles, and some fruit, and maybe we switch that up with whatever we have in the house?" Or perhaps a crispy Korean-fried-chicken sandwich with a few stray daikon pickles. "That's pub-ish," she muses. Or in the winter, they could braise short ribs, or maybe hearty mushrooms, and serve them on a bed of lentil polenta or kimchi fried rice.
The one thing the it will not be is a Good Fork 1.0 revival, but neither is she totally turning her back on the Good Fork's roots: The beloved Korean steak and eggs from the original restaurant have been reworked into what she's calling a "Korean, by way of Philly, cheesesteak sandwich." It is a playful evolution, recalibrated for changing times and changing needs. The format she envisions is a loose one. She and head cook Dan Clawson will lean into culinary inspiration as it strikes them. "It's whatever we feel like making that day, you know what I mean?" she says. But at the same time, "I want people to know that whatever's on offer, it's going to be solidly awesome."