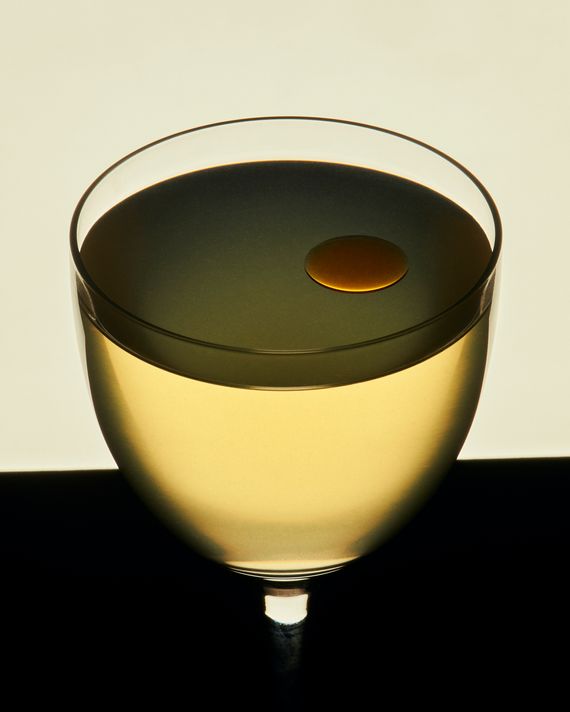 The cocktail is available at the new bar Superbueno. Photo: Hugo Yu
It is just about time for a beverage to be anointed the "drink of the summer." When that happens, it is a good sign that the drink will be everywhere, but it is not a guarantee that the drink will be good. Last year, I cast my doubts when the Times coronated the Dirty Shirley to the seasonal throne. Meanwhile, the merits and drawbacks of the espresso martini, Aperol spritz, and hard seltzer were discussed and debated during their own respective reigns. Whatever we all end up deciding this year, I hope that it is not a green-mango martini that I recently had, mostly because it is exactly right, just how it is.
Although it is fabulous and summery, one detail about the green-mango martini that works in its favor is that it is only served at one bar, Superbueno, a new Mexican American establishment at the corner of First Street and First Avenue in the East Village. It's not even a month old, but it's already an industry favorite, and it was full the first time I went, on a Monday at 10 p.m. I ran into a few bartending folks I knew, all of whom were there to try the menu put together by the bar's co-owner, Ignacio Jimenez, who everyone knows to call Nacho from his days running the Noho mezcal bar Ghost Donkey. He's often running between the kitchen and the bar and it's possible to see him play a guiro to the cheers of everyone at the bar.
Back to the drink: A green-mango martini is only a martini in the sense that it is a small glass of strong, stirred elixir. Nacho says it was inspired by the fruit vendors who work by the subway, both here and in Mexico. It is made with neither gin nor vodka, instead starting with a base of Patrón that's infused with unripe mangos, giving it a sour, slightly green flavor.
The real mango soul in this drink comes from a mango brandy that's made by a friend of Nacho's. "He uses the whole mango: crushes it, ferments it, and then distills it," says Nacho, who then adds honey and Sauternes. He figured it was a "no-brainer" since mango is often listed at the top of the dessert wine's tasting notes. In addition to helping add sweetness, the ingredients help give the drink a luscious texture. To garnish: A single drop of costeño chile oil that Nacho makes with a quick infusion, and which he thinks nods to spicy seasonings like Tajín that vendors add to the fruit.
It's $18, and the amount of labor involved in its creation means it will probably never achieve ubiquity in the cocktail world. Even if a "mango martini" does show up somewhere else, it isn't going to be this one, which is good because it's an excuse to stop into Superbueno, specifically. I'd suggest you order it along with "Nacho's Nachos," a pile of golden chips layered with mushroom carnitas, avocado, and roasted poblano peppers that's then drizzled with mole and a comprehensive squiggle of crema.