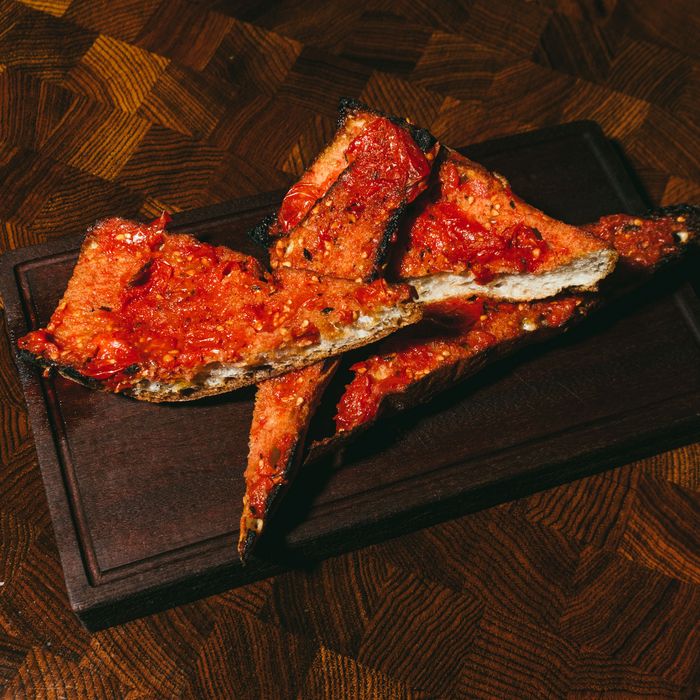 El Quijote's pan con tomate.
Photo: DeSean McClinton-Holland
Over the past few years, we've all become familiar with the doleful death notices for the hundreds of dive bars and diners and "beloved" dining institutions that have closed their doors around town. The closings continue, many of them quiet and not memorialized, though as the city begins its long, slow recovery from the great COVID nightmare, we've noticed that here and there, as winter turns to spring, some of these former institutions have begun to come back to life. A new team of cooks will be trying their luck in the grandiose former Del Posto dining room this spring, and the slimmed-down version of the Gotham Bar and Grill, now called Gotham, has been doing a brisk neighborhood business on 12th Street, down in the Village, with new owners, the same maître d' in the front of the house, and the former pastry chef running the kitchen.
Few of these revivals have been more successful or unexpected than that of the 1930s-era El Quijote, which served jugs of sangria and a roster of stolid Spanish classics for close to 90 years at the bottom of the Hotel Chelsea on 23rd Street before shuttering in 2018. Prior to its demise, generations of assorted crackpots and doomed geniuses lived above (Dylan Thomas; Hendrix and Joplin; Sid and Nancy, of course) and got famously blotto in the famous room with its glass etchings of giant lobsters and murals of Don Quijote on the walls, though if you'd wandered by during the depths of the lockdown, as I did, and peeped through the dark window at the stacks of chairs and the dusty, deserted bar, it would have felt as if you were looking back in time into the stateroom of a wrecked Spanish galleon.
But thankfully a combination of intrepid hospitality impresarios have rescued this venerable room from the sunken deep. Many of the original touches remain intact and are in some cases freshly exposed — the clattering tile floors, the creaky lampshade chandeliers hanging from the distressed, smoke-stained ceiling — but the dining area is smaller and more intimate and the bar emits a polished 21st-century glow. The wait staff wear replicas of the original red waiters' jackets, with rows of pens stuck in their pockets, and they portage wheels of paella around the room along with other Spanish favorites (pan con tomate, Ibérico ham, truffled sausages, head-on shrimp), all of which seem to taste much better than they ever did thanks to chef de cuisine Byron Hogan, who spent years cooking in Madrid before washing up back here in New York.
I don't recall properly crunchy salt-cod croquetas with generous dabs of fresh aïoli when I used to drop in to the crowded bar back in the Sid-and-Nancy days, or a decorous cheese board containing thin triangles of manchego and La Peral blue from the north with a pile of marcona almonds. Our platter of dark, chestnut-fed Ibérico ham had that trademark dense, almost candy-cane stiffness to it (you can also order decent Serrano ham for a third the price), and we enjoyed it with toasty wedges of pan con tomate (which were possibly a little too thick on the tomate), in addition to the aforementioned gambas al ajillo (sizzled à la plancha and devoured head first, of course) and Spanish anchovies set in minimalist rows on a round white plate and sunk in a pool of olive oil.
None of the recipes on El Quijote's compact one-page menu are revelatory, but most everything we tasted was well executed, and some dishes were even better than that. I'm thinking of the blackened chargrilled chicken, which is rolled in cloves, cinnamon, and nutmeg, among numerous other "North African" spices, and cooked as at a barbecue in the Castilian countryside on long metal skewers. A special cut of Ibérico pork seemed to get sweeter and more tender as we ate it, and the salver of paella was dappled in an impressive, Instagram-ready way with an abundance of shellfish and rabbit. If you order the longtime El Quijote signature lobster à la plancha, you'll find it's much less dry and stringy than it used to be (it's splashed with sherry and garlic butter) and that it goes perfectly with a bowl of patatas bravas on the side.
El Quijote made its reputation as one of the great downtown drinking venues, and half of the new space is given over to the original bar, which has been fitted underneath with soft lighting and modish purse hooks and set with new stools covered in red velvet. There are the usual sangrias on offer, poured into glass jugs, though for a taste of modern Spain, I suggest the goblet-size gin-and-tonic, which, on the evening I tried it, was garnished with bay leaves, slices of fresh lime, and shavings of green apple. There are numerous luscious Spanish wines to choose from (try the grenache-based Samuel '19 from Catalonia) and a proper section of sherries for sipping after dinner, or even with a creamy slice of gâteau Basque for dessert garnished with a sweet, fragrant marmalade that, if you close your eyes, smells a bit like summertime in Seville.
Recent restaurant reviews