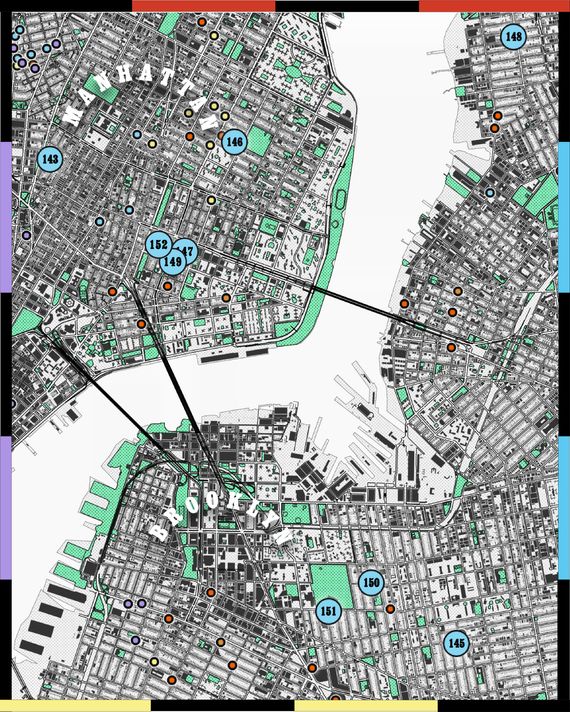 A running list of everwhere I've been, week 14: 143. Blue Ribbon Brasserie, 144. Café Fés, 145. Place des Fêtes, 146. Ruffian, 147. Ten Bells, 148. Wenwen, 149. Skin Contact, 150. Rhodora, 151. Café Paulette, 152. Gem Wine
The other night, I stopped into a wine bar in Brooklyn that's been open for a few years now, and while I could tell you the name, it wouldn't really make a difference since it could have been any one of the Paris-themed drinking holes that started to pop up a few years before the pandemic, and of which by now there are entirely too many. After picking out a glass of a chilled natural red (served on draft, of course), I scanned the menu and quickly realized I didn't really need to, since the food menu at too many wine bars has become a paint-by-numbers of "small," "casual" bites you might also find at a half-decent dinner party: cured meats with some toast and cornichons, three different textures of cheese and jam, nuts, some $9 olives, five or so anchovies fanned out on a saucer, some kind of tartare, and yet another giant blob of burrata.
On this particular night, the wine was not remarkable and the wait staff was stretched so thin that service was basically nonexistent. On the other hand, the space was attractive and moody, with a cozy arrangement of tables that attracted large groups and lots of two-tops of friends having intimate conversations over bottles of biodynamic Blaufränkisch. There was even a hot dad sitting at the bar, rocking a very tiny baby while the family's equally small dog poked its head out from the bottom of their stroller.
Early-arriving wine bars like Ten Bells may have pioneered the form in New York, but it seems like ever since Wildair and the Four Horsemen made their marks around the same time in the mid-2010s, the city's restaurateurs have been unable to resist the allure of European-style wine rooms: the small, cozy spaces and the emphasis on alcohol sales over food are, after all, ideally suited for New York's uniquely brutal restaurant real-estate market.
The problem is that in the half-decade or so since the genre took off here, it's been pretty thoroughly explored and streamlined. Even if I don't expect a bad time at a wine bar, I also tend to know what to expect, meaning it's hard to get too excited when I hear about yet another new one, its owner inspired by whatever arrondissement happened to house their Airbnb last time they spent a weekend in the City of Lights.
So I wasn't expecting much when I sat down at the bar at Place des Fêtes, a recently opened Clinton Hill wine bar that has all the familiar trappings of your classic bar à vin, from the chalkboards listing wines by the glass to the chilled brick-lined cellar.
Anyone with a liquor license can put pét-nat and Palomino on a menu, but there were a few details that should have tipped me off that maybe this particular new wine bar was not like all the others. For one thing, even on a drizzly Monday night, the room was full of well-employed artsy types, and I was granted the only available seat at 7 p.m. For another, I didn't see anyone without some kind of food, which would indicate the kitchen is putting out more than the standard trifecta of olives, nuts, and charcuterie.
Plus, everything smelled really good. I clocked some country ham, the aroma of which was widely propagated throughout the room thanks to the meat slicer in the open kitchen. And a crispy maitake mushroom, which I decided I must order when I watched the woman sitting next to me cut through hers. When I asked about the sardine toast, I assumed the fish was canned — sorry, "tinned" — like it is everywhere else, but was pleasantly surprised to discover that it arrived fresh from the West Coast. In fact, most of the fish on the menu was fresh, like the Maine mussels, and Atlantic scallops served in their shells, sizzling in a pool of butter, tinged red by the addition of porky 'nduja.
Place des Fêtes didn't avoid all of the classic wine-bar annoyances, like charging $10 for a side of bread, but I had to order it anyway to scoop up the last remaining drips of 'nduja butter from my scallop.
The last time I had such a good time at a wine bar, it was also because of something not on the wine list, but instead on the food menu, specifically jerk-spiced duck at June in Cobble Hill. Two tipsy women at the bar had just made friends with each other, a woman next to me was drinking Cava and reading a book, and the couple on my other side had just demolished three courses, including the duck, which they also loved. In some ways, I wish these places would bill themselves as something other than a "wine bar" — maybe, I don't know, try something like "restaurant"? — so that I'll be able to tell there's a real chef with a real point of view who wants to do more than put premade pâté on a plate.
One chef who has made it very clear over the years that he really, really wants to do more than put pâté on a plate is Flynn McGarry, yet even he opened a cute wine concept last month: Gem Wine, a companion (and neighbor) to his flagship tasting-menu spot Gem in LES. I got to the studio-size space at around 9 p.m. when all 16 of the formal seats were occupied, but the waiter was able to seat me at a chair against the remaining wall space where a spillover section of two unrelated couples wielding wineglasses had already formed, like a house party.
"We have one of each kind of wine: red, white, sparkling, skin contact," said my waiter after bringing me a stool to use as a makeshift table. I went with the sparkling, a hazy Prosecco, and before I finished it, was seated at a bar stool by the window. I ordered cucumbers with "pine needle ranch" and tuna with rhubarb ponzu and cured citrus from the dainty list of offerings. The only other employee at the time was working the kitchen station in the corner of the room and delivering plates, while the one waiter served all the wine. Even with the bar packed to the gills, none of the chatting couples seemed to be in a rush or anxious about it.
It's one of the more thoughtfully considered wine bars to open in New York this year, but in its casual, downtown way, it reminded me of the wine bar that was all the way at the other end of the spectrum: Sauced, in Williamsburg, which a hostess at another restaurant had told me was a staff favorite, since it had all the trappings of a dive, right down to the couples making out and the bathroom door that had to be locked with a butter knife. At Sauced, the food was unremarkable and the wine hardly mattered, considering there are no menus and you make your selection by telling the wandering sommelier what you're into and hope they pour you something that tastes right. Maybe it was pretentious in some way, but I couldn't tell you. Mostly I remember that everyone around me was having a great time and, because of that, I did, too.