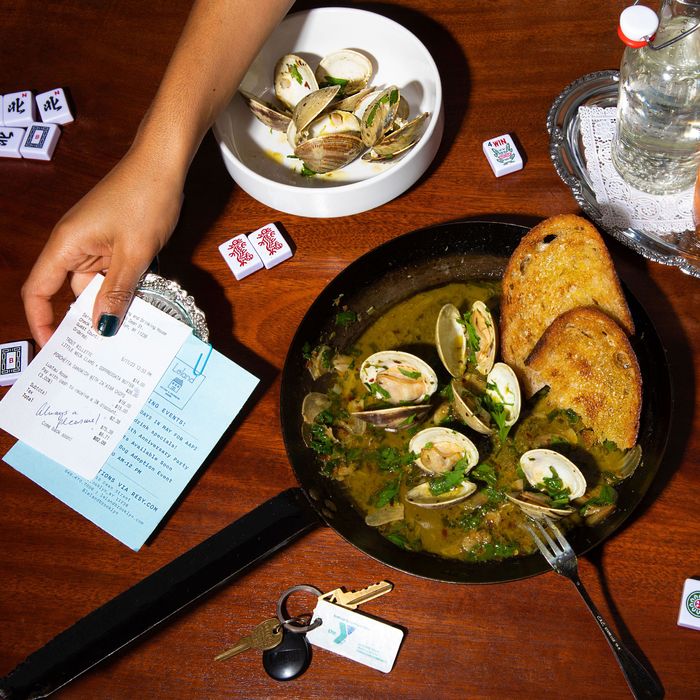 Mahjong (and clams) at Leland Eating and Drinking House. Photo: Beth Sacca
In this great game of dining in New York, Resy has become my professional nemesis. I set alerts; I get alerts. I despair; I am reduced. I'm taunted by coy messages like, "A 10 p.m. table at Semma may now be available!" Trying to eat off the Resy Hit List is like dating the worst kind of status-obsessed lover: capricious, withholding, annoying. Recently, when the company announced "the Resy Drop" — a period when the most "desirable reservations" would become available at a specific time, like the H&M Mugler collab — I laughed. I didn't see how hovering over my phone at 9:59 a.m. trying to get a table at Tatiana was materially different from the other times I did the exact same thing 28 days in advance at 11:59 a.m. I've learned the better route involves circumvention via old-fashioned favors, like snagging a Thursday night dinner at Torrisi through a friend of a friend.
Having the reservation at Torrisi was like putting on armor that allowed us to glide past the front tables next to the display of ham hocks, past the poor souls standing at the long pub table, and safely tuck into one of the back booths. Our waiter put on a one-woman show: The tortellini became "little pillows of happiness," the linguini in pink Manhattan clam sauce was her death-row meal, the scalloped potatoes were life. Dinner was technically dazzling, extravagant, expensive — is that Ivy Getty of the Getty oil oligarchy? — and went on for almost four hours. I had indigestion the next day.
What I really wanted more than anything was a break from the restaurant reservation as cultural capital — the pursuit and the flex. Enough! (At least for a week.) In a bit of emotional counterprogramming, I opted out of my vacation eating lifestyle for my home-base restaurants, the places I can go to on a whim. The nonstop parade of event eating has me craving the places I go to when I just want good food with good company — no bullshit.
I'm sure you have your spots. They're usually within walking distance, ask little of you, and reciprocate your love. These restaurants contain the sanctity of the mundane. When I lived in Crown Heights, I would go to Cafe Rue Dix, the French-Senegalese restaurant on Bedford for Touba coffee, green juice, and pastries in the morning and thiebou jen or a steak sandwich — extra hot sauce — for dinner. After I moved to Bed-Stuy during the pandemic, I looked for similar places where I could fall into their idiosyncratic rhythm.
My friends first described Macosa, an Italian place south of Herbert von King Park, as "weird but good." The restaurant has a louche, disheveled appearance with random knickknacks and paint-chipped chairs. Especially early on, they seemed to have a talent for hiring people with good vibes and little restaurant experience. During one stretch of visits, we had an absent-minded waiter with a pleasantly stoned demeanor who would invariably forget part of our order every time. But I keep coming back because the food hits every time — the fritto misto! The hot sauce! The Amatriciana! — and the other stuff just becomes a charming affection that adds to the character of a restaurant.
I went once on a Saturday night, no reservation, and the maître d', Sal, strolled up and said it wouldn't be long. There was a bottleneck at the entrance (there is no host stand). Another couple arrived, and the female partner grew increasingly agitated and stage-whispered: "I'm going to go over there if he doesn't greet us soon." Ma'am, this is Macosa. There is no triumvirate of hosts deciding whether you're cool enough to get into heaven. There is Resy, but I've never seen Sal holding an iPad. Time moves a little slower here: You arrive, you linger, you catch a person's eye, and you will be attended to. I like to think that there's a self-selecting kinship at work for people who, like the restaurant, are weird but good.
My other standby, Leland Eating and Drinking House at the northern end of Prospect Heights, is the closest thing to an ideal neighborhood restaurant: a pinch hitter for all occasions. I first went on Valentine's Day in 2021 shortly after they opened, and my boyfriend and I have gone for other celebratory moments — Lunar New Year, birthdays — but there's an open-door warmth at all times. We've gotten to know the owner, Randi Lee, who built almost everything in the space from the slatted white-oak benches to the tiled trivets to the bar in sapele wood (he studied sculpture at the Art Institute of Chicago). He first came to New York to help open Del Posto, but when he took over the old Dean Street space, a dark, moody pub that had been closed for a couple of years, he wanted a restaurant that serviced the neighborhood. The same philosophy extends to the menu. Randi and the head chef, Delfin Jaranilla, know their purveyors and farmers: The salt is solar-dried in Amagansett, the mussels come from Bangs Island. Angela Reid, their head baker, makes all of their breads and pastries in house, including the heart- and house-shaped dog treats.
I've gone in groups of four and six; I've posted up by myself at the bar during their Vinyl Hour when they play records (Stevie, Marvin, the Stones), with my laptop and a bowl of chicken jook or a porchetta sandwich, leafy slices of pork with pickled rapini in between (homemade) focaccia. The menu item that made me fall in the love with the place was the mussels, opened on a skillet with soppressata butter, parsley, garlic, and lemon. It's self-assured and simple and made me mad that I had accepted shitty mussels for so long. Every time I get it, I feel astonished that something so good is just … there.
Finally, there's a mom-and-pop shop near Fort Greene Park called Woori Korean (meaning "Our Korean") that I first tried because there wasn't much good Korean in the neighborhood. I got yookgaejang, a spicy stew with shredded beef, a bushel of green onions, and importantly, gosari — earthy, tender tendrils known as fernbrake — that I don't see often. When I first had a bowl of it, it struck me right in the solar plexus. The shop is small and humble, but eating the food, I knew someone in the kitchen really cared.
I realize I might be making a grave error blowing up my own spots. But keeping them to myself would go against the reasons why I love them. Eating at Leland, Macosa, and Woori over the past week with a more critical eye, I felt a deeper affection toward them. They had each survived their first difficult year during the pandemic and had gotten better. The Korean ahjumma running Woori offered us sikhye, a sweet rice drink, and pear juice as "service"; the seafood pancake had a fluffy lift and crisp exterior. The first tiramisu we had at Macosa was disappointing, but this time I could have eaten a whole tray. And Leland is always tinkering: There are mahjong nights on first Mondays, pop-ups, and they've been making mai tais with homemade orgeat that conjured refreshing premonitions for the summer. Every visit confirms my belief that when I arrive, I'll be taken care of.