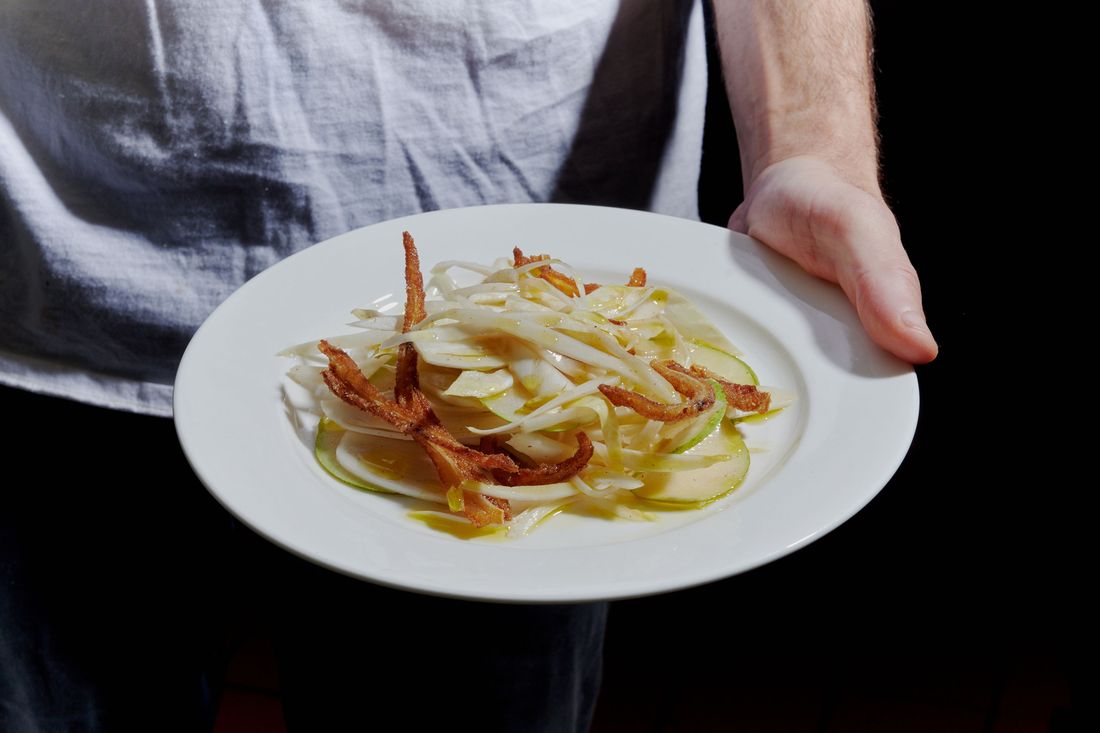 Pig-ear salad at Mimi. Photo: Evelyn Freja
Jay Wolman's pork salad is not what you think. The chef has spent his career cooking in New York restaurants that prioritize simplicity and some degree of finesse — Marlow & Sons, Diner, Hart's, LaLou, King — and since taking over at Mimi and Babs this past summer has brought the same approach to these kitchens. Wolman's salad is a plate of squiggles. Slivers of pig ear mix with spears of endive and curves of pear to make for a light cold-weather appetizer. "I wanted to rethink how it would land," he explains. "It's delicate — it's not a strong, meaty dish."
Octopus, in Wolman's hands, is skewered so that it appears mid-wriggle, a single arm set over béarnaise. "The thought was, How can we change it from just straight on a plate?" he says. "The skewer helps us mimic how the octopus would move." For a plate of clams, tomatoes, and lobster broth, Wolman places confit Sun Golds atop the shells, resting like fat, orange pearls — a purposefully austere presentation: "I never want more than three things on the plate."
More and more, it seems chefs are aiming to offer less. About a decade ago, when some of the earliest natural-wine bars arrived in New York — Estela and Contra in 2013, Racines in 2014, Wildair and the Four Horsemen a year after that — they offered this city a first taste of Paris's bistronomie movement, in which chefs apply haute cuisine flair to daily-changing menus and locavore sourcing, taking inspiration from restaurants such as Le Verre Volé as well as (the now-closed) Manfreds og Vin in Copenhagen and Barcelona's Cal Pep. Now the progeny of those early New York kitchens are running their own spots and paring things down even further. Their naturalistic and understated touch has resulted in some of the most dialed-back new dishes in the city.
Jay Wolman Illustration: Agata Nowicka
"I think it's a style that's very sought after — people want to go into a restaurant where they don't feel like it's too stuffy, but at the same time, it is," says Omri Silberstein, a chef who recently completed a residency at OStudio at Night, the Bed-Stuy wine bar, where his dishes included slices of scallop flecked with rough-chopped chanterelles and unadorned artichokes with a sidecar of green-garlic mayonnaise. OStudio has become something of a minimalist incubator. At his pop-up, chef Greg Wong offered a salad of Chameh melon cut into thick wedges and round slices decorated with pine nuts, chiles, and cherry tomatoes cut in half. In September, chef Tony Ortiz presented fluke aguachile with cucumbers cut like parallelograms and a julienned red onion that looked like a clump of seaweed waving in an ocean current.
The popularity of this cooking has dovetailed with a couple of other significant developments in the restaurant world — namely, the diminishment of fine dining and a move toward pared-down menus with simpler food, both in execution and presentation, with an eye to keeping food costs low. For chefs, the challenge with such stripped-down dishes is offering something new to diners with nominal adornment. "When I want to go to a restaurant, I don't want just a vegetable on a plate that's been either grilled or broiled or whatever," Silberstein says. "I want to see what the cooks and the chefs at that particular restaurant can do skill-wise," he adds. "I'm not trying to shit on people, but if you go out to a restaurant and you pay $18 for four anchovies on a plate …," he sighs. "You could do that at home."
Jesse Merchant Zúñiga and Javier Zúñiga are opening Caleta in January. Illustration: Agata Nowicka
For chefs, the idea that "wine-bar food" has become somewhat predictable is an opportunity to surprise diners. For Jesse Merchant Zúñiga and her husband, Javier, that means, among other ideas, ice cream. The couple — who met while working within, as they put it, "the Contra universe" of restaurants run by Fabián von Hauske Valtierra and Jeremiah Stone — plan to open their first bar and restaurant, Caleta, in January. There, they'll apply their own pared-down style of cooking to "very minimalistically plated snacks": mussels toast with gochujang, plantain chips tossed with the Chilean spice blend merkén, and — more intriguing — ice cream. The Zúñigas run a separate ice-cream company called Bad Habit that sells traditional pints of nontraditional flavors (tangelo Creamsicle, banana stracciatella); at Caleta, they'll plate their desserts in a style more suited to Javier's pastry-chef background: A snow-white bombe of olive-oil ice cream might be surrounded by a wreath of chervil or plumes of pink flowers. A bruléed baked Alaska is similarly stark, its toasted meringue blending into the dessert's earthenware dish.
Dina Fan is the co-chef of the recently opened Holiday Bar. Illustration: Agata Nowicka
At first glance, the new Greenwich Village restaurant Holiday Bar does not appear to fit into this new minimalist genre. But the clubby seafood restaurant's co-chef Dina Fan (who runs the kitchen with Marc Howard), worked for years for Diego Moya. At the restaurants Hemlock and Racines and now as the culinary director of Brooklyn's Oberon Group (which runs the wine bar June, among others), Moya has offered his own ultraminimalist plates: fluke topped with slivered onions, a puck of lentils and red peas in mayonnaise and herb oil, lacquered duck breast alone on a plate. Fan, who has cooked at stops around the globe, says her current approach was influenced by Moya's "very focused, not-too-fussy style." And even within Holiday Bar's maximalist menu, sporting fatty-tuna rolls with $75 caviar supplements, Fan's sensibility is easy to spot in dishes like a tostada with tuna — hiding a layer of pasilla rouille underneath — or bright bok choy in a tea of onions, which is just what it sounds like. "It's literally nicely blanched bok choy and a very aromatic broth," she says. "It doesn't really need anything else."