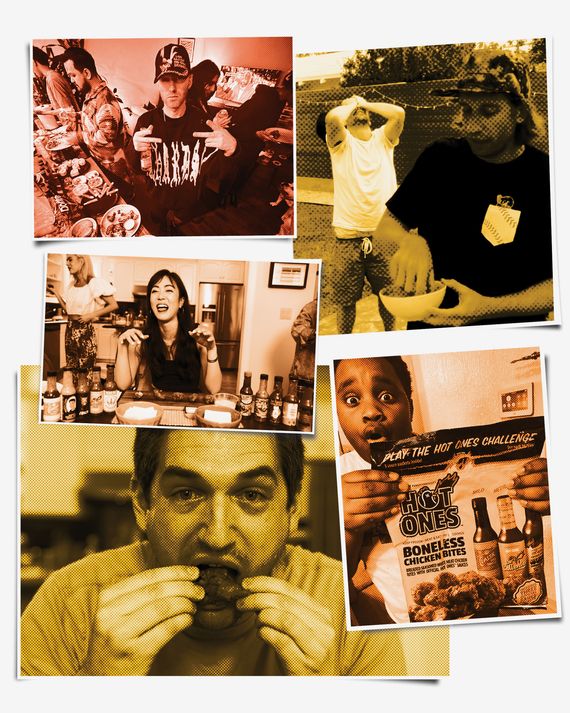 Hot Ones is also for home. Photo-Illustration: Grub Street; Photos: (clockwise from left) Kyle Garcia, Jay Gierak, TrueMan McGee, Nate Tulio
A few years ago, Jay Gierak accidentally pepper-sprayed himself. He'd stacked a dozen dirty bowls into his sink, all covered with some of the country's most extreme hot sauce. Then he turned on the hot water. "This insanely spicy steam is all hot peppers," he recalls. "Everybody starts coughing and running out of the room — we all wanted to throw up." For many people, accidentally creating a cloud of pepper spray would be enough to get them to swear off hot sauce forever. Not Gierak. The chief marketing officer at Ghost Autonomy had been hosting a Hot Ones party, and since the spicy steam incident, he's thrown ten more, happily subjecting himself and his friends to an array of increasingly spicy sauces. "I'd say the depths of the pain are totally extreme," he says. "Much worse than almost anything you do in a given year in terms of feeling awful." But then, that's the fun part.
Launched in 2015, Hot Ones is the show that threw Idris Elba into a coughing fit, made comedian Bobby Lee shit himself, forced several guests to throw up off-camera, and caused Julia Louis-Dreyfus to joke (?) that she was going to fire her publicist. (Halle Berry is one of the few guests to have emerged more or less unscathed from the experience.) The talk show — hosted by Sean Evans, who asks one celebrity guest a series of increasingly personal questions as the two eat increasingly hot wings — now attracts A-list talent like Jennifer Lawrence (sobbing by the end), Paul Rudd (didn't seem too bothered), and Viola Davis (she didn't love it!). The series —currently in its 21st season — has also become a frequent source of memes, but one important, if previously undocumented, impact is that Hot Ones has also been inspiring people to get together and inflict sometimes intense, often hilarious pain on themselves.
"Not a week goes by that I don't get five to ten emails from people saying, 'I had a Hot Ones party,'" says Chris Schonberger, the show's creator. The messages also motivated the team to produce at-home kits that people can purchase: "If we can give them the tools to be idiots, that's a proud moment for us," Schonberger says. More than one person who spoke with me acknowledged there's a Jackass element to these parties, and a lot of people sending the photos and videos are teenage boys. I suggested this may explain some recent downward trends in teenage behavior. "They're doing fewer drugs, having less sex — but they're throwing Hot Ones parties," Schonberger agrees. "I don't know what that says about the future of our society."
Studies show that teenage boys love Hot Ones challenges. Photo: Courtesy Will Joyce
There is no right way to throw a Hot Ones party. There are how-to threads on Reddit, and anyone can buy official hot-sauce packs along with question cards. Many people write their own questions and some fans just get together to watch their favorite episodes, while others mostly use it as an excuse to drink. Schonberger says he's heard of Hot Ones team dinners, bachelor parties, and — alarmingly — weddings. For Vince Laliberte, who spends his days doing digital marketing and now lives in Rhode Island, the addition of questions is crucial to the experience, and they offer another opportunity to create discomfort with his friends. "In the beginning, you're saying things you're proud of. Then as it gets harder, you're answering questions that make you feel some regret and shame and sadness," he says. By the time his parties reach the hottest sauces, "you're confessing a fetish or a regret you have."
This May, Ashley Chu, who works for the life sciences company Verily, and her boyfriend planned a Hot Ones–themed housewarming party. Somewhere in the middle of their sauce lineup, the night went hazy: "So much of that part of the day went blind and blurry," she says.
Kyle Garcia, a partner in Brooklyn café Oh Boy, threw his first "Homies Hot Ones" dinner party in 2019 with a buddy with whom he had been putting on (much tamer) dinner parties. They had 20 friends over, coordinating it so everyone "leveled up" together. "It was incredible," Garcia says. "People were crying. People were throwing up." But things got out of hand when they got to the eighth sauce in their lineup: Da'Bomb: Beyond Insanity, a tiny bottle that serves as each episode's Big Bad, the inflection point at which things stop being fun and games and the guests often devolve into fits of coughing, illness, tears, or rage. (After being told the sauce was made in Kansas, Shaquille O'Neal famously replied, "Kansas don't know how to do no hot wings" before tearing into a bite. He immediately apologized to the entire state and, through tears and curses, proceeded to chug a gallon of milk.) "I have a buddy who was talking all this shit like, 'Oh, in Korean food everything is really spicy — this is nothing,'" Garcia says of this year's event. But after Da'Bomb? "He was curled up in a ball on the couch, rocking back and forth for five minutes. While everyone was hanging out, he had to take a time out — literally rolling around in a fetal position."
But a bit of hot-sauce hubris is nothing compared to a mistake that another friend of Garcia's made: After eating Da'Bomb, he went to the bathroom. "He was just screaming in there because he touched his … you know, with his hand," Garcia laughs. Laliberte, the digital marketer, made the same error at one of his own parties: "I honestly was planning to go to the ER because I thought my dick was going to burn off."
Claire Hulme's Hot Ones crew. Photo: Courtesy Claire Hulme
After Da'Bomb, the show tends to de-escalate. In theory, the following sauces are hotter, but as Evans frequently reminds his guests, they never seem worse than Da'Bomb. Claire Hulme, a graphic designer from Toronto, disagrees. At her own party, she reached the Last Dab — the Hot Ones–branded sauce that serves as each episode's punctuation mark — and had to immediately spit out the wing. "It touched my bottom lip and it was maybe 40 minutes of pure pain," she says. "It is so horrific how bad that sauce is."
So why do this at all? Many of the hosts say the experiences inspire bonding. For TrueMan McGee, the owner of Funky Fresh Spring Rolls in Milwaukee, it was a chance to get closer to his son, TJ, since both are fans of the show. "It's the funniest thing ever," says McGee. "He's trying to be brave — he's 13 — and eat the Last Dab. You see when it hits the next level, where he's running to the kitchen, trying to get milk." (TJ confirms these details: "The Last Dab? Shit almost killed me.")
Regardless of whatever temporary pain they suffered, the people I spoke to said they enjoy the parties, and many have no plans to stop celebrating now. In fact, with each new party, many of the hosts make a few changes to help improve the experience. Garcia, for example, gives each of his guests a pint of ice cream to help cool their mouths. He also — crucially — now makes sure everyone wears gloves that they can take off before they go to the bathroom.